Friends, colleagues, and classmates far and wide honored and remembered Judge Peter Hall '77 following his death on March 11, 2021. Perhaps the most noteworthy tribute was delivered on the floor of the U.S. Senate by Patrick Leahy, senior senator from Vermont and president pro tempore of the Senate. On March 24, Leahy noted that Hall was a dear friend and "a great champion of justice" and then read a statement, which was entered into the Congressional record, from Hall's former law clerks, who expressed their gratitude for Hall's mentorship and friendship.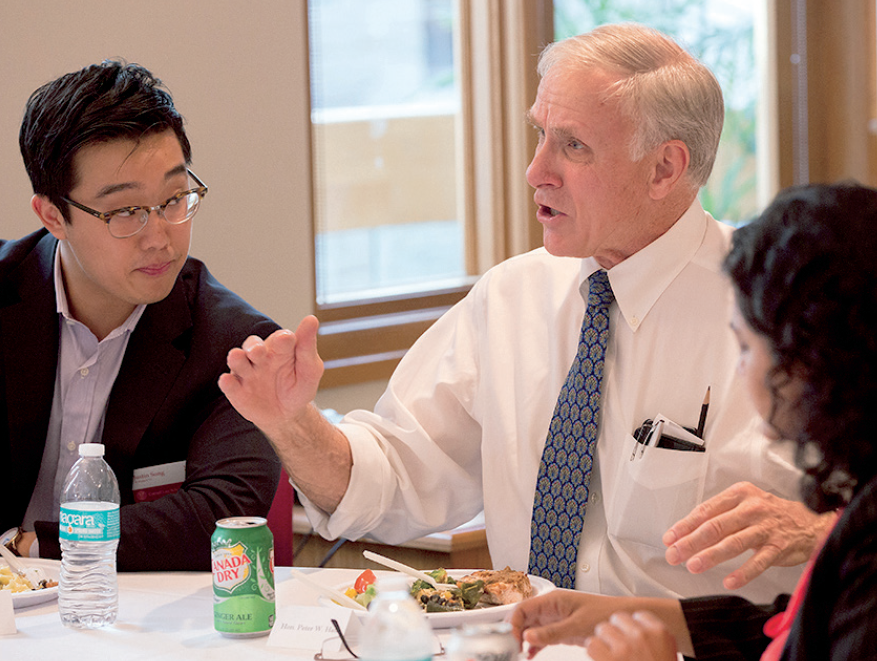 In the concluding paragraph of their moving statement, the former clerks succinctly describe Hall's legacy: "Judge Hall was a hero and a guiding light to many of us. He was all a federal judge and a career public servant should be. The United States is a more just nation because of his decades of public service. We miss him dearly."

Judge Hall served on the U.S. Court of Appeals for the Second Circuit since 2004, during which time he sat on three-judge panels in over 750 cases and authored more than 150 opinions in published decisions.
Hall was born on November 9, 1948, in Hartford, Connecticut. He attended Hotchkiss and the University of North Carolina at Chapel Hill as a Morehead Scholar, and after graduation and a year as a high school teacher, he returned to the university for a master's degree and a stint as assistant dean of students.
Through his generosity, a Cornell Law student had a wonderful summer full of professional development and mentorship. That may seem small thing to others, but for that one student, it meant the world.


— Elizabeth Peck
At Cornell Law School, he served as president of the Legal Aid Clinic and graduated cum laude in 1977.
Hall began his career clerking for the Hon. Albert W. Coffrin '47 in the U.S. District Court for the District of Vermont. Subsequently, he served as an assistant U.S. attorney and later as U.S. attorney for the district, with a stint in private practice in between. He also served as president of the Vermont Bar Association in the mid-1990s and was inducted into the American College of Trial Lawyers in 1997.
From 2007 to 2016, Hall was a delegate from the Federal Judge's Association to the International Association of Judges. In this capacity, he traveled the world, working with foreign judiciaries on matters of administration, independence, continuing education, and governmental relations.
"A Loyal Alumnus"
Hall maintained close ties to the Law School throughout his career, hiring as clerks alumni Stacey Neumann '05, Nomi Barst Berenson '08, Jenna Scoville '18, and Amelia Hritz '17. James Brown '18 and Nicole Greenstein '17 were slated to clerk for him in 2021. He also hosted Marino D'Alessandro '19 and Evelyn Hudson '20 as summer interns.
Elizabeth K. Peck, former assistant dean for Judicial Engagement and Professional Development, notes that in the spring of 2020, Hall took on a second summer intern at the last minute after a student had seen their summer job disappear due to the pandemic. "Through his generosity, a Cornell Law student had a wonderful summer full of professional development and mentorship. That may seem like a small thing to others, but for that one student, it meant the world," says Peck. "Judge Peter Hall was a true and loyal alumnus who supported his alma mater in ways big and small."
Hall regularly returned to the Law School to judge moot court competitions (he was joined by Justice Sonia Sotomayor of the United States Supreme Court in 2018), and in a 2016 visit, he and the rest of the Second Circuit judges heard a full docket of cases in the MacDonald Moot Courtroom, allowing students to observe the workings of the court first hand.
Dean Jens D. Ohlin notes, "I had the chance to become acquainted with Judge Hall through his tireless service to his alma mater and came to admire him greatly. It's apparent from the correspondence my office has received that I was not alone in that sentiment. Judge Hall will be remembered as a man of great warmth and unfailing kindness, as well as a jurist of deep wisdom and uncompromising integrity."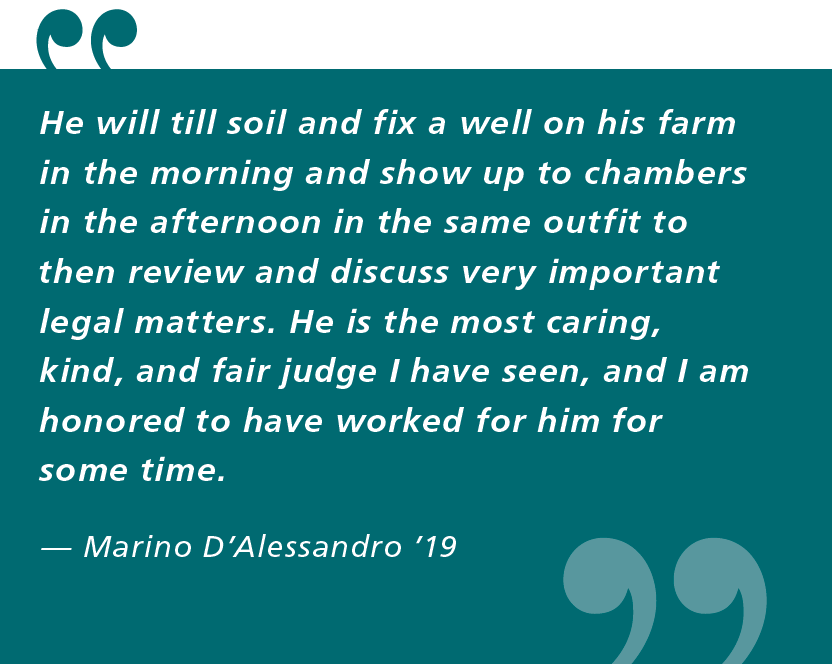 "Down to Earth"
"Let me offer a funny story that says a lot about who Peter was and why all of us on the court were so fond of him," says Hall's colleague Judge Richard Wesley '74 of the Second Circuit.
"In 2005 I lost my mom after a long, tough illness. Peter and I were in New York City for a sitting of the court on the day she passed. Peter came to mom's funeral, which required a five-hour drive of over 300 miles. The funeral proved to be a lengthy affair (mom was very active in her church), and afterward I suggested to Pete that he stay over and have dinner with us.
"His response? 'I'd love to, Dick, but I've got 200 lbs. of pig food in the back of the truck, and I need to get home to feed the pigs.' I can tell you now, in the long and storied history of the Second Circuit, no judge has ever refused a free meal and a night's lodging in order to go home and 'feed the pigs.' But that was Peter: thoughtful and kind—coming to my mom's funeral to show respect and concern but having to leave because he was so connected to the simple tasks of life others might think were beneath him."
---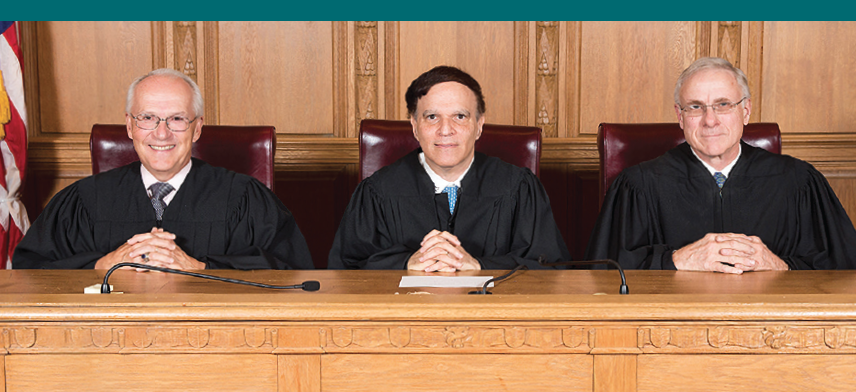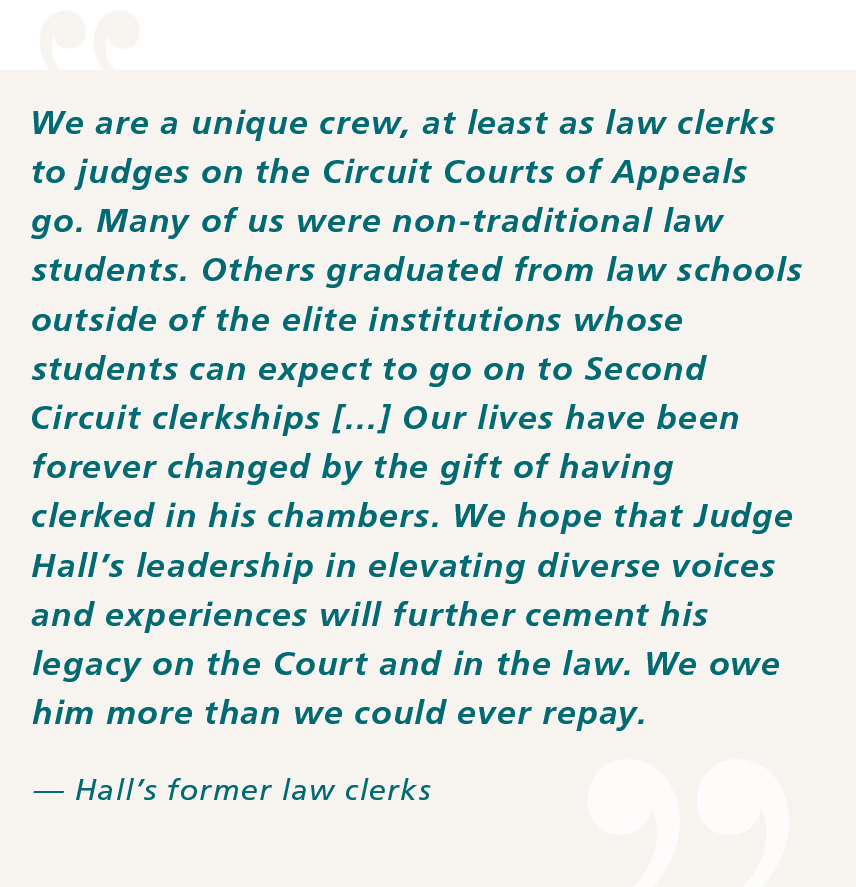 ---
Wesley is not the only one with a fond memory involving Hall's pickup truck. Recalling her clerkship with Hall, Neumann says, "My husband and I were living in Killington for the winter during my term. One day on the way to work, my little Nissan hit a deer, and both the poor deer and my car were totaled. Of course, I called Judge Hall right away to let him know what happened and that I would be late. He came to pick me up, and he let me borrow his pickup truck for the rest of the spring until we could secure a new vehicle. He literally drove me to his house, gave me the keys to the truck, and let me use it! And boy was that pickup fun to drive!"
"Judge Hall is the most down-to-earth person I have encountered in my legal career," says former intern D'Alessandro. "He will till soil and fix a well on his farm in the morning and show up to chambers in the afternoon in the same outfit to then review and discuss very important legal matters. He is the most caring, kind, and fair judge I have seen, and I am honored to have worked for him for some time.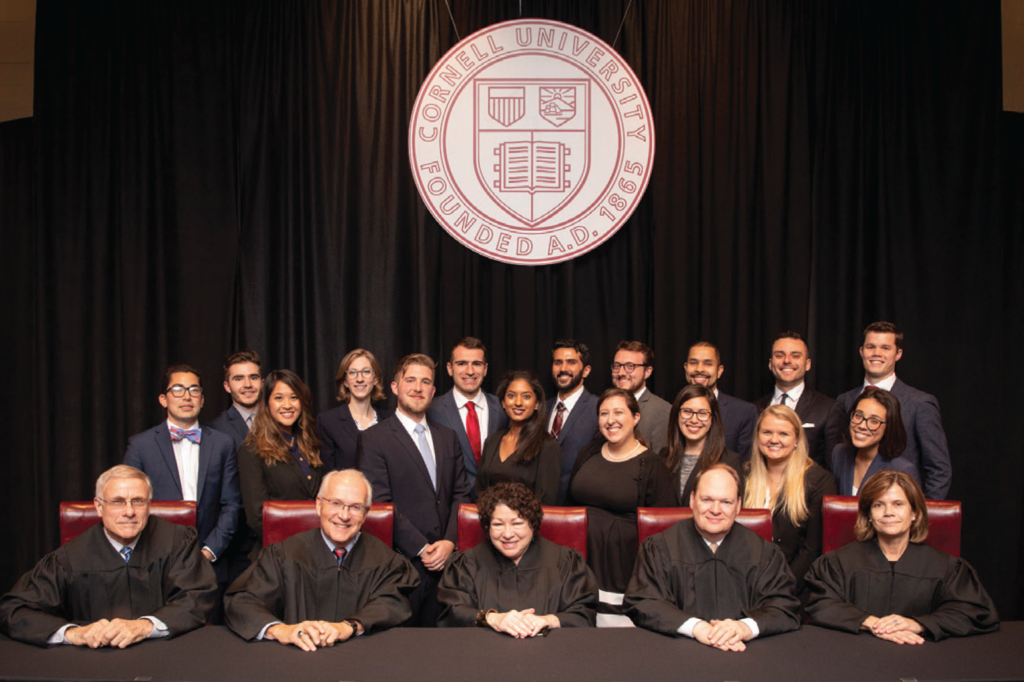 "A Warm, Kind Friend"
Says Wesley, "If you want to know Peter Hall, go to the Cornell Club at 6 East 44th St. in New York City and ask to speak to Tony the bartender or David in the dining room or Stiles the doorman; all will tell you Peter loved chatting with them, asking them about their families. The same is true of many of the staff at the court. Peter was just a very nice guy."
He goes on, "If you want to know Peter Hall, ask his law clerks what they thought of him. They will tell you of an unassuming man of great intellect who treated them as colleagues and who listened carefully to their views, who enjoyed taking a ski day off from work, and who was always interested in them."
Indeed, Hall's love of skiing made a lasting impression on Neumann: "I remember Judge Hall taking us clerks on a ski afternoon after work one day. I was just beginning to ski and was (am) terrible. We had such a grand day laughing. He was mocking me in his caring, teasing way about how I skied like a hook, since I was all hunched over. He was, of course, an excellent skier—was there nothing he didn't excel at?—and would ski by me and then hunch over next to me with that guffaw of his."
She adds, "Even after the clerkship ended, Judge Hall continued to be a mentor for all of us. We moved to Maine in 2009, and I didn't know a soul there. I was in contact with Judge Hall. He contacted everyone he knew there to try to help me find some work in the middle of the depression. I swear we were in contact every day, with him giving me new leads and ideas. One of his contacts was Paula Silsby, then U.S. Attorney for Maine who had been an AUSA when Judge Hall was in the Vermont Office. She eventually hired me, undoubtedly due to Judge Hall."
Hall maintained close ties not only to former clerks but also former classmates. Marion Bachrach '77, an adjunct professor at the Law School, recalls their law school days together: "Peter was a warm, kind friend, and a wonderful classmate. We were in the same study group and puzzled together over thorny issues in contracts and property. He rescued me many times, without grumbles or complaint, when my car, a 1968 Mustang that was built for people who live in sunny Santa Barbara, was stuck in snow. We spent countless, long evenings over home-cooked dinners, music, and games of Scrabble and Rook, a card game few would play if they weren't secluded in icy Ithaca. Bob Dylan's lyrics come to mind: 'I wish, I wish, I wish in vain/ That we could sit simply in that room once again.'"
"One Helluva Lawyer"
In the statement honoring Hall after his death, his former clerks collectively observed, "Judge Hall possessed a rare and dedicated humility. You will not find indulgent, flowery, or self-aggrandizing prose in his opinions. Instead, you will find clear explanations of what the law is and how it applied to the litigants before him, written to be as understandable as possible to anyone reading the opinion later."
Neumann has her own favorite example of Hall's un-flowery language outside of the courtroom, "I want to give Judge Hall full credit for my favorite term of his that I have adopted (always credited to him, of course). This is the term 'goat rodeo.' As in, 'Wow. That hearing was a goat rodeo.' You'd be surprised at how frequently this term succinctly describes the practice of law."
Says Judge Wesley, "Peter was one helluva lawyer. He worked hard on his cases and was always prepared. He was a terrific listener. We have lots of really smart folks on our court. They are accustomed to having others agree with their views. It's not always easy to listen to an opposing understanding of a legal issue. Peter was a master at it. He was respectful and measured in the way he responded to others. There were times when we disagreed, but Peter was never disagreeable."
He adds, "Peter was the man many aspire to be. He was a good friend, he was smart, he worked hard, and never forgot his home, his beloved Vermont. I miss him."