"The threat of cyberattacks is evolving and affects all of us," says Hayley Chang '05 (her classmates knew her as Hayley Reynolds), who now heads up cybersecurity efforts at Facebook.
She knows what she is talking about. The social media giant wooed her away from the federal government, where she had held senior executive positions with the U.S. Department of Homeland Security and the FBI.
During her tenure in government, she led the team that received the Secretary's Meritorious Services Silver Medal for developing a strategy to counter cyber threats. And she testified before Congress in support of the successful Preventing Emerging Threats Act of 2019.
That law has since proved to be essential, she says. "It gives the government the authority to counter those threats and is now used almost every day."
But the threats from ransomware attackers and other malicious cyber actors still loom— including from sophisticated nation-states, she says.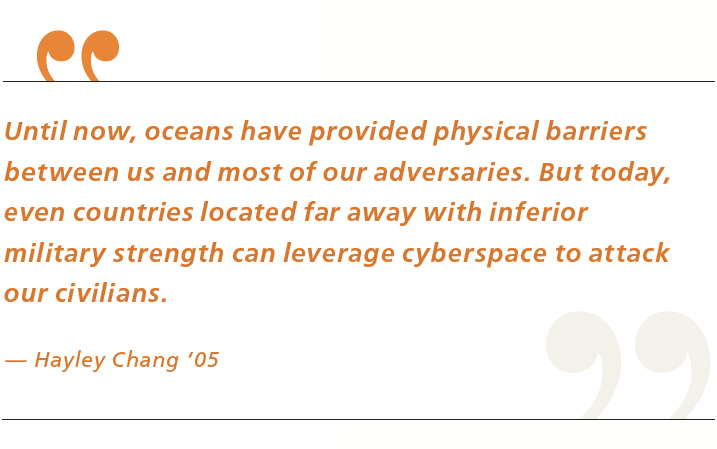 "Until now, oceans have provided physical barriers between us and most of our adversaries," she states. "But today, even countries located far away with inferior military strength can leverage cyberspace to attack our civilians."
The one bright spot, Chang says: "For anyone who is interested in the field of cybersecurity, there are so many opportunities for impactful work."
Chang has engaged deeply in the field in both the federal government and, now, in the private sector. Despite recent waves of criticism, Chang considers social media a net positive. "It connects people and empowers those who otherwise might not have the opportunity to effect positive change," she says.
As an example, she cites the use of social media tools to locate COVID-19 vaccination and testing sites. And, she points out, social media has played a significant role in facilitating positive social movements, such as the "Arab Spring"—the series of pro-democracy uprisings that began in spring 2011 in the Mideast, influencing such countries as Tunisia, Morocco, Syria, Libya, Egypt, and Bahrain.
So, what made Chang decide to leave the FBI and join a commercially successful but socially controversial firm like Facebook?
"Working for the FBI had been a lifelong dream," she says. "I was drawn to the FBI's mission of protecting the American people. But learning I could pursue similar goals while finding new challenges in a dynamic, high-tech environment—that was an amazing opportunity."
She had spoken with friends who made the transition from public service to the tech sector and talked about the impact they could have in cyber from that vantage point.
"Cybersecurity is a team sport. The government can't fight these battles alone, and, in many cases, the private sector is on the front lines," she notes.
Chang began her public service career in the post–9/11 era. Following a federal appellate clerkship, she became a federal prosecutor, then joined the deputy attorney general's national security team in 2007.
"At that time, we were laser focused on counter-terrorism, and I worked with my colleagues in the Department of Justice and our partner agencies to defend the homeland from threats of violence," she relates.
In 2008–2009, she served overseas as the deputy rule of law coordinator in the U.S. Embassy in Baghdad, Iraq. Her role was supporting the chief justice of Iraq and the international teams helping to transition the country from a confession-based criminal justice system to an evidence-based system.
"There was a new constitution in place, new rules of criminal procedure, but they hadn't really been implemented," she recalls. "A lot of our job was advocacy, working together with the judiciary to lay the groundwork for submitting forensic evidence in court. We worked with the experts to present blood samples, DNA, and fingerprints. It was an exciting time."
Chang grew up in eastern Washington State, near Spokane. As a girl she loved to read, especially adventures, spy stories and "everything FBI," she says.
She also had a best friend when she was a child whose father was a police officer. "I always admired law enforcement and people who put their lives on the line to protect others," Chang says. "That's probably what sparked my later desire to pursue law enforcement and national security."
Her legal career began along a different path, however. "I was drawn to Cornell Law School because of its dual degree program," she explains.
Cornell offers a unique J.D./Master en Droit program in partnership with the Paris 1 Pantheon-Sorbonne University. Chang had fallen in love with the City of Light when she'd studied abroad as an undergraduate. She says she was delighted when she was accepted into the Law School's dual degree Paris program.
Then her plan evolved after two critical experiences during law school.
"I got bitten by the trial bug the summer of my 2L year," Chang explains. "As a summer associate at Kirkland & Ellis, I was exposed to the firm's trial advocacy program and traveled to watch some of their best trial lawyers in court. I just fell in love with it."
Her love for litigation increased and her interest in public service blossomed during her 3L year when she pursued an externship in the U.S. Attorney's Office for the Southern District of New York.
The law professor who made the biggest impression on her, she says, was Michael Heise. "He was extraordinarily generous with his time," she recalls, "always answering our questions and giving advice."
Heise, the William G. McRoberts Professor in the Empirical Study of Law, was the Federalist Society's faculty adviser when Chang was president of the Cornell chapter, and he advised the Cornell Law Review, where she was an editor.
Chang's best memories from the Law Review were opportunities to bond with her other students. Indeed, some of her fellow Law Review editors remain her close friends today. Among them is Ilana Pearl '05 (whom classmates may know as Ilana Buschkin). She is now a corporate attorney, and the two recently spent a weekend together on a lake, along with their families.
"To say that Hayley is capable is an immense understatement," says Pearl. "She has achieved a high level of success professionally and personally. She is tremendously diplomatic and also personable. People want to be on her team. In addition, she happens to be a wonderful wife and mother."
When asked what has inspired her most, Chang responds: "my faith and my family. I had the best parents in the world."
She and her husband, Will, who is a vice president at another large, public company, have four children: two girls, one eleven and one five years old, and two boys, one nine and one four years old.
~Linda Brandt Myers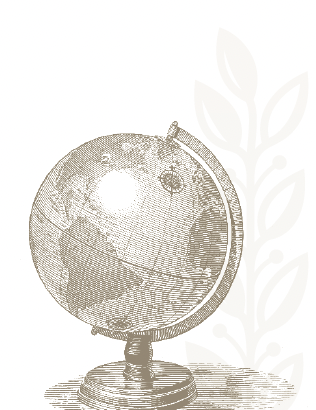 ---