Carlton Williams was a staff attorney with the American Civil Liberties Union of Massachusetts when he got a call a few years ago from Beth Lyon, clinical program director at Cornell Law School.
"She asked if I'd be interested in teaching a course on social justice movement lawyering," says Williams. He ended up initially teaching a podium course on the subject as a distinguished practitioner in residence in fall 2019. "In that first course, students learned about movement lawyering but didn't do it," he explains.
He was then invited back in fall 2021 as a permanent member of the faculty and taught a full-fledged hands-on movement lawyering clinic that semester, which was so popular it was oversubscribed soon after being listed.
"In addition to his national profile and reputation, Professor Williams has a long history as a dedicated civil rights leader in Boston," comments Lyon. "His new movement lawyering clinic has challenged students to see the lawyer–client relationship through the lens of a community's social change priorities."
Williams's ties to the Law School include the fact that his twin brother, Christian, who now teaches clinical legal education at Harvard Law School, earned his J.D. at Cornell in 2009. In addition, Carlton Williams and Cornell Law Professor Aziz Rana served on a panel together at Harvard several years ago.
"I was blown away by how incredibly thoughtful he was on questions involving law, race, and justice," says Rana, "and I am thrilled he has since come to Cornell. His courses have been a transforming experience for our students."
"Movement lawyering," Williams explains, "sees lawyers as technicians who can facilitate things for the people directly affected by the issues they are fighting for or against—and the ones effecting change. Those folks are better than lawyers because of their commitment to the issues."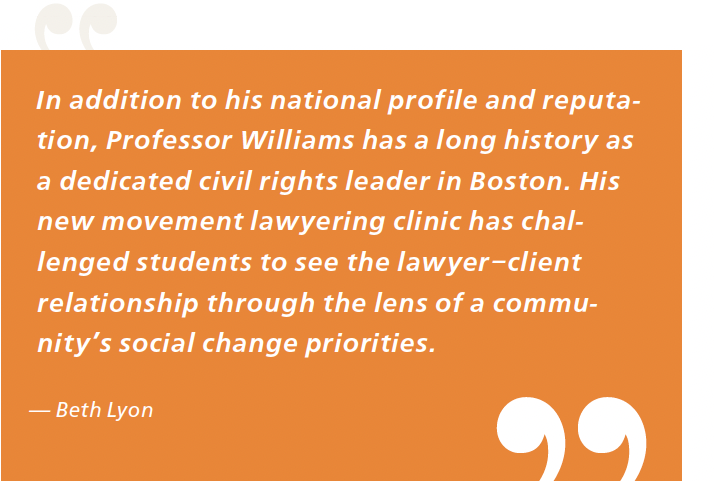 In his fall 2021 Movement Lawyering course, Cornell Law students looked into as many as ten active movement lawyering projects.
"One of the big ones involved the organization Black and Pink, which supports incarcerated and formerly incarcerated LGBTQ people, some of whom were charged with being sex workers," Williams relates. Many received inappropriately long jail sentences and are still imprisoned, even though they are elderly, ill, and at risk of succumbing to COVID-19, he says.
"My students did clemency petitions for them, explaining that it is dangerous to keep them incarcerated at this point. The students worked over break and expressed a desire to continue working on this after the course ended," Williams says.
"Another big project involved the Water Protector Legal Collective, a lawyering organization active in Standing Rock, North Dakota—treaty land with sacred sites as well as the source of water for the Lakota people, where an oil pipeline was going to be built," Williams explains. "I worked for the collective for a year, before I initially came to Cornell to teach," he says.
"The idea of free access to clean water is deeply embedded in Lakota culture," Williams explains. As a result, there was a massive series of protests in Standing Rock against the pipeline threat in 2016–2017, he relates. "The collective mobilized almost every one of the people involved—800 to 900—and supported their families when some of them were incarcerated."
Now, Cornell Law students in his new Movement Lawyering course "have been documenting all the sacred sites that are under threat from extractive resources, climate change, and other dangers in the U.S. and determining the legal challenges," Williams says. "They've put together a map so that, if you are, say, part of an indigenous group in Georgia trying to protect your home and land, which is traditional hunting land, now there is a resource to find out about others with similar issues who have been successful with, say, a particular legal argument."
"Documenting such harms tells a different story than that of, say, just one endangered place," Williams observes. "That's the massive project for the WPLC, and it's really thrilling."
It may also be a subject Williams is drawn to because he and his twin brother are part Native American (Narragansett), he mentions, in addition to being part Black and part Italian. They were raised by their grandparents, whose politically progressive views were an influence, Williams says. But growing up on Rhode Island, they were not immune to discrimination, he reports. "I've always seen injustice from different sides, because a lot of the people I grew up with were white, and I noticed different treatment of people," Williams says.
He recounts an incident in which he and his brother were picked up by police for no discernable reason when they were teens, and his brother, who had made a joke at the time, was punched in the face by one of the officers. Fortunately, he recovered and the two were released, but the incident made an impression.
After attending the University of Rhode Island as an undergraduate, graduating in 1991, Carlton Williams moved to Boston, where he initially did antiwar and antimilitarization work. He left to earn a law degree at the University of Wisconsin, which he was awarded in 2006. He then returned to Boston to become a public defender in 2007–2013, defending people in the disadvantaged Roxbury area.
He worked for five years with the ACLU of Massachusetts on such civil rights issues as police brutality, and he has continued to do movement lawyering, both for the ACLU and the National Lawyers Guild. "Most of the cases that the American Civil Liberties Union handles are lawsuits working to change such things as immunity, mandatory minimum sentences for drugs, making the death penalty unconstitutional," he explains.
"I tell my students that being a movement lawyer is incredibly important work, but it can be overwhelming," Williams cautions. "It's a little like that old episode of I Love Lucy in which Lucille Ball's character, Lucy Ricardo, is working at a candy factory, and those candies just keep coming."
"Another model, and one that I ascribe to," says Williams, "is seeing lawyers as technicians who can facilitate things for the real people doing the work, the ones directly affected by the things they are fighting against, and the ones effecting change. Those are people on the streets like Alicia Garza, one of the founders of Black Lives Matter, which is now a worldwide movement of people," Williams points out. The advantage to that approach can be: "while there's only one of her, there are many thousands who are organizing in their community," says Williams. "Those folks can be better than lawyers, whether they are working for a crosswalk on their street or fewer prisons in their state, or defunding the police or abolishing the death penalty, or legalizing drugs or decriminalizing sex, or eliminating the incarceration of children, or fighting for the right to vote, or perhaps they came to this country when they were children and are now fighting for citizenship."
Lorelei Lee '20, a sex worker community organizer who now works in the Law School's Gender Justice Clinic, first learned about movement lawyering in Professor Williams's podium course on the subject at the Law School in 2019. "He gave me the tools to I needed to approach legal issues more effectively," says Lee.
~Linda Brandt Myers