Alumni Return for a Virtual Reunion 2021
On June 10, as the curtain rose over Cornell Law School's Reunion 2021, alumni were safely distanced thousands of miles apart, eating their breakfasts or dinners somewhere around the world while gathering on Zoom. There, over the next three days, alumni reconnected with classmates, revisited some of the most pressing issues of our time, and retraced their steps from past to present.
"Everyone's path looks different," said Congresswoman Sharice Davids '10, who represents Kansas' 3rd Congressional District in the House of Representatives, opening the combination 2020/2021 reunion with a reading from Sharice's Big Voice. "I wrote this book so that I could share what my journey looked like, not necessarily as a path to Congress, but more as a way to embrace the different journeys that each of us is on, to recognize that sometimes things take turns and twists."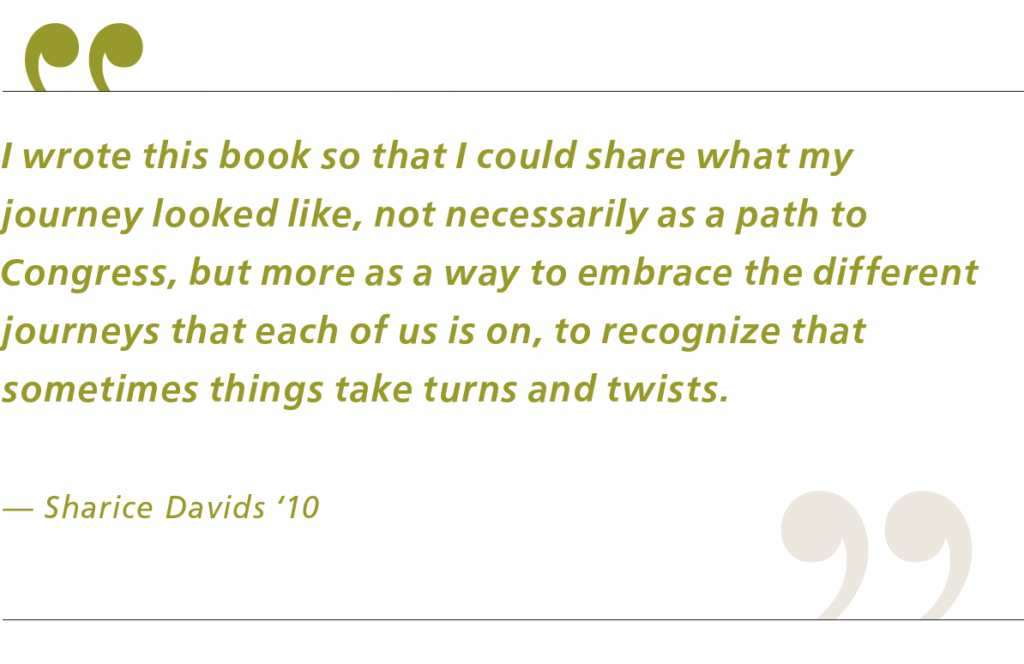 That evening, in one of those twists, activist-turned-trustee-emeritus Thomas Jones, A.B. '69, M.R.P. '72, joined Hon. Barry Loncke '70, the only Black member of the class, and Professor Carlton Williams for a panel discussion on the Willard Straight takeover, Black Lives Matter, and "Racial Injustice on Campus: Then vs. Now." Looking back to 1969, Jones talked about occupying the Straight as part of a "crossroads generation that was not going to be intimidated," and Loncke described the process of negotiating the settlement that ended the occupation.
"It was the most important day in my life and the easiest negotiation I've ever been involved in," said Loncke, who was inspired by Professor Ernie Roberts to take a break from coursework and bring protesters' demands to the university administration. "President [James A.] Perkins took a Black-lives-matter attitude that I'd never seen before, and Cornell represented to me, for the first time in my life, an institution that cared about the lives of Black students. I could see that the attitude of the Black leaders and Cornell was to save Black lives, and I'm really proud of Cornell for doing that."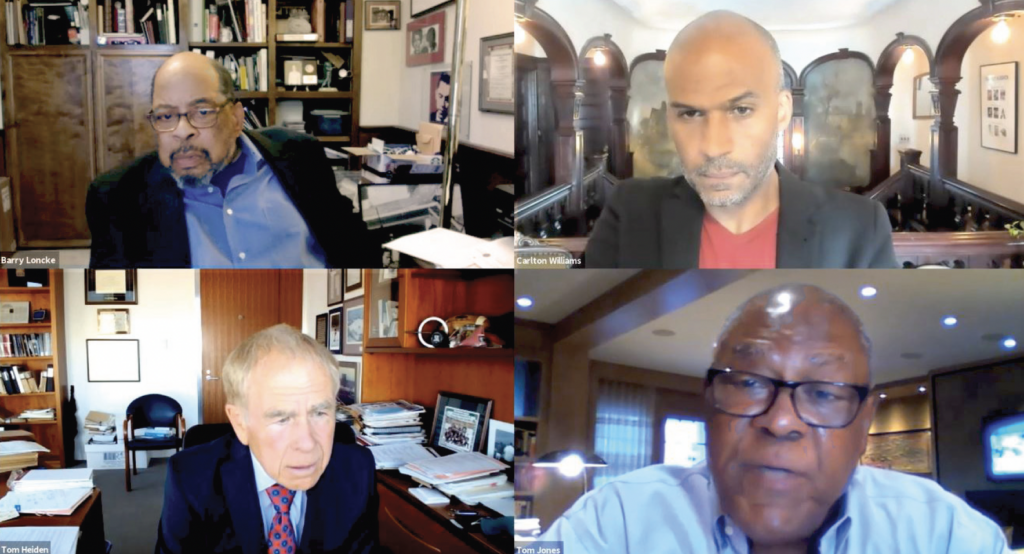 In a second reunion twist, Doris Marie Provine, J.D. '71, Ph.D. '78, one of four women to graduate with the Class of 1970, watched a Friday panel of Cornellians—Anne H. Chow, B.S. '88, M.Eng. '89, M.B.A. '90; Sharice Davids '10; President Martha E. Pollack; and Kate Snow, B.S. '91—share their thoughts on "Breaking the Glass Ceiling: Women in Leadership." Like Provine, who remembers tearing down "male wanted" job postings in Myron Taylor Hall, panelists encountered sexism as they pursued their education and careers; but unlike Provine, who sees herself as part of an earlier generation, the four panelists experienced pushback that was much harsher, more aggressive than anything she'd faced.

"That's what really shocked me about the panel, because I've never received hate mail in all my life," said Provine, who has spent her career in academia, teaching at Cornell, Syracuse University, and Arizona State University. "At Cornell, I felt I was pushing through something, which sounds different from the people on the panel cracking their heads and feeling those shards of glass. I've been used to dealing with men who may or may not be sympathetic, but I've encountered very little overt hostility. My role at the Law School was more in pointing out the glass ceiling and advocating for its elimination, rather than bumping hard against it."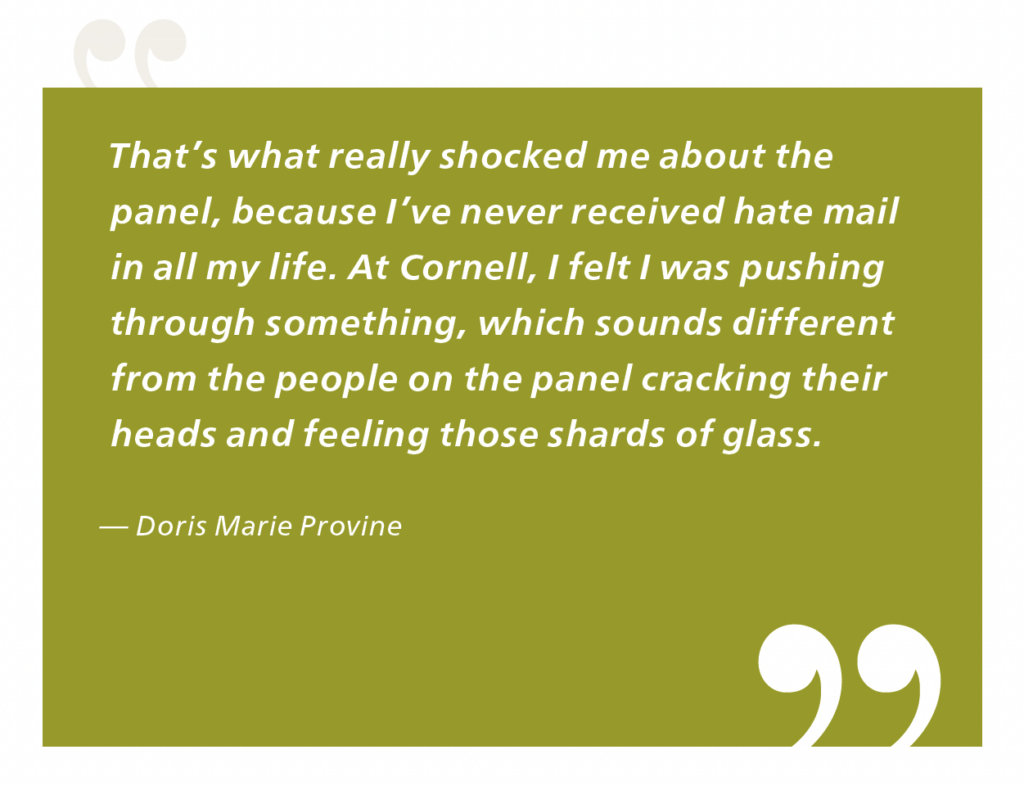 Next, attendees took a virtual walk down the hallway to "Where Are Law's Emeriti Faculty?" Moderated by Chantal Thomas, associate dean for academic affairs and Radice Family Professor of Law, the alumni attendees found themselves in the New Orleans home of Jack Barceló, who's spending his days writing about Chinese arbitration, looking forward to traveling again, and waiting for the arrival of his seventh grandchild. Greg Alexander has exchanged the wine country of the Finger Lakes for the wine country of Sonoma County, California, and after one last stint teaching online, he's revising his casebook on property and "getting an enormous amount of satisfaction" from painting watercolors. Zooming from a retirement community in Bethesda, Maryland, where "the food is terrific," Faust Rossi '60, is keeping time with a new love and an old poodle, along with giving occasional lectures on American criminal trials and Supreme Court rulings on free speech.
Meanwhile in Ithaca, Robert Hillman '72, is enjoying a morning commute from his bedroom to his new home office, where he spends three or four hours a day on research, and Peter Martin '61, continues to work at the intersection of law and technology, maintaining a blog on legal citation and publishing a new book on electric-powered scooters, E-Riding Legally in New York. "I do miss the things that Faust mentioned: the collegial interactions and the stimulation of being around other people working on similar or very dissimilar projects," said Martin, who now lives with his wife at Kendal of Ithaca. "But projects keep me busy."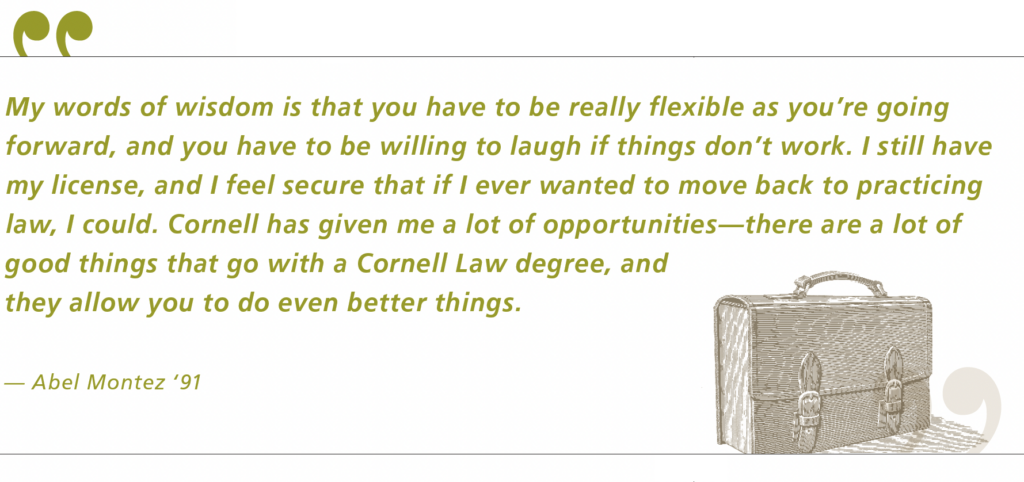 In another set of reunion twists, Saturday opened with four alumni reconvening for a panel discussion called "Second Act: Reimagining Your Career." Moderated by Jason Beekman '11, who switched from litigation to entertainment law—and played a central role in Davids' 2018 primary campaign—the panel featured Suwha Hong '01, who pivoted from attorney to fashion entrepreneur; Abel Montez '91, who works as director of student affairs at Fordham University Law School; and in a different kind of twist, Irika Sargent '06, who anchors the evening news at CBS in Chicago.
"Going back to broadcast journalism was always in the plan," said Sargent, who spent four years at Greenberg Traurig before working her way up the ladder as a reporter/anchor in Mobile, Houston, and Miami. "Even before coming to Cornell, I knew I wanted to use my law degree in a nontraditional way: to have added value in the newsroom. That's proven to be true, and I still use my legal education all the time. Cornell was a great fit for me, and I learned it wasn't just the law that I loved, it was the human interactions that came with it."
"My words of wisdom," said Montez, wrapping up the conversation, "is that you have to be really flexible as you're going forward, and you have to be willing to laugh if things don't work. I still have my license, and I feel secure that if I ever wanted to move back to practicing law, I could. Cornell has given me a lot of opportunities—there are a lot of good things that go with a Cornell Law degree, and they allow you to do even better things."
Then, with the last Zoom echoes giving way to dinner and breakfast, the Reunion curtain came down again, sending attendees back to their nonvirtual lives, looking forward to an in-person return to campus, and thinking about the best parts of the past few days. "Listening to Ernie Roberts at our virtual class cocktail reception, that was a highlight for me, like going back in a time capsule," said Thomas Heiden '71, who moderated the panel on racial injustice on campus. "I thought, 'Holy cow, here we go, back from 2021 to 1969.' The lighter parts of the weekend—visiting people who hadn't been in touch with another for decades, listening to vignettes from their lives—were a highlight, too. But in my mind, when we started comparing racial tensions in 1969 and the present time, reunion wasn't just interesting. Given the state of affairs today, it was important."
---
Cornell Law Honors Peñalver and Kalantry
There was no shortage of good feeling when Franci J. Blassberg '77, Jens David Ohlin, and Eduardo M. Peñalver came together in January for a (virtual) fireside chat. There were lots of milestones to talk about, both past and future, but in the middle of all that warmth, there was something missing: an actual in-person conversation lit by the glow of an actual fire. "One thing I didn't accomplish, and I really wish I had, is that we're not sitting by a fireplace in the Law School," said Peñalver, with a Zoom backdrop of the library behind him.
"One of my bold initiatives was to get the fireplaces relit inside Myron Taylor Hall, so we did some engineering studies, and we really looked into it, but it proved to be cost prohibitive. There are 1940s photos of fires blazing in that huge fireplace in the foyer, and I would have loved to see that happen again, but I couldn't get it done."
It wasn't the first time Peñalver had talked about renovating the foyer, and well before that January chat, the Cornell Law School Advisory Council had already approved the idea and alumni had secured the funds for a new scholarship and a newly relit fireplace. "These were some of the easiest fundraising calls I've ever made," said Mary Gail Gearns '85, who chairs the Advisory Council, talking after the chat and before Peñalver heard the news. "Alumni were very responsive, and within a month, we'd raised more than a million dollars."
"There are new bids that show the fireplace isn't going to cost as much money as Eduardo originally thought," added Blassberg. "He's probably guessed we're going to name something in his honor, and ironically, it's the foyer—the room with that great big fireplace."
For Peñalver, who's proud of bringing 3L dinners into the Gould Reading Room, a roaring fireplace will add another touch of Hogwarts magic to Myron Taylor Hall. In winter, when Dementors cast a cold spell over campus, law students will be able to shelter around the hearth in what will now be known as the Eduardo Peñalver Foyer.
In addition, the Advisory Council announced another gift: the Eduardo Peñalver and Sital Kalantry Scholarship, conamed in honor of Peñalver's wife, Professor Sital Kalantry, who served on the Law School's clinical faculty and as the director of the new Master of Science in Legal Studies program.
"I didn't expect this at all," said Kalantry, "I'm honored to be included in the named scholarship, especially as an alum of Cornell University. To benefit someone who might not otherwise get a Cornell Law education is very meaningful to me and I am grateful to our alumni."
"I don't know what further research they've done, but hearing about the fireplace just took my breath away," said Peñalver, surprised to be talking about the fireplace in the new Eduardo Peñalver Foyer. "It's always been one of my goals, to create that sense of family in the Law School, and I think the fire will really help. I'm so moved to think about the generosity of the alumni and the scale of the scholarship they were able to create, which is no small feat. I'll continue to be touched by these gifts, and once they get the fireplace going, I'm going to pull up a chair and sit until someone chases me out."

Law School Creates DEI Alumni Leadership Council
In one of his first moves as dean, Jens Ohlin has established a Diversity, Equity, and Inclusion Alumni Leadership Council to expand the Law School's efforts to build a welcoming environment for all its students, staff, faculty, and alumni. The council is tasked with researching best practices within the profession, forwarding its recommendations to the dean, and steering the Law School toward continuous improvements in courses, clinical programs, and student life.
"There's a wealth of experience and expertise in the alumni that hasn't been harnessed in service of our efforts to improve diversity, equity, and inclusion," says Ohlin. "We've had a lot of conversations about this topic with faculty, staff, and students, but we sometimes forget that our graduates are already out in the world of legal practice, improving diversity in their organizations. We want to tap that energy for the Law School."
The fifteen-person leadership council, which held its first Zoom meetings this summer, comprises one member of the Alumni Association Executive Board of Directors; two members of the Dean's Advisory Council; representatives from the Cornell Alumni Network of Asian Lawyers (CANAL), Cornell Black Lawyers Alumni Network (CBLAN), Latino Lawyers of Cornell (LLoC), Cornell Native American Lawyers Alumni Network (NALAN), Cornell Law Young Professionals Network (CLYP), and Cornell Law School Mary Kennedy Brown Society (MKBS); and six additional Cornell Law alumni. The board also includes alumni members of the LGBTQ community, a comparable ratio of men and women, and one member to act as a liaison to the Cornell Law School Advisory Council, which meets twice a year; board memberships last one year and can be renewed with no term limits.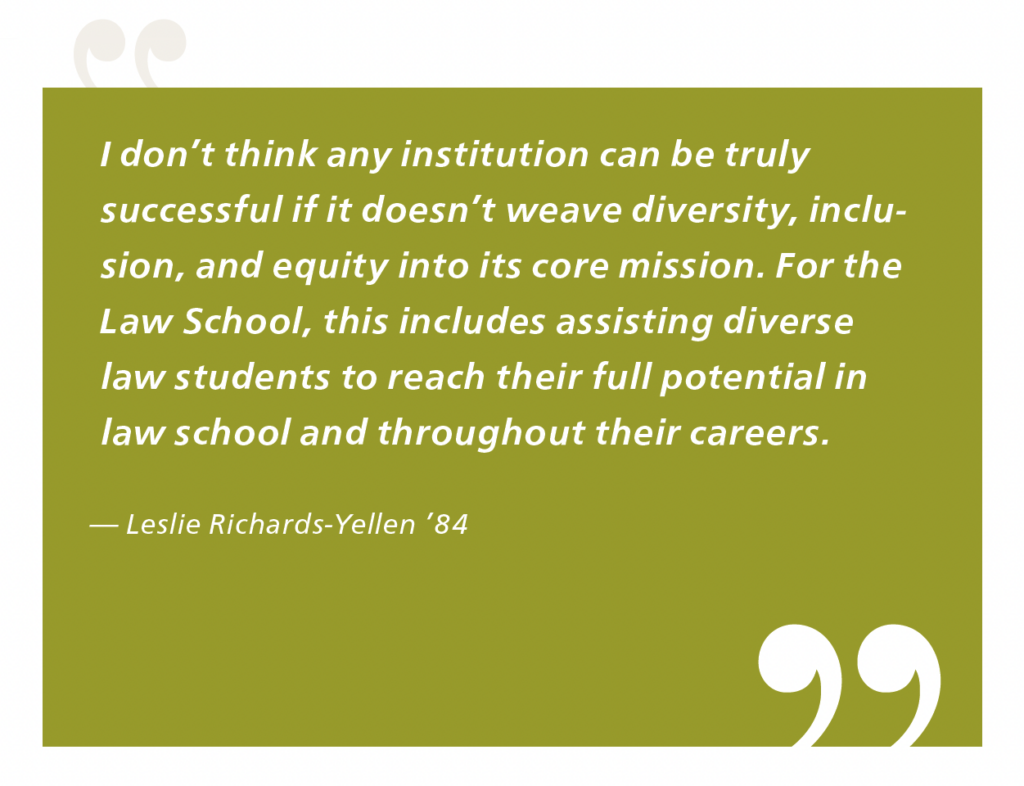 "I don't think any institution can be truly successful if it doesn't weave diversity, inclusion, and equity into its core mission. For the Law School, this includes assisting diverse law students to reach their full potential in law school and throughout their careers," says cochair Leslie Richards- Yellen '84, the director of global diversity and inclusion at Debevoise & Plimpton in New York City. "As an organization, your response to bias and discrimination encapsulates your values, and this identity is reflected to the world. As a school for lawyers, for justice, and for ethics, it's important for the Law School to have a path that's clear, wide, and inclusive."
During the course of the two summer meetings, attendees introduced themselves and talked about their backgrounds working toward diversity, equity, and inclusion. They also identified Richards-Yellen and Crystal Deazle '01, as cochairs, and shared ideas for improvements to the Cornell Law experience. Richards-Yellen, who described the meetings as "very free-flowing, open, and honest conversations," took five pages of notes as the board collected suggestions for organizing and focusing the group's work during the coming academic year.
"We decided to begin with an inventory of what the Law School is already doing, to take stock of programming that's already in place," says Deazle, the director of professional development and recruitment at Morris, Nichols, Arsht & Tunnell in Wilmington, Delaware. "That way, we can see the gaps that need to be filled and decide where to use our expertise to most effectively make an impact. To start, we agreed on the importance of connecting with current students and building a back-and-forth between students and the board because, ultimately, the Law School exists to serve its students."
According to the mission statement, drafted in advance of the first meeting, the council's purpose is to help Cornell Law sustain an academic community that's diverse, equitable, and inclusive, a place where people are respected for their individual talents and discrimination isn't tolerated. To make that happen, the Law School has committed to welcoming a diversity of ideas, perspectives, and values, with language that specifically recognizes the value and difference of people in terms of age, disability, education, ethnicity, gender, gender identity, language, marital status, national origin, physical appearance, race, religion, sexual orientation, and socioeconomic status.
The statement defines "equity" as "the fair treatment of every person," which includes eliminating any remaining barriers that stand in the way of full participation and increasing fairness within the Law School's distribution of resources. It defines "inclusion" as a process for building a community that "embraces differences and offers respect in words and actions for all people."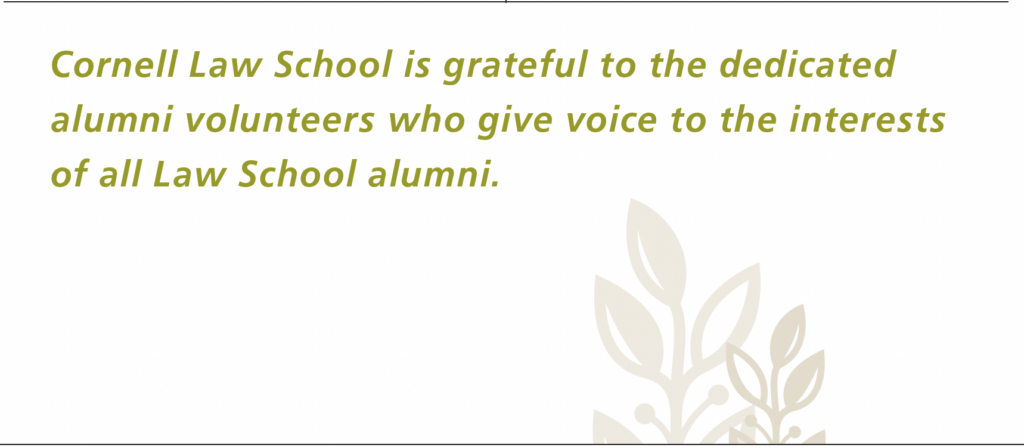 "From the two times we've met, it's clear the dean is really committed to this project," says Deazle. "He's given a lot of thought to what he'd like to see this group accomplish, and he won't just let this board sit on the back burner. He wants this group to keep moving forward, and he's genuinely interested in hearing what we have to say. People in the meetings were very forthright about the work we're doing. It's not going to be about window dressing. It's going to be about active engagement and tangible outcomes."
The charter members of the Diversity, Equity, and Inclusion Alumni Leadership Council are William Barrett '92; Jaime Bianchi '91; Mark Carter '11 (representing NALAN); Marihug Cedeno '13 (LLoC); Crystal Deazle '01 (cochair); Eric Elmore '89 (CBLAN); David Furman '86 (AC); Andrew Hahn '86 (CANAL); Jared Ham '19 (CLYP); Natalya Johnson '10 (MKBS); Andrianne Payson '00, DEI ALC's liaison to the Cornell Law School Advisory Council; Maithili Pradhan '10; Leslie Richards-Yellen '84 (cochair); Kwamina Thomas Williford '00; and Geoff Young '06 (AAEBOD).
New Alumni Leadership
Cornell Law School is grateful to the dedicated alumni volunteers who give voice to the interests of all Law School alumni. Joining the ranks of the Dean's Advisory Council is Steven C. Browne '88.
Browne is a managing partner at Morgan Lewis & Bockius, LLP, a global law firm with over 2,000 legal professionals in 30 offices around the world. He focuses his practice on Mergers & Acquisitions in the technology space. Some of his clients include Oracle Corporation, Raytheon Technologies, and PTC. Browne also leads Morgan Lewis's global Corporate & Business Transactions Practice Group of approximately 500 legal professionals. He is based in Boston and resides in Sharon, Massachusetts, with his wife Barbara and two daughters. Browne received his JD from Cornell Law School in 1988.
In addition, six alumni were appointed to the Cornell Law School Alumni Association Executive Board of Directors for three-year terms (2021–2024): Michael Clarke '89, Ward J. Mazzucco '78, Pilar Parducci '93, Roberta Tulman Samuels '90, Khandie Sokoni, LL.M. '97, and Cristina Velez '02. A complete listing of the board of directors can be found online at www.lawschool.cornell.edu/alumni/executive_committee.cfm.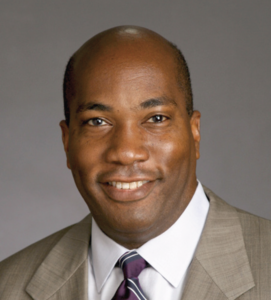 Michael Clarke '89
Michael Clarke is vice president, deputy general counsel, and global chief compliance officer for ConvaTec, Inc., a global medical technology company. He previously served as global, national or regional compliance office for life sciences and healthcare companies in Virginia and New Jersey. In his nearly eighteen years as a senior compliance leader, Clarke has created or managed global ethics and compliance programs, by educating employees and third parties on compliance policies and procedures; monitoring HCP interactions by sales, marketing, and medical affairs employees; conducting and overseeing third-party due diligence efforts; counseling on OFAC requirements; overseeing internal investigations; and implementing corruption, fraud, and bribery risk-mitigation processes. Before working in-house, Clarke practiced corporate, civil, and criminal law for fourteen years as a litigation partner with the law firm of Drinker Biddle & Reath and as an associate with other law firms. He also worked as an assistant deputy public defender in Essex County, New Jersey. He is a certified compliance and ethics professional and has been a panelist or moderator for numerous ethics and compliance presentations on aspects of creating and managing global ethics and compliance programs. Clarke received his J.D. from Cornell Law School and his A.B. from Brown University.
Ward Mazzucco '78
Ward Mazzucco is a member of the firm Chipman Mazzucco Emerson, located in Fairfield County, Connecticut. He handles commercial real estate and business matters and litigation arising from those practice areas. Mazzucco has also been appointed an arbitrator and factfinder in the Superior Court for the Judicial District of Danbury. He graduated from Brown University in 1975 and Cornell Law School in 1978. He resides in Redding, Connecticut, with his wife, Tami, and serves as a member of the Redding Board of Finance and as a director of RVNAhealth.
Pilar Parducci '93
Pilar Parducci graduated from Cornell Law in 1993 where she was the book editor of the Cornell Law Review. After graduation, she promptly fled upstate New York winters and joined the Los Angeles office of Latham & Watkins where she had been a summer associate, having previously fled the winters in her native Toronto to attend UCLA. Parducci practiced corporate finance law at Latham for a handful of years where she was also the cochair of the Ivy League Business Breakfast, Los Angeles. She later relocated to Silicon Valley and decided to make a career adjustment to a smaller, boutique firm before ultimately joining the in-house legal team at Intuit at their Mountain View headquarters. She stepped away from full-time practice upon having a son but has dabbled here and there including an enjoyable period with Kaplan Bar Prep torturing newly minted lawyers with convoluted bar exam hypotheticals. Silicon Valley has now been home for over twenty years and the majority of her time is filled with volunteer and charitable work in and around her home city of Los Altos.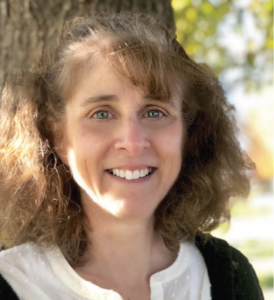 Roberta Tulman Samuels '90
Roberta Tulman Samuels is the director of Foundation/Corporate Relations at Family Promise, a national nonprofit that helps families experiencing homelessness and low-income families achieve sustainable independence. Prior to joining Family Promise in 2011, Samuels practiced law in New Jersey. She serves on the Board of Governors of the Cornell Club of Northern New Jersey and resides in New Jersey with her husband, Randy Samuels' 89. They have two adult sons. Samuels received her A.B. in 1987 from Cornell University and her J.D. from Cornell Law School in 1990.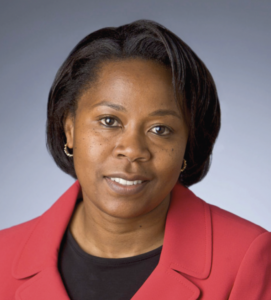 Khandikile Mvunga Sokoni, LL.M. '97
Khandikile (Khandi) Mvunga Sokoni, counsel at Grossman Young and Hammond, focuses her practice on a wide range of business immigration matters for a variety of clients across the country. Prior to joining Grossman Young & Hammond, Sokoni was a partner with the firm True, Walsh & Sokoni in Ithaca, New York, where she focused on both general corporate law and immigration law. In her service to the legal profession Sokoni has held several leadership positions including president of the Tompkins County Bar Association, the Finger Lakes Women's Bar Association, a chapter of the Women's Bar Association of the State of New York and the New York State Bar Association Committee of Bar Leaders.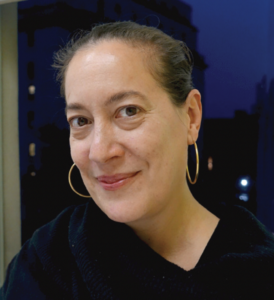 Cristina Velez '02
Cristina Velez is a senior staff attorney at the National Immigration Project of the National Lawyers Guild. Before joining NIPNLG, she directed the immigration unit at Queens Legal Services, specializing in removal defense and complex humanitarian relief for survivors of violence. Previously, Velez spent several years at the HIV Law Project, where her practice encompassed removal defense, affirmative asylum and other humanitarian relief, naturalization, waivers, appellate, and amicus work. In between, she worked at the NYU Immigrant Defense Initiative and the Community Development Project of the Urban Justice Center (now Takeroot Justice). Velez, a graduate of Cornell Law School and Oberlin College, clerked for the Hon. Denny Chin, then at the U.S. District Court for the Southern District of New York.
---
---