Cornell Law Rises in the Rankings
In the latest U.S. News & World Report law school rankings, released March 29, 2022, Cornell Law School moved from thirteen to twelve, its first movement in the rankings in nearly fifteen years.
In an announcement to the alumni community, Jens David Ohlin, Allan R. Tessler Dean and Professor of Law, noted that "Although rankings can never fully capture what makes our school and community so special, make no mistake: our rise in the rankings is a direct result of the historic credentials of our 1L class, their low debt burden upon graduation, and a career placement rate that is the envy of the T14."
"None of this would have been possible," Ohlin added "without the dedication of our outstanding faculty and the support of committed alumni who have hired our graduates, served as volunteers and advocates, and generously supported our strategic initiatives, especially financial aid."
Two Cornell Law Alumni Confirmed as Federal Judges
Two of the six federal judges nominated by President Joe Biden and confirmed by the Senate on March 23, 2022, are Cornell Law School alumni: John Chun '94 and Alison Nathan '00. Nathan was confirmed as a U.S. circuit judge of the U.S. Court of Appeals for the Second Circuit and will be the second openly gay woman to serve as a federal circuit court judge. Chun was confirmed as a U.S. District Judge for the Western District of Washington, and he will become the first Asian-American man to serve in that district.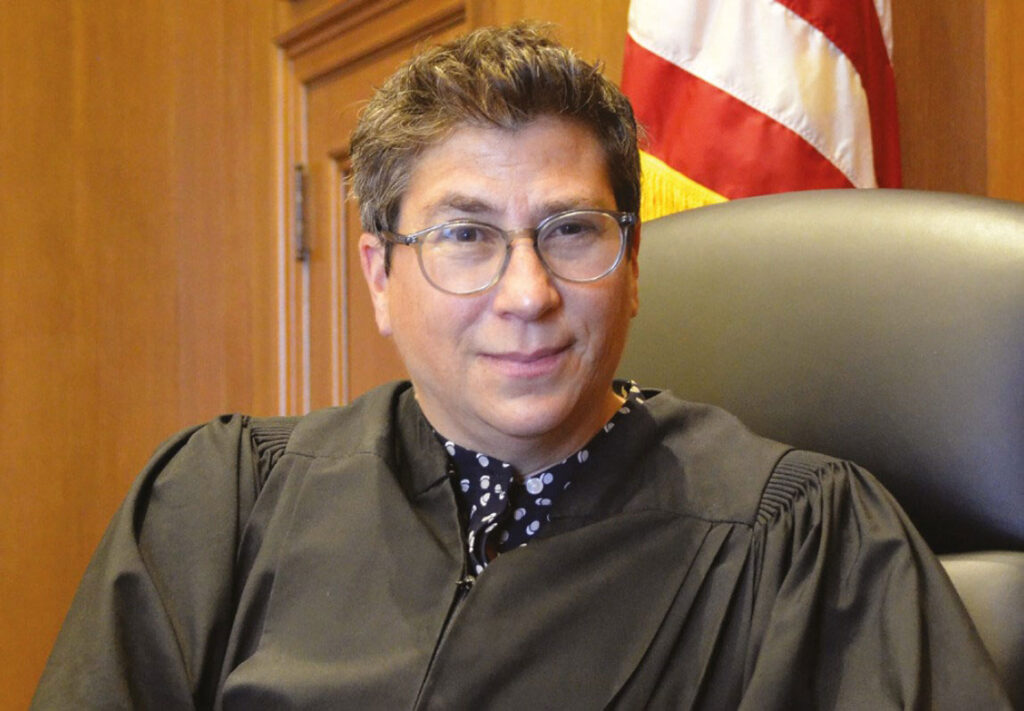 Judge Nathan was previously a federal judge for the U.S. District Court for the Southern District of New York. Immediately prior to taking the bench, Nathan served as special counsel to the solicitor general of New York. Before that she was an associate White House counsel and senior adviser to President Barack Obama. Earlier in her career, Nathan was in private practice at Wilmer Cutler Pickering and Dorr LLP in Washington, D.C., and New York. She also served as a visiting professor at Fordham University School of Law, and a faculty fellow at New York University School of Law. Nathan has maintained close ties to the Law School throughout her career, including serving on the Dean's Advisory Council from 2016–2020.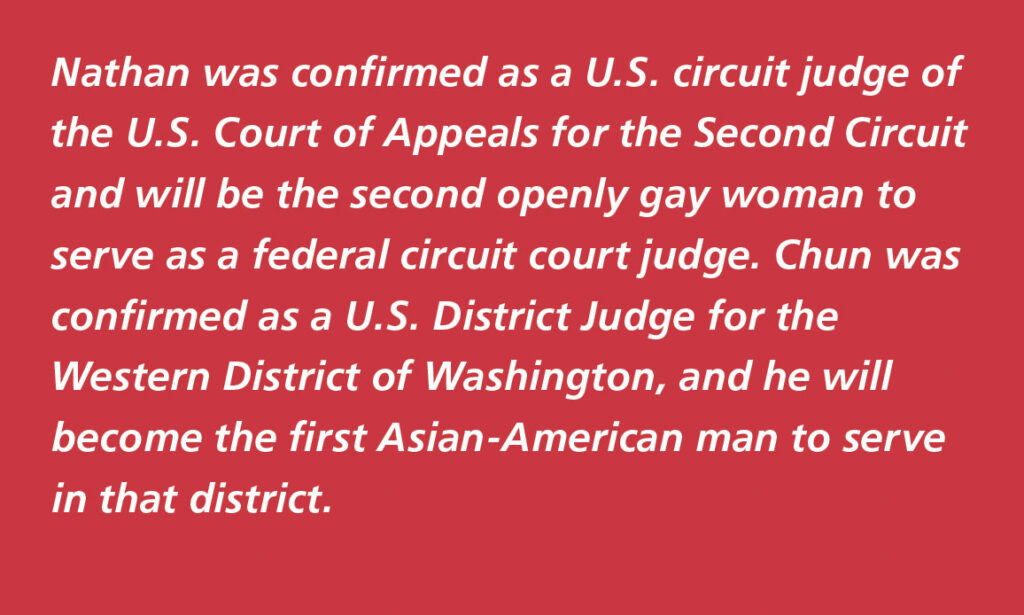 Judge Nathan earned her B.A. from Cornell University in 1994 and her J.D. in 2000 from Cornell Law School, where she was editor in chief of the Cornell Law Review. She then clerked for Judge Betty Binns Fletcher of the U.S. Court of Appeals for the Ninth Circuit and for Associate Justice John Paul Stevens of the U.S. Supreme Court.
Judge Chun previously sat on the Court of Appeals for Washington state, a post to which he was appointed by Governor Jay Inslee in 2018. From 2014 to 2018, Judge Chun served on King County Superior Court. He presided as a trial judge in civil, criminal, family law, and other types of cases. During his last year there, he served as the court's assistant chief criminal judge.
Judge Chun started his career as a law clerk to the Hon. Eugene A. Wright of the United States Court of Appeals for the Ninth Circuit. He then entered private practice and focused on complex commercial and employment litigation for over eighteen years. From 2004 to 2014, he served as a member of the American Arbitration Association's Commercial and Employment panels.
The son of South Korean immigrants, Judge Chun earned his B.A. from Columbia University and his J.D. from Cornell Law School, where he served as a note editor on the Cornell Law Review.
In 2018, three Law School alumni who had been appointed by President Trump were confirmed for federal judgeships: Karen Gren Scholer '82, Mark J. Bennett '79, and Amy St. Eve '90.
Lindsey Ruff '19 Receives First Jackson Distinguished Alumni Award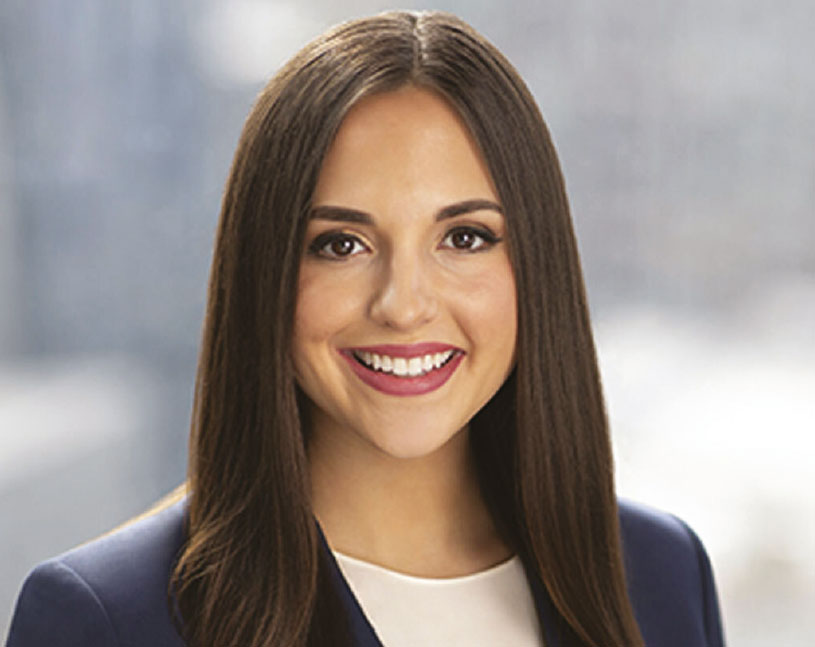 When Cornell Law School's First Amendment Clinic was asked to bring a lawsuit challenging a secrecy statute that conceals information about executions in South Carolina, Lindsey Ruff '19 proposed a novel approach to fight the law.
Ruff, then a third-year student, conceived of the legal theory that South Carolina's secrecy law violates attorneys' First Amendment right to learn information about their clients' impending executions, which would enable them to assess the constitutionality of the state's execution methods. Without that information, according to Ruff, attorneys could not effectively counsel their clients or communicate with the courts.
After becoming an associate at Boies Schiller Flexner in New York City, Ruff continued to work on the case, presenting oral arguments before the U.S. District Court and drafting a fifty-five-page appellate brief filed with the Fourth Circuit Court of Appeals. In January, Ruff was honored for her role in the case when she became the inaugural recipient of the First Amendment Clinic's new Jackson Distinguished Alumni Award, named after the clinic's founder and director, Mark Jackson '85.
"Lindsey has successfully done exactly what we try to encourage our students to do—conceive of new theories to move the law in the right direction and to make it more speech-protective," Jackson said. "Lindsey is, as we say in the law, Exhibit A—a prime example of the type of student we hope to foster in the clinic."
Ruff, who received the award on the first day of the clinic's virtual boot camp, will present arguments this spring in an appeal of the District Court's dismissal of the case last year. "The subject matter is really important to me, so I felt personally invested in continuing to carry the case forward," she said.
The case was filed on behalf of a South Carolina nonprofit organization, Justice 360, which represents about 40 percent of the inmates on death row in the state. The nonprofit has a longstanding connection to Cornell Law School since its first executive director was John Blume, the director of the Cornell Death Penalty Project.
While there have been a number of lawsuits challenging execution secrecy policies, few have focused on the First Amendment right to free speech. "It's a legal claim that has not been litigated, as far as we can tell, in any court anywhere else in the United States," said Jared Carter, associate director of the First Amendment Clinic.
Thomas Heiden '71 Serves as Distinguished Practitioner in Residence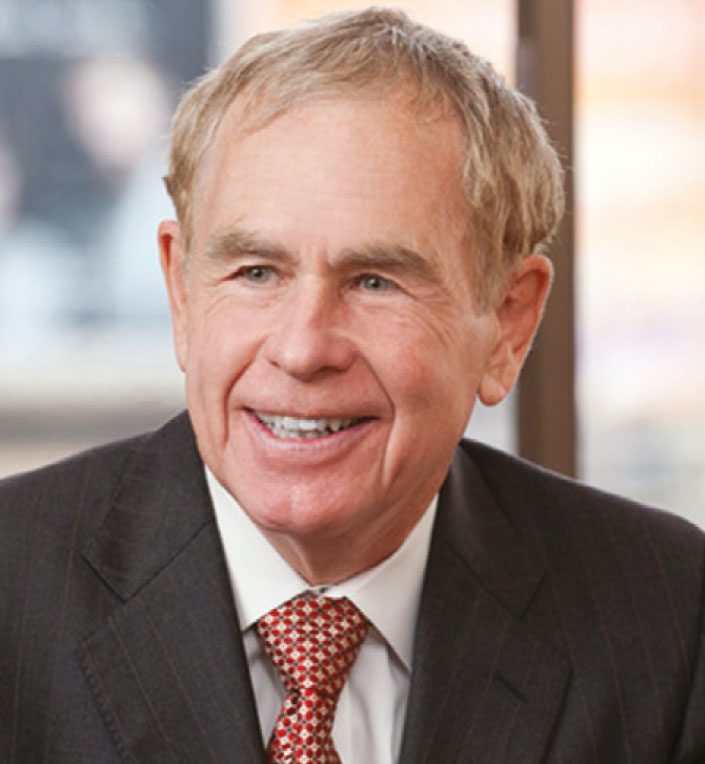 Renowned trial lawyer Thomas Heiden '71 served as a Distinguished Practitioner in Residence at Cornell Law School during the spring semester of 2022, during which time he taught a course on Business Litigation and one on Depositions. Heiden also taught an Intensive Trial Advocacy class during the January term for the seventh year.
Heiden, a partner and former global head of product liability, mass torts, and consumer class actions practice at international law firm Latham & Watkins, has tried cases in every region of the United States. His practice has focused on difficult and high-profile lawsuits, including toxic tort, high-stakes energy, utility, resource and business contract, and tort disputes. In 2011, Heiden tried and won the high-profile $4 billion Pro Football Lockout Fund trial. He most recently tried and won the CONSOL Energy $765 million contract case and before that he defended and won the lead high school football concussion class action.
"I've always been driven by a desire to make meaningful contributions," says Heiden. "I've had experiences and have been entrusted with challenges I never dreamed of when walking the halls of the Law School. I cherished each of those opportunities and look forward to sharing them with today's Cornell Law School students and faculty."
Heiden has been recognized as a fellow in the esteemed American College of Trial Lawyers and chair of its Trial Teaching Committee. He was a frequent guest on CNN's "Big Trials of the Day" segment. Heiden received his J.D. from Cornell Law School in 1971 and his B.A. from Notre Dame University in 1967.
Tenants Advocacy Practicum Honored at White House Event
On January 28, 2022, Cornell Law School was recognized at a virtual White House event as one of ninety-nine law schools that responded to U.S. Attorney General Merrick Garland's "Call to Action" to the legal profession to address the nationwide housing and eviction crisis. Five students from Cornell Law's Tenants Advocacy Practicum, along with practicum director William Niebel and Michaela Rossettie Azemi, director of Pro Bono Services and Externships, attended the event.
In his Call to Action, issued on August 30, 2021, Garland asked lawyers and law students to take immediate action to help their communities through Emergency Rental Assistance application support, volunteering with legal aid providers, and helping courts implement eviction diversion programs, among other initiatives aimed at increasing housing stability and access to justice. In response, ninety-nine law schools in thirty-five states and Puerto Rico committed to help prevent evictions, and over 2,100 law students dedicated over 81,000 hours to serve over 10,000 households. These efforts helped keep eviction filings 60 percent below historic averages.

Cornell Law's Tenants Advocacy Practicum made an impact in several landlord-tenant disputes last semester, including one case that went to trial in Ithaca City Court. "It initially looked like a small and simple security deposit case, but it went to trial because the landlord did not take it well . . . [We] had to think fast that morning, because the landlord showed up, without notice, armed with two witnesses and eight exhibits. But we were well prepared, so we won," says Jong Wook Bae, who attended the White House event along with fellow practicum students Jennifer Seidman, Hyun Lee, Veronica Blascoe, and Hana Yampolsky.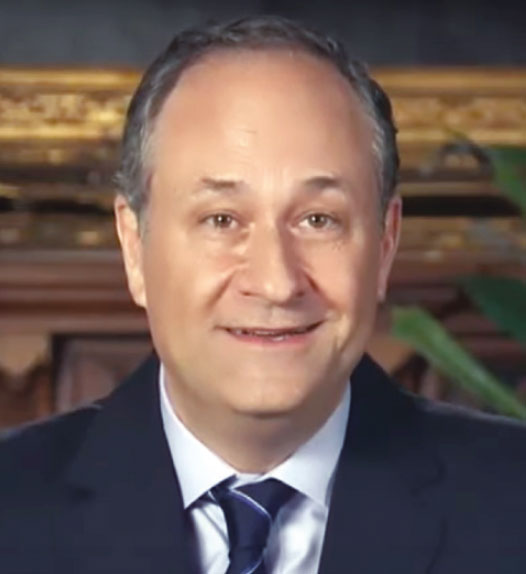 "It was great to see the White House and attorney general recognize the work that the Tenants Advocacy Practicum and Tenants Legal Hotline have done so far," adds Jennifer Seidman. "With the expiration of the New York eviction moratorium, this work continues to be vital to the health and welfare of the community."
Speakers at the event included Second Gentleman Douglas Emhoff and Attorney General Garland, who told the present law students, "[Y]ou are the new generation of Americans to whom the torch of legal obligation is passed. Your service this past 151 days assures me that the torch remains in good hands."
When No One Believes: How a Law School Clinic Helped an Asylum Seeker Get a Second Chance
Immigration judges have wide leeway to decide whether the asylum seekers who appear before them are lying or not, and such decisions are almost impossible to reverse. This is especially true in the U.S. Court of Appeals for the Fifth Circuit, which handles appeals from immigration judges in Louisiana—some of whom deny asylum in over 90 percent of their cases. One such judge presided over the case of "X," a Cameroonian asylum seeker.
X testified that the military in Cameroon had arrested him, accused him of helping Anglophone rebels, beat him, and tortured him with electric batons. He submitted photos of his house, which soldiers had burned. He produced affidavits from family members, church members, and friends describing his disappearance and the soldiers who came looking for him. Human rights reports confirmed the violence.
On February 25, 2020, the immigration judge found his testimony not credible and entered a removal order. The Board of Immigration Appeals (BIA) affirmed.
By the time Cornell Law School's Asylum and Convention Against Torture Clinic got involved, U.S. Customs and Immigration Enforcement (ICE) had moved X to a for-profit prison that holds immigrants in rural Louisiana. X had fallen ill, and his medical records showed that his blood pressure was dangerously high. Detainees around him were catching COVID; some were dying. The clinic, with the help of the Louisiana Advocates for Immigrants in Detention, filed a request to get him out. On February 2, 2021, X left the prison, free for the first time since setting foot on U.S. soil eighteen months earlier.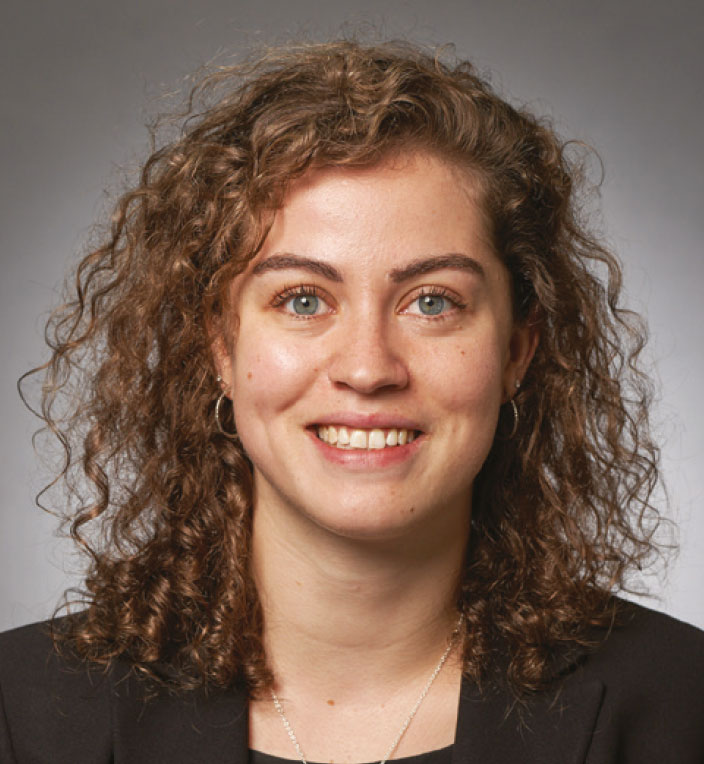 The team of Cornell Law students that worked on the case—Rachel Skene '22 and Emma Sprotbery '22, and Johannes Maronga '21—decided on a two-pronged challenge to the immigration judge's adverse-credibility findings. Working under Clinic Director Estelle McKee, clinical professor of law, the team moved to reopen X's removal proceedings at the BIA based on new evidence—an affidavit and photos from X's pastor demonstrating that soldiers were still looking for him. And they petitioned for review in the Fifth Circuit, with a motion to stay X's removal.
The students focused closely on what had happened to X at trial and found that the immigration judge's opinion was riddled with errors, repeated over and over again. But the students had an uphill battle. In the BIA, published decisions reversing adverse-credibility findings are uncommon. In the Fifth Circuit, they are nearly nonexistent. But on April 15, 2021, there was a glimmer of hope: the Fifth Circuit stayed X's removal. Decisions on stay motions rest largely on how the court views the underlying merits of the asylum seekers claim, so this was a positive sign. And it relieved X of his worry that ICE might show up one day and put him on a flight to Cameroon.
Then more good news: on February 3, 2022, the BIA reopened X's removal proceedings, determined that X had established a prima facie claim for asylum, and remanded his case to immigration court. It was a narrow win of two to one, with one appellate immigration judge dissenting. But X now has a second chance. He has two appellate immigration judges who think he is telling the truth. He has three law students who believed him all the way to the Fifth Circuit. And the clinic will make sure he has a lawyer when he returns to immigration court.
Visiting Scholar from Myanmar Wins Prestigious Human Rights Prize
May Sabe Phyu, a visiting scholar from Myanmar, was awarded the 2022 Franco-German Prize for Human Rights and the Rule of Law at a ceremony in New York City on March 28, 2022. The governments of France and Germany bestowed the award on Phyu for her "exceptional contribution to the protection and promotion of human rights, speaking against injustices, working to help those who are persecuted and who refuse to be silenced."
Phyu, whose visit to the Law School is sponsored by Cynthia Grant Bowman, the Dorothea S. Clarke Professor of Law, is the director of the Gender Equality Network, a coalition of more than one hundred grassroots and national organizations collaborating to end discrimination against women and ethnic and religious minorities in Myanmar. Through GEN, Phyu helped draft the National Strategic Plan for the Advancement of Women for the then government of Myanmar. Her work—research, publication, and organizing—has focused on violence against women, including drafting a law for the prevention of gender-based violence, and on social and cultural practices in Myanmar and their impact on gender equality. She also was a founding member of the Alliance for Gender Inclusion in the Peace Process, a coalition that became one of the most important independent voices for the plight of women and girls in Myanmar. In recognition of her many contributions, the U.S. State Department gave Phyu its International Women of Courage Award in 2015.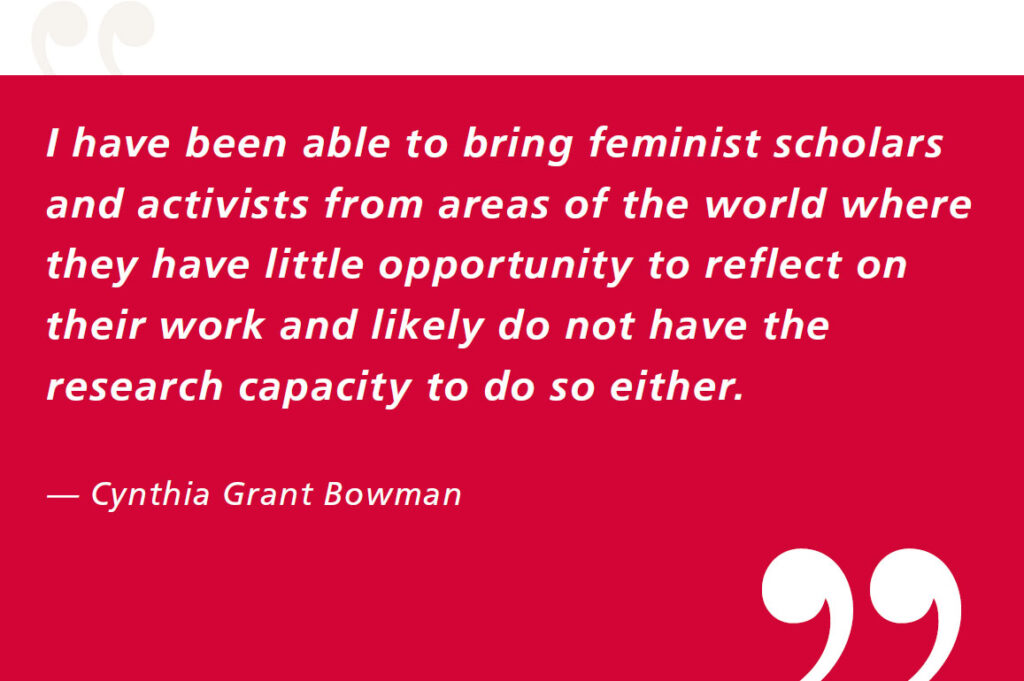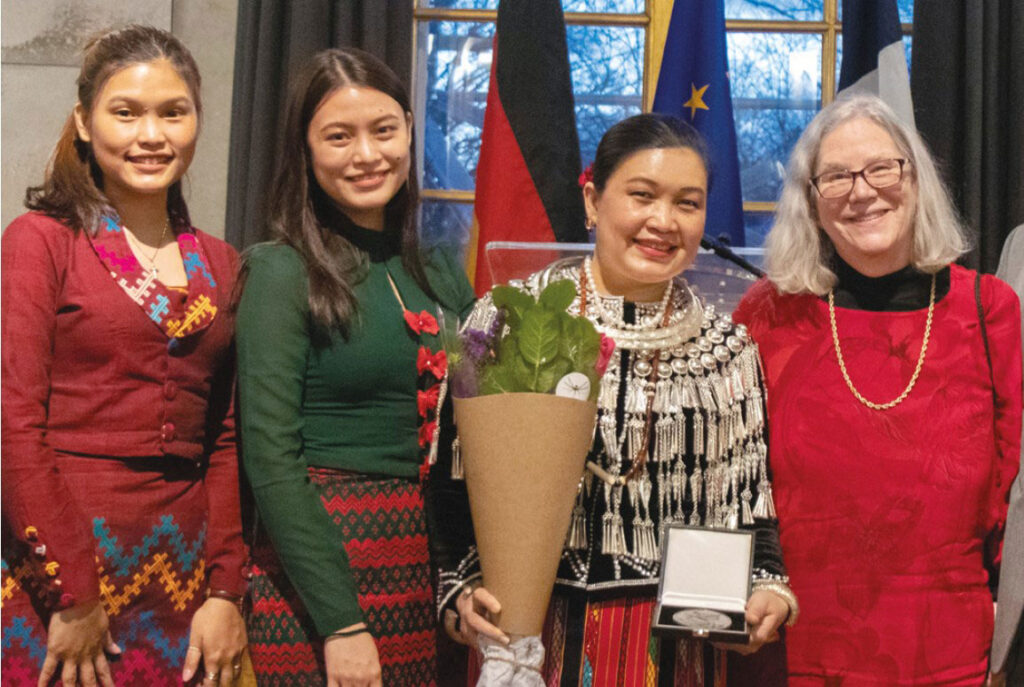 Several years ago, Phyu was forced to leave Myanmar and her work there when it became clear that her life was in danger. She is currently seeking asylum in the United States and living with her husband and three children in Ithaca.
"With the very generous funding of my Dorothea S. Clarke Chair in Feminist Jurisprudence," says Bowman, "I have been able to bring feminist scholars and activists from areas of the world where they have little opportunity to reflect on their work and likely do not have the research capacity to do so either. In this case, this allows me also to give refuge to a prominent feminist whose life was in danger."
Clinic Enables Cornell DACA Student to Study Abroad
With the help of Cornell Law School's 1L Immigration Law and Advocacy Clinic, Marco Salgado Lara, a Cornell University senior studying landscape architecture, was able to obtain the legal documents necessary to travel abroad to study landscape architecture at Wageningen University, a world-renowned institution known for landscape architecture studies.
"I felt nervous, excited, everything," says Marco. "As soon as I found out I could travel, I called my mom, and we were just so happy."
Marco had been unsure whether he would be able to study abroad since he is a Deferred Action for Childhood Arrivals (DACA) recipient, which allows him to gain work authorization and protection from deportation for two years, but doesn't allow him to exit the United States and lawfully return. However, DACA recipients can apply for permission from the government for a sort of travel permit called Advance Parole, which allows DACA recipients to travel for educational, employment, or humanitarian reasons.
To start his Advance Parole application, Marco reached out to Professor Jaclyn Kelley-Widmer, associate clinical professor at the Law School and the director of the 1L Immigration Law and Advocacy Clinic. With the help of Yam Schaal '23 and Ethan Taveras '23, the clinic compiled Marco's Advance Parole application in Spring 2021.
After the application was filed in March 2021, Marco waited, but there was no reply from the government for weeks on end. With his August departure date looming, Marcos says that "Professor Kelley-Widmer sent an expedite request. Then I went to a [government] field office, and they approved my request right away, so I didn't miss my flight." Ultimately, Marco made it to the Netherlands that August, in time to join the study-abroad program for the fall semester.
Migrations Project Helps Refugees Claim Health Care Rights
A Cornell collaboration crossing medicine, law, technology, and communication is aiming to encourage the use of health care benefits by refugees in the United States—who often suffer poor health but are using these entitlements less than they have in the past.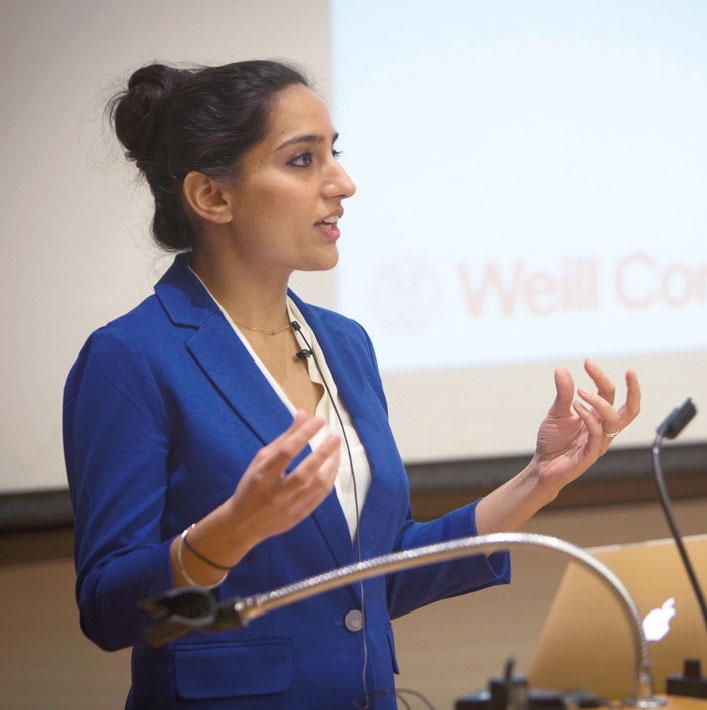 "Many of them believe—wrongly—that if they take any public benefits they will become deportable or not be able to get a green card," said Stephen Yale-Loehr '77, J.D. '81, professor of immigration law practice. "They lack clear and accurate information about what public benefits they are entitled to in the United States."
Led by Yale-Loehr and Dr. Gunisha Kaur '06, M.D. '10, assistant professor of anesthesiology, Weill Cornell Medicine, the team tackling this information gap includes Natalie Bazarova, associate professor of communication in College of Agriculture and Life Sciences, and researchers at the Bronfenbrenner Center for Translational Research.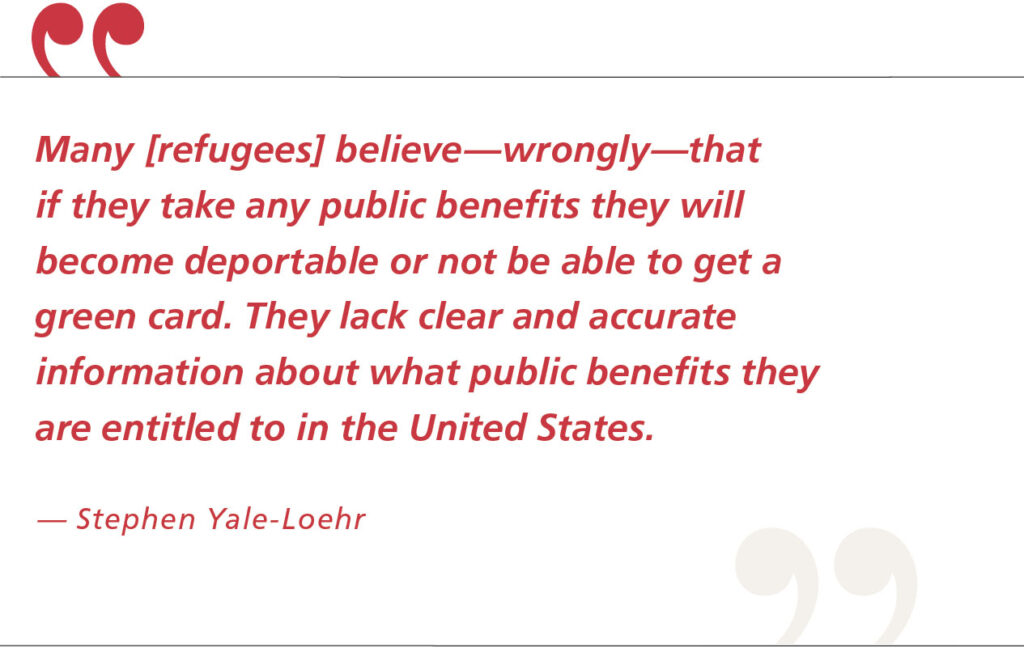 The researchers joined forces through the Mario Einaudi Center for International Studies and Global Cornell's multidisciplinary Migrations initiative, with multiyear funding to discover how much immigrants know about public benefits and identify the best ways to educate them about their legal rights.
Forced to leave their homes, refugees and asylum seekers often have health issues such as post-traumatic stress disorder and anxiety, as well as undiagnosed infections or diseases. In the project's first phase, the researchers assessed immigrants' barriers to health care services; the next phase will aim to change their behavior to help them use the services they need.
Cornell Alumna Keisha Hudson Named Chief Defender for the City of Philadelphia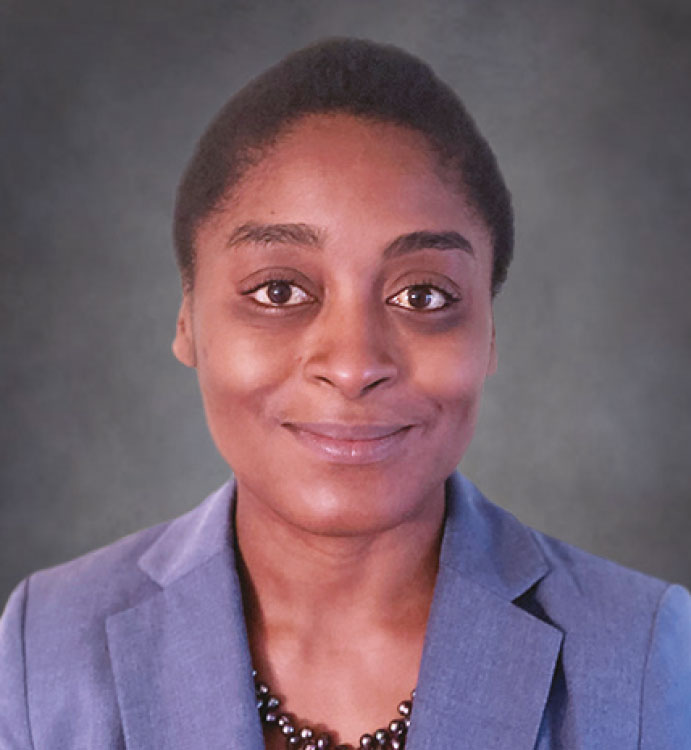 In November, Keisha Hudson '99, J.D. '02, was named chief defender for the city of Philadelphia.
"I recall the exact moment I decided I wanted to be a public defender," says Hudson. "It was working with Professors Johnson and Blume in the Cornell Death Penalty Project [both of whom] exemplified zealous advocacy. My experience in the clinic left me with the certainty that I needed to use my law degree to work for and with those society has largely abandoned. I am immensely grateful to them and the larger Cornell Law community for providing the foundation for what has been an incredibly meaningful career as a public defender."
Hudson was most recently the deputy chief defender at the Montgomery County Public Defender Office in Montgomery County, Pennsylvania. Prior to that, she spent ten years as an attorney with the Federal Defender, Capital Habeas Unit (Eastern District of Pennsylvania) where she represented clients sentenced to death row in their state post conviction and federal habeas appeals. She began her public defense career at the Defender Association of Philadelphia.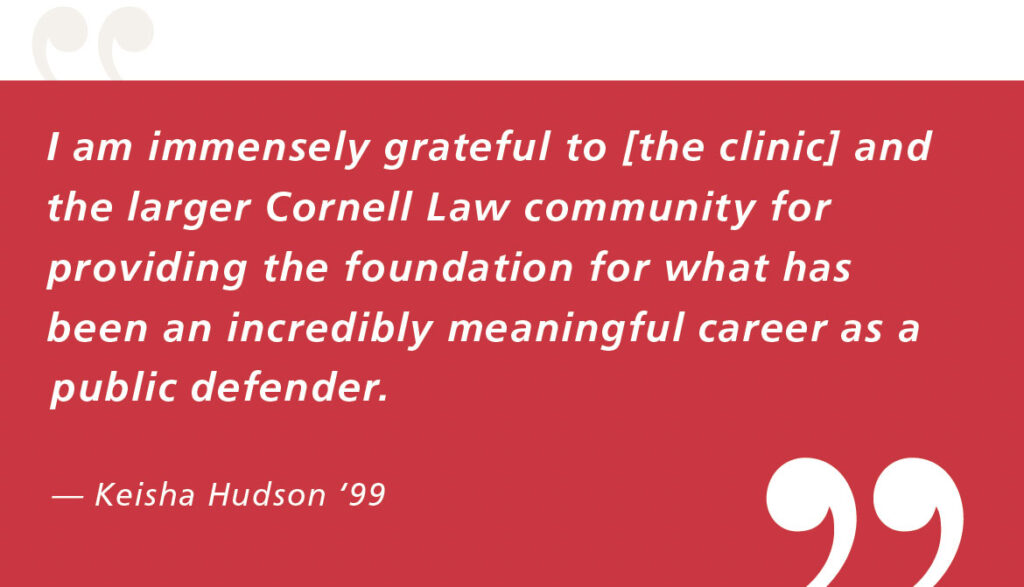 "Keisha was one of those special students who it was clear was going to do special things after graduation," says John Blume, Samuel F. Leibowitz Professor of Trial Techniques and Director, Cornell Death Penalty Project. "Seeing students like Keisha leave Cornell, spend their careers fighting for persons condemned to die or serving other draconian sentences and now assuming leadership roles and training the next generation of lawyers is what makes teaching here worthwhile."
"Keisha's work in the criminal justice system thus far has been remarkable and tireless, and we look forward to seeing what she will do for indigent defense in Philadelphia in the years to come," adds Sheri Lynn Johnson, James and Mark Flanagan Professor of Law.
Asylum and Convention Against Torture Clinic Wins Pro Bono Award from the Florence Project
On October 28, 2021, the Law School's Asylum and Convention Against Torture Clinic received a 2021 Pro Bono Appreciation Award from the Florence Immigrant & Refugee Rights Project, the largest organization providing free legal and social services to detained immigrant adults and unaccompanied children in Arizona. The clinic, one of six pro bono awardees, was honored with the Adult Program Special Partnership Award for its "holistic, comprehensive advocacy" for individual clients and for continuing its "decades-long tradition of training students who will become zealous advocates for justice."
The Florence Project created a digital booklet to share the experiences of the pro bono attorneys, translators, experts, and volunteers who received the pro bono awards. The booklet includes short video reflections from the two Law School faculty members—Ian Kysel and Stephen Yale-Loehr—who direct the clinic and six Law School students who worked in the clinic in recent years: Conor Bednarski '21; Emma Sprotbery '21; Khalid Vrede '21; Ana Ruival, J.S.D. '22; Michelle Zhu '21; and Kayleigh Yerdon '21.