On May 12, 2022, the Law School's Death Penalty Program received the Award for Excellence in a Public Interest Case or Project from the Clinical Legal Education Association (CLEA). The award honors the work of the Capital Punishment Clinic, the International Human Rights Clinic, the Center on the Death Penalty Worldwide, and the Death Penalty Project, representing the efforts of Professors Sandra Babcock, John Blume, Sheri Johnson, and Keir Weyble, as well as generations of their students, alumni, community partners, and clients. The award was presented in a virtual ceremony at the Association of American Law School's Conference on Clinical Legal Education. In conjunction with the award presentation, CLEA showed a moving video tribute to the work of the Death Penalty Program available at https://bit.ly/CornellDPP.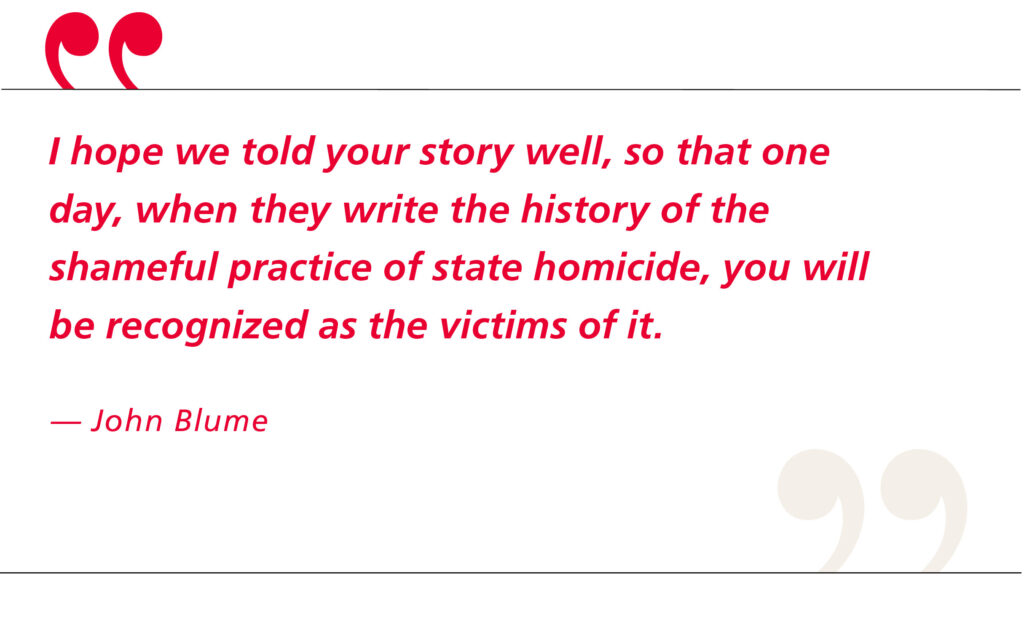 Babcock and Blume were in attendance to accept the award for the Cornell Death Penalty Program. Both thanked their colleagues and their nominators—Professors Beth Lyon from Cornell Law, David Bruck of the Virginia Capital Case Clearinghouse, and Elisabeth Semel of Berkeley Law.
"We are so lucky to have the job that we do," said Babcock. "This work is not about winning big cases […] This work is about the struggle. And it's about the joy of struggling in tandem with people that you love, with clients that you love, and teaching students that that is what the work is. It's a never-ending struggle, and you have to be able to find joy in that."
Blume thanked "twenty-five years of students" and also the program's clients, "who literally put their lives in our hands." He closed his remarks with an acknowledgement of the clients who have been lost to execution, saying, "I hope we told your story well, so that one day, when they write the history of the shameful practice of state homicide, you will be recognized as the victims of it."

The faculty of the Death Penalty Program have collectively devoted more than 100 years to the defense of people facing the death penalty, leveraging law school and university resources to provide enduring support to individual clients and to the capital punishment abolition movement in the United States and around the world. They have worked not only to overturn convictions and death sentences of individual clients, but also to assist and train capital defense attorneys in dozens of countries, conduct groundbreaking empirical research and scholarship, and promote ever-higher standards of defense practice both in the United States and abroad. Countless alumni have gone on to work in criminal defense or in the capital punishment field as a result of their clinic experience, and many continue to collaborate with the faculty and current students.