In the summer of 1998, Jens David Ohlin was a philosophy grad student at Columbia University. Night after night, temperatures were too hot for sleeping, so he stayed awake watching the news from Kosovo. Serbian forces were conducting a campaign of genocide against the country's ethnic Albanians, displacing hundreds of thousands of people while NATO and the United Nations watched, trying to build a consensus for action.
"That was the turning point for me," says Ohlin, the new Allan R. Tessler Dean and Professor of Law, talking from his office in Myron Taylor Hall. "At the time, there was a profound conversation going on about legal intervention, with lawyers promising accountability, and I was very taken with those words and what they represented. They spoke to the power of the law to deliver justice, and at the same time, about the responsibility of the law to offer solace to people, to promise their suffering would not be forgotten.
"I remember a press conference where the chief prosecutor of the International Criminal Tribunal for the Former Yugoslavia said there would be no immunity for crimes against humanity," he continues. "It was a shot across the bow to anyone who was either perpetrating or ordering atrocities against civilians. That was the moment I decided I had to go to law school, I had to become a lawyer. The next thing I did was buy a book to study for the LSAT."
Two decades later, Ohlin is highly regarded as a scholar working at the intersection of law and philosophy, the author of six books and the editor of nine others.
Two decades later, Ohlin is highly regarded as a scholar working at the intersection of law and philosophy, the author of six books and the editor of nine others. In 2002, after completing his Ph.D.—including a dissertation on personal identity and collective agency—Ohlin entered Columbia Law School, earning a J.D. in 2005 and spending a year at Kaye Scholer before returning to Columbia as an associate in law. That two-year fellowship led to his first book, coauthored with George P. Fletcher, Defending Humanity: When Force is Justified and Why (Oxford 2008), which reviewers called "carefully reasoned," "elegant," "fascinating," "innovative," "insightful," "provocative," "stimulating," "valuable," and "pugnacious without being polemical."
In the years since, he's continued to focus on war and ethics in Targeted Killings: Law and Morality in an Asymmetrical World (coeditor, Oxford 2012); Cyber War: Law and Ethics for Virtual Conflicts (coeditor, Oxford 2015); The Assault on International Law (author, Oxford 2015); Necessity in International Law (coauthor, Oxford 2016); Theoretical Boundaries of Armed Conflict and Human Rights (coeditor, Cambridge 2016); Weighing Lives in War: Combatants and Civilians (coeditor, Oxford 2017); Research Handbook on Remote Warfare (coeditor, Elgar 2017); Interrogation and Torture: Integrating Efficacy with Law and Morality (coeditor, Oxford 2020); Oxford Handbook of International Criminal Law (co-editor, Oxford 2020); and Lethal Autonomous Weapons: Re-examining the Law and Ethics of Robotic Warfare (coeditor, Oxford 2021).
Over those same thirteen years, he's published thirty-five articles, twenty-eight book chapters, and twenty-three encyclopedia entries, along with writing casebooks on international law, criminal law, and criminal procedure, a subject he's never taught. ("Nobody does that, it's completely unheard of," says Jeffrey J. Rachlinski, Henry Allen Mark Professor of Law. "He's turning these books out at an absolutely fearsome pace, and they're all written brilliantly," says Kevin M. Clermont, Robert D. Ziff Professor of Law.) Most recently, Ohlin has found a new focus in Election Interference: International Law and the Future of Democracy (Cambridge 2020) and Defending Democracies: Combatting Foreign Election Interference in a Digital Age (coeditor, Oxford 2021). And though the deanship won't allow Ohlin much time for research, he already has five publications in process.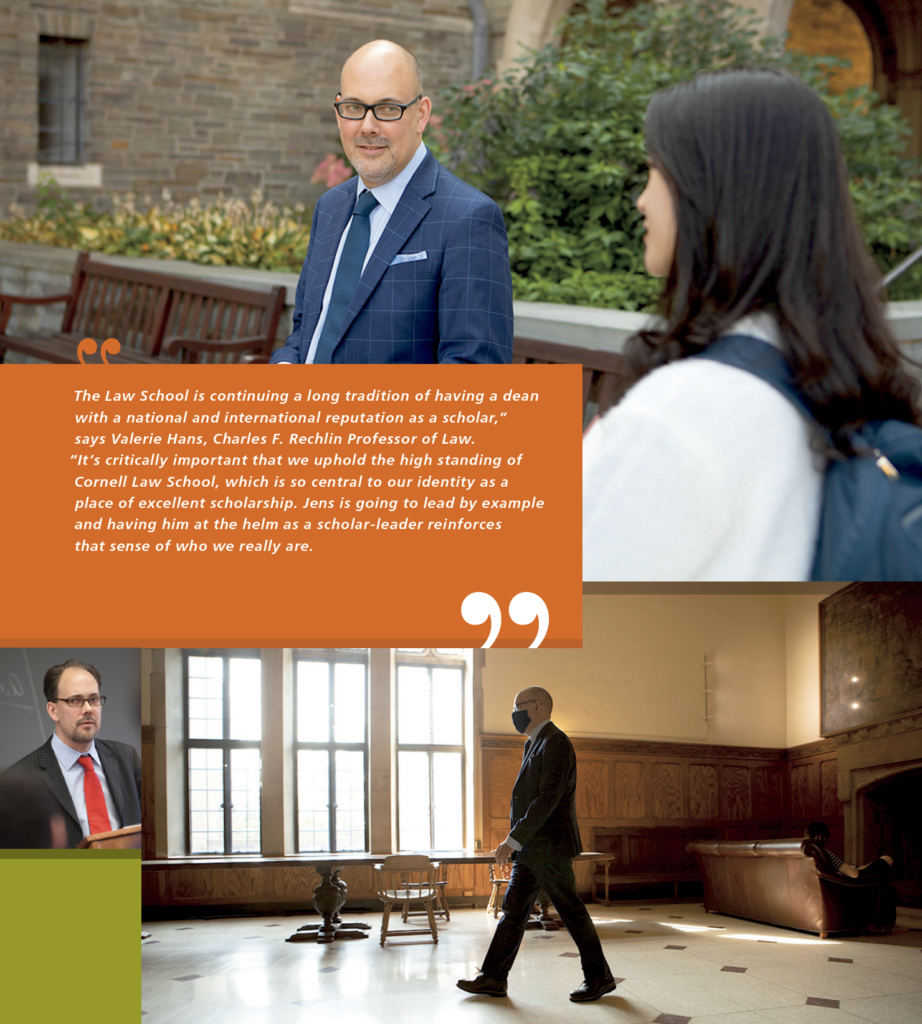 "Jens is unbelievably smart and incredibly accomplished, a brilliant scholar who also has great common sense," says Eduardo M. Peñalver, who served as dean until the end of 2020, when Ohlin began as interim dean. "He was an absolutely essential partner for me and a solid leader for Cornell Law, totally dedicated and completely unflappable. He likes to get down in the weeds, and he has this calm, analytical style, where he's able to take a problem apart, study all the different angles, and develop an effective response. That's going to be emblematic of his approach as dean: even-keeled and service-oriented, the perfect person to lead the Law School at a very challenging time."
Peñalver credits Ohlin, vice dean from 2017–2020, with helping guide the Law School through the first year of COVID-19 and tackling the technological challenges of offering both online and hybrid courses. Leaning on his experience in administration, Ohlin reenvisioned the vice deanship beyond its supporting role, developing the new master's degree in legal studies and building a portfolio that included alumni relations, budgeting, faculty recruitment, fundraising, marketing, and technology—experiences that suited him well when he began leading the Law School in January 2021.
---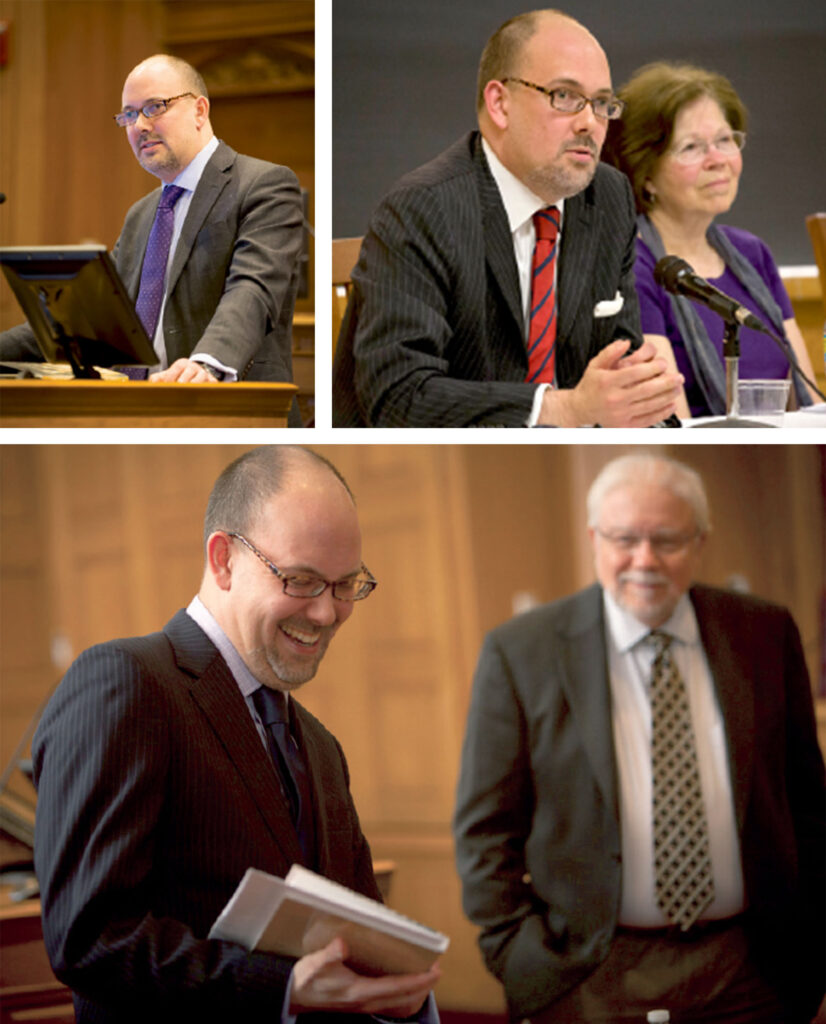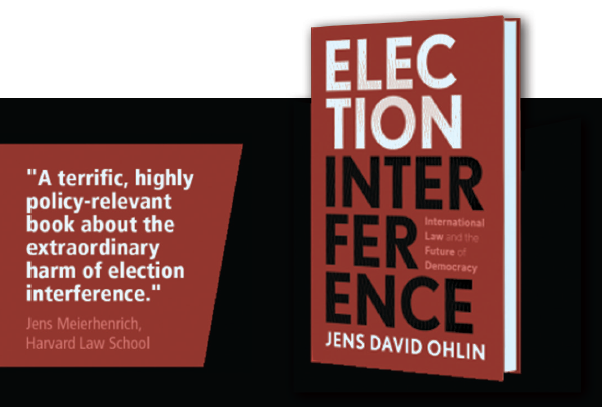 "As interim dean, Jens showed he's good at listening, and he's very sympathetic to the challenges people face, especially in a pandemic," says Stewart J. Schwab, Jonathan and Ruby Zhu Professor of Law, and the dean from 2004–2014. "I remember when Jens first came here, I was curious about how he'd use his philosophy training. It was an open question back in 2008, but it's not anymore, which is why faculty support for his deanship has been so widespread. We've all seen him lecture, where he's made his arguments in clear, compelling ways. We've seen how he combines the analytic rigor of philosophy with down-to-earth practicality, and we've seen him making smart, nuanced decisions for the good of the Law School."
Back in 2008, in a memorable telephone call, then-Dean Schwab delivered the good news, hiring Ohlin as a tenure-track assistant professor and making Ohlin feel like "the luckiest person in the world," just a few weeks after he'd stood at the base of McGraw Tower, watching snow fall on the city and imagining a place for himself in the landscape. The position at Cornell Law was a great leap beyond the teaching fellowship he'd had at Columbia, and after surviving a long series of Cornell Law interviews and presentations that he describes as "grueling in the best way," Ohlin was excited to bring his wife and two children to Ithaca and launch his career.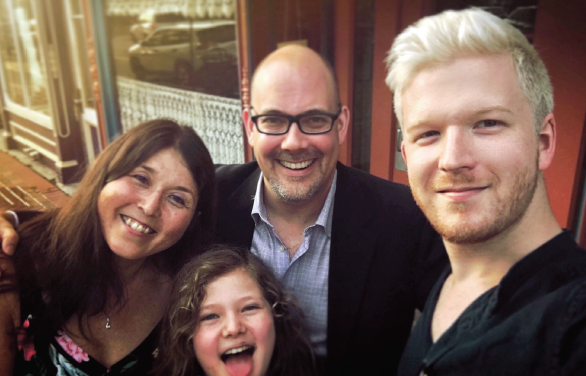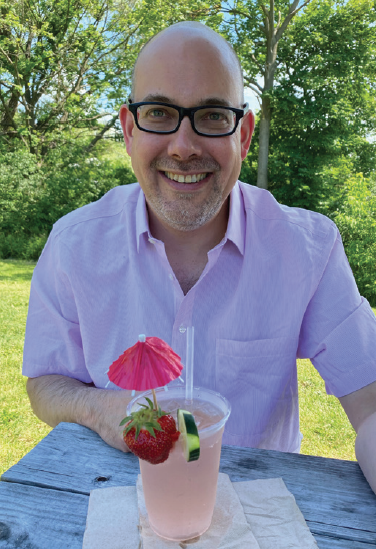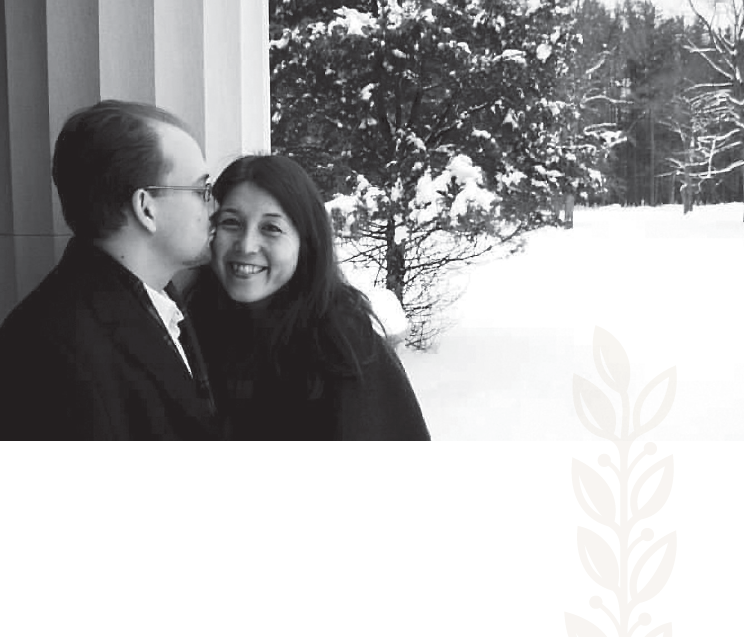 ---
He'd grown up in an academic family, the son of a father who taught American literature at McGill University and a mother who managed the Quebec Federation of Home and School Associations. As a dual U.S./Canadian citizen living in Montreal, Ohlin remembers watching the news on American television, celebrating the Fourth of July, and registering for selective service at the American consulate on his 18th birthday. For high school, he crossed the border to attend Phillips Academy in Andover, Massachusetts, then stayed for a bachelor's degree in philosophy at Skidmore College, followed by two master's degrees, a doctorate, and a juris doctor from Columbia.
Three years after the call that brought him to the Law School, Ohlin was promoted to associate professor; two years later, having taught Criminal Law, International Criminal Law, Jurisprudence of War, and Public International Law, he became a full professor and the director of faculty research (2013–2015). That lead to appointments as associate dean for academic affairs (2015–2017), vice dean (2017– 2020), interim dean (January–June 2021), and finally, in a phone call with the provost, the 17th dean in the history of Cornell Law School.
"When I began this deanship, I was hoping the end of the COVID era would be upon us by now, and that we'd be moving on to building back better," says Ohlin, talking just before the start of the fall semester, on a day when time allows for a multitasking lunch of peanuts and chocolate. "Unfortunately, we're still in the midst of COVID, still figuring out how to balance everything we need to do, and how to do it all in a careful, responsible manner. This is a particularly important moment for us, with students coming back in full force, and to keep everyone healthy, we've been adding layer after layer of protection.

"It's not just one safety valve," he continues, "it's multiple safety valves, one on top of another. The vaccine mandate, the indoor masking, the distancing, the surveillance testing, even for people who are vaccinated. Each step adds another series of complications, and even though we're succeeding in keeping people safe, we all know that's not going to be enough. We need to carve out time, energy, and resources to make sure the Law School keeps moving forward. I definitely feel that. Every day."
In one of his first moves as dean, Ohlin created an alumni council to focus on diversity, equity, and inclusion; the fifteen-person council, which includes representatives from six of the Law School's alumni networks, will report directly to the dean and the Law School Advisory Council. ("He's given a lot of thought to what he'd like to see this group contribute," says Crystal Deazle '01, cochair of the new council. "This isn't just lip service, it's commitment.") In a second move, Ohlin and Chantal Thomas, associate dean for academic affairs and Radice Family Professor of Law, conceived and launched an online portal to streamline faculty access to information. ("That might not sound exciting," says Beth Lyon, clinical professor of law, associate dean for experiential education, and clinical program director. "But it's all the information we need, all in one webpage, completed in time to start the semester.")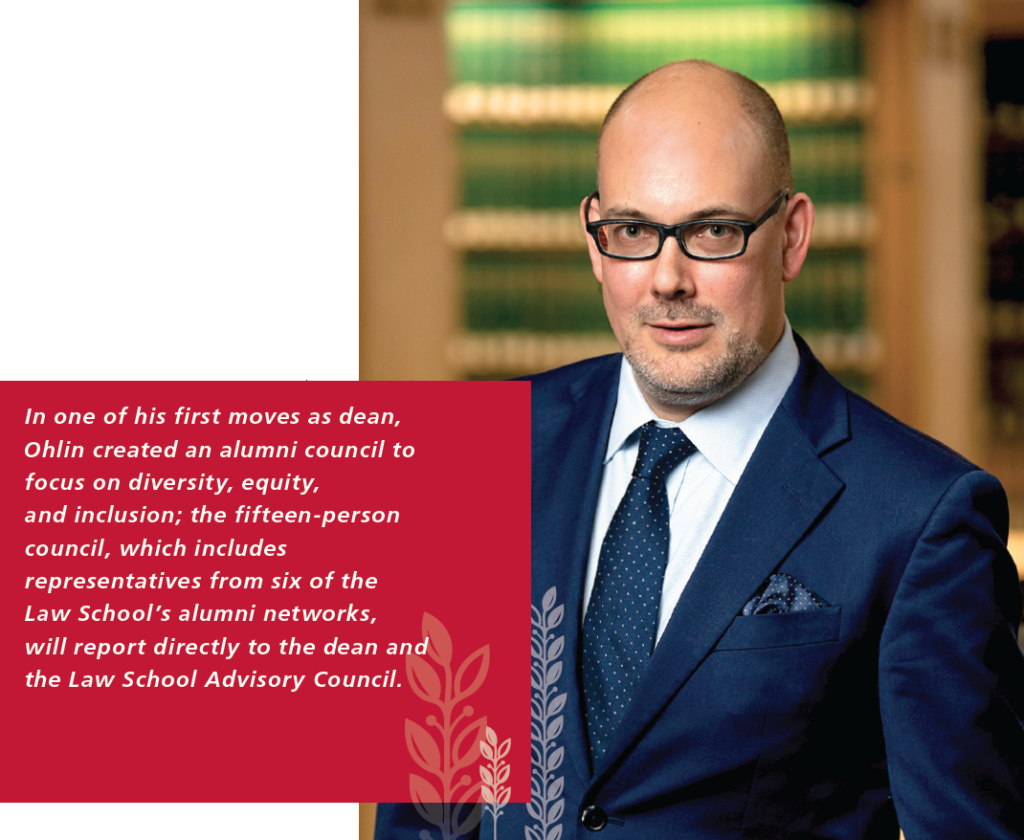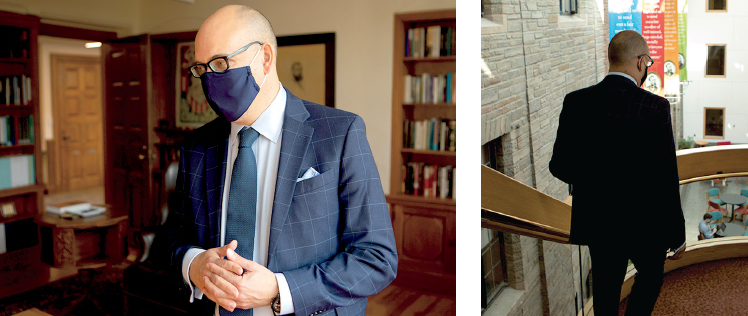 ---
Other changes will take longer to implement, but for Ohlin, the start of Cornell Law School's capital campaign is really a way to talk about strategic planning. His priorities? Listening. Dedicating more resources for faculty members. Increasing diversity. Adding courses and academic staff on East Asian law, election law, energy, entrepreneurship, environmental law, and technology. Founding clinics for voting rights and climate change. Using joint appointments across campus to broaden faculty and course offerings at the Law School. Deepening relationships with Cornell Tech and Weill Cornell Medicine. Improving the student experience every day. Keeping focused on the future.
"Jens has vision," says Markeisha J. Miner, who arrived as dean of students at the same time Ohlin became associate dean for academic affairs. "He knows where he wants to go, and he keeps moving toward that goal. With someone as focused as that, you might think they'd lose touch with the human element, but Jens never does. He's as caring as he is organized, and I've had the privilege of watching his leadership up close from the very beginning. I remember our first meeting with new faculty, where Jens knew exactly when to speak and when to listen. That's very impressive for someone just starting in the role, and it's still one of his greatest strengths."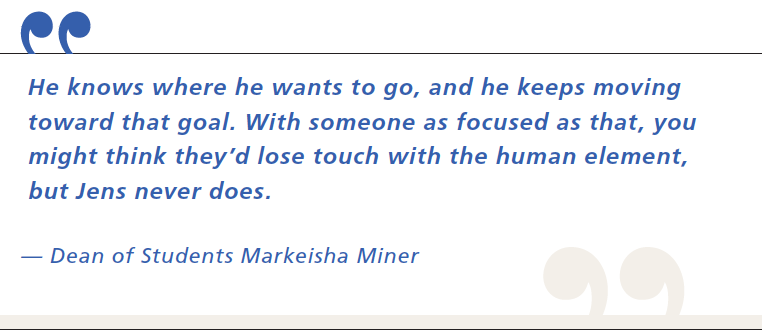 Miner tells the story of how then-Vice Dean Ohlin transformed the course registration process, envisioning a system that would grant students more autonomy in choosing electives. It began simply enough, with the idea that 2Ls and 3Ls should be able to bid on preferred courses and grew into a complete overhaul of the registration interface. Each step of the way, Ohlin earned the support of people around him—students, faculty, administrators, software engineers—until the plan started to feel like it had been obvious all along. "It's easy for us to take it for granted now," says Miner, six years later, "but it was a significant accomplishment. Jens started with a clear vision and didn't stop until we had a system that met the needs of our students."
In a story told by Rachlinski, then-Interim Dean Ohlin helped fund full fellowships for international students who wanted to spend summers working in the public interest, an issue that had seemed insurmountable in the past. ("It had been a problem for a long time," says Rachlinski, "and Jens fixed it quickly. It was the right thing to do, and he did it.") In another, Lyon credits then-Associate Dean for Academic Affairs Ohlin for his support in founding the Low-Income Taxpayer Law and Accounting Practicum, which currently draws students from the Law School, the Dyson School of Applied Economics and Management, and the Johnson Graduate School of Management. ("It's an established program now," says Lyon, "but as a newcomer, I didn't know how to structure it. Jens came in for a strategic planning session, outlined his advice, and helped get it launched. That was my first substantive interaction with him, and that's when I learned how generous and thoughtful he is.")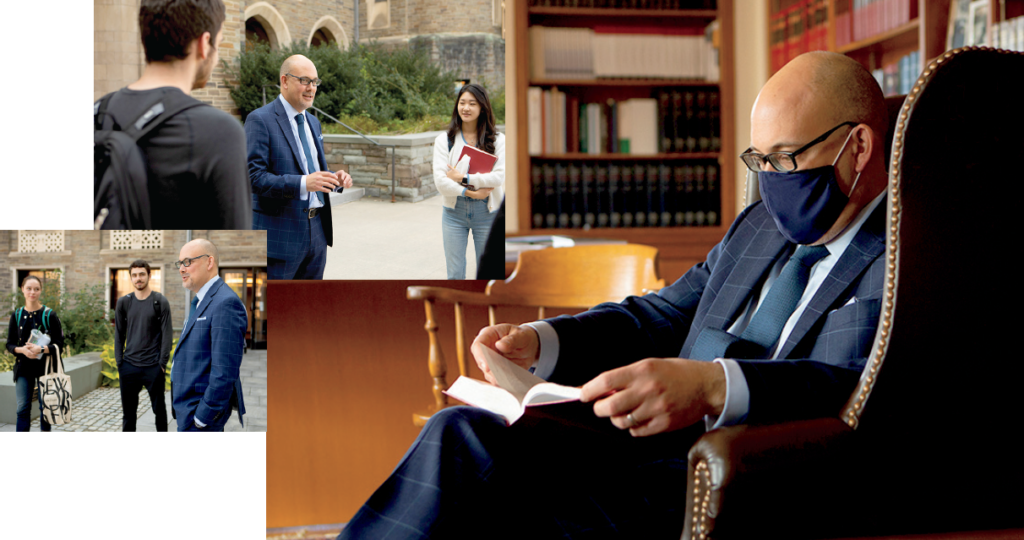 Like Lyon, who describes Ohlin's decision-making as "deliberate" and "inclusive," Thomas credits Jens for asking each department to inventory its efforts toward diversity and inclusion, a promise he'd made as interim dean. ("He's been very committed to it," says Thomas, "and it could well become one of the signatures of his leadership.") Working closely together, through one of the most difficult periods in the Law School's history, she sees Ohlin as the right person at the right time: for his synthesis of philosophy and law, his focus on internationalism, his years in administration, his attention to detail, his ability to listen, and his dedication to Cornell Law School.
I was looking for someone who would work hard for this community," says Beth Lyon, clinical professor of law, associate dean for experiential education, and clinical program director, who served on the dean search committee. "A respected scholar, someone with vision, someone who'd be easy to work with, someone who believes in our profession's special responsibility for the quality of justice. With Jens, that's exactly who we have.
"I don't know if this institution has ever faced the level of challenge we've seen in the past year," says Thomas. "Jens has had a lot to take on from the very start. He hit the ground running, which would have been hard at any time, and performed at an extremely high level. He's a tremendous institutional citizen, a deeply respected member of the faculty, and a true straight shooter. With Jens, what you see is what you get. In the best sense."
From that summer in grad school, following the war in Kosovo, Ohlin has become a legal authority whose work is cited by the International Criminal Court. From countless hours watching the news, he's become one of those widely recognized experts that other people watch, broadcasting his opinions about cyberwarfare, disinformation, election interference, social media, and the power of the executive branch. ("Jens is relentlessly current," says Rachlinski.) From years working in administration at Cornell Law School, he's exactly where he wants to be—"Nothing could make me happier than taking on this new responsibility"— sitting in his office, trying to balance between current crises and the next chapter.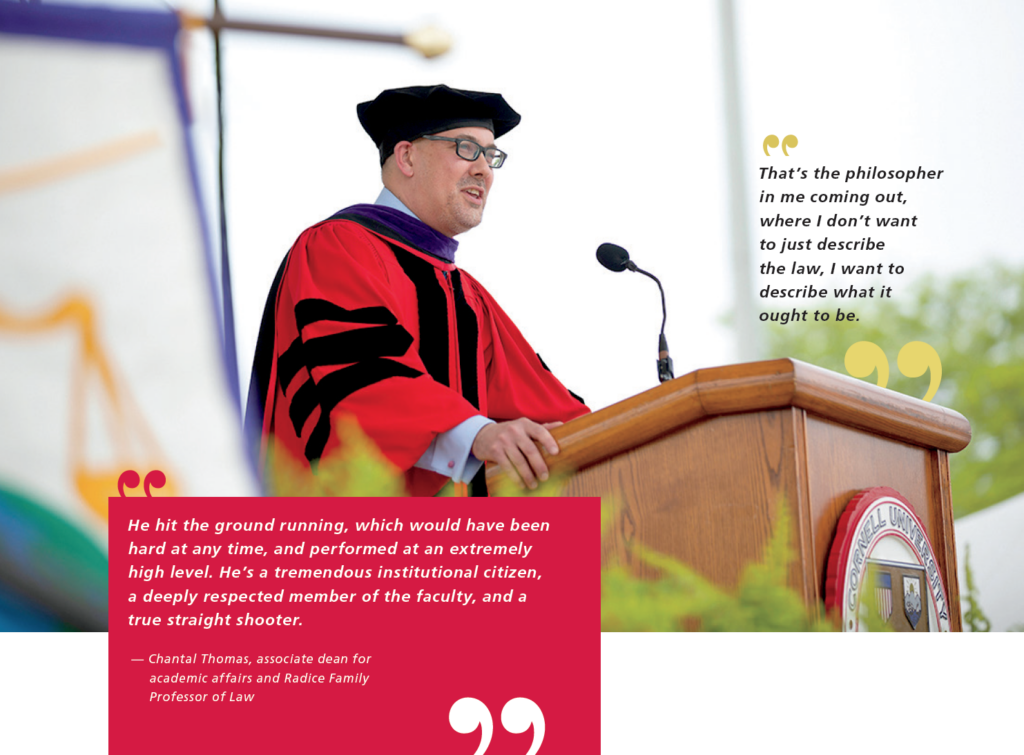 ---
"I've written about a lot of different topics, and what unites them is the way they look at established, well-entrenched principles and ask: How well did they work in the face of new developments?" says Ohlin. "There's a popular misperception that law isn't up to the task of dealing with new situations. But it's the nature of law that abstract principles often have wide applicability. That's one of its great virtues, and where other people see gaps, my reaction is to push back, to do the research. I want to follow where the evidence leads and understand if the old principles still apply. To see if they work in the face of new developments, to discover if the law will evolve in a new direction.
"That's the philosopher in me coming out," he continues, "where I don't want to just describe the law, I want to describe what it ought to be."