Accompagnateur: the term refers to a lawyer's role as a listener and companion. Rachel Skene '22 says the concept was embodied for her and fellow students from Cornell Law School's 1L Immigration Law and Advocacy Clinic as they sat next to their client on March 31, 2022. They were there for her final virtual immigration court hearing before the Buffalo Immigration Court, the culmination of over a year of work on this long-shot case. When the students and their client realized that she and her family had won asylum, they collectively burst into tears.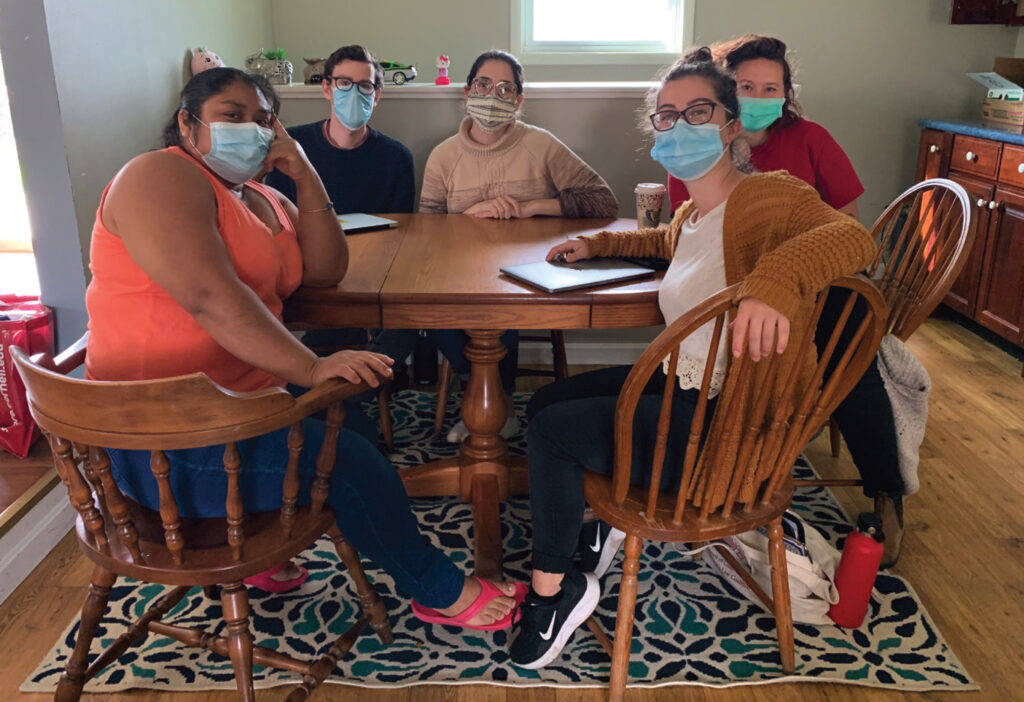 "This case was an uphill battle from the beginning, and there were months that losing our client's case seemed guaranteed," recalls Skene. "The law is not designed to help asylum seekers and immigrants: comparing the amount of work we did to the limited work the Department of Homeland Security had to do, with the knowledge that it might have all been for nothing, was at times unbearable. Prior to our final hearing, we prepared for every eventuality except for winning a grant of asylum."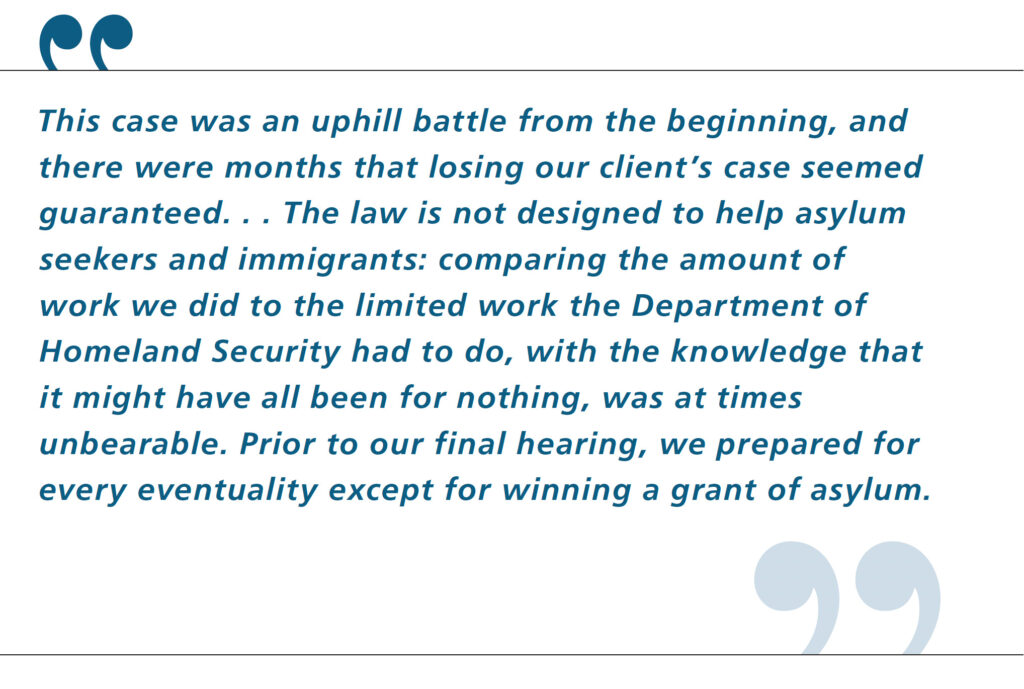 The client had arrived in the United States in 2019 from Mexico with her three young children, fleeing two decades of abuse inflicted by her husband, a man twice her age to whom she had been forcibly married as a young teenager. Her government had not protected her, despite her multiple attempts to get help. Even after she managed to leave her husband, he continued to stalk and threaten her, and she also endured threats from local gangs, one of which almost killed one of her children. Finally, she left the country and traveled to rural upstate New York, where she had a contact and a safe place to stay.
Her troubles, however, did not end there. Immigration authorities detained her for several weeks in the winter of 2019 before releasing her with a notice to appear in court. She attended her first two court dates unrepresented, because few attorneys in the region take this kind of case. Another nonprofit had already declined to represent her when she contacted Cornell Law's Immigration Clinic.
"Asylum cases are incredibly difficult to win," says clinic director Jaclyn Kelley-Widmer. "The process is onerous and takes tremendous resources. My students estimate that, across all the law students involved in the case, interpreters we used, law professors who contributed, volunteers who helped care for the client's children, and administrative staff who assisted with filing and other logistics, this case took us more than 1,000 collective hours over fourteen months."
One complication, Kelley-Widmer explains, is that the abuse their client had suffered was inflicted years ago, by a private, non-governmental actor. Another complication, and a common one: the client was severely traumatized. "When someone has experienced a lifetime of trauma beginning in childhood, their memory and ability to tell a chronological story can be greatly impacted. Further, she had spent the most recent years trying to put her abusive husband out of her mind and create a new life, but asylum requires applicants to tell their story in detail and with consistency, many times over. She told us that the constant retelling was very difficult for her."
Says the client, translated from Spanish by Kelley-Widmer, "Everything that I had to remember from my past was not easy. I had to answer so many questions from my student attorneys and recall those difficult moments while talking with them."
The core team of Jared Flanery '23 and Tori Staley '23 (who started as 1Ls) and Gaby Pico '22 and Skene (who started as 2Ls and graduated this past spring) stayed with the case for three semesters. The students conducted extensive research, drafted witness declarations, and wrote the briefing, involving three separate legal arguments. They also took on the trial, including direct examination of multiple witnesses, presentation of evidence, and closing arguments.
This experience is a rare one in legal education. The 1L Immigration and Law Advocacy Clinic was one of the first clinical courses for 1Ls in the country and remains one of only a few such offerings nationwide. "This wonderful outcome really highlights how the new 1L clinic is giving practice-oriented students a home in the law school and a focus for their legal training, right from the second semester of law school," says Beth Lyon, associate dean for experiential education and Clinical Program director.
She adds, "I'm grateful to this dedicated team for ensuring that Cornell Law School served this urgent community need. As low-income individuals living on a remote farm and presenting with a challenging legal claim, these clients had literally no other access to excellent legal representation. Under Professor Kelley-Widmer's tireless direction, the students achieved a life-altering outcome for a family that otherwise would have been deported back to danger."
---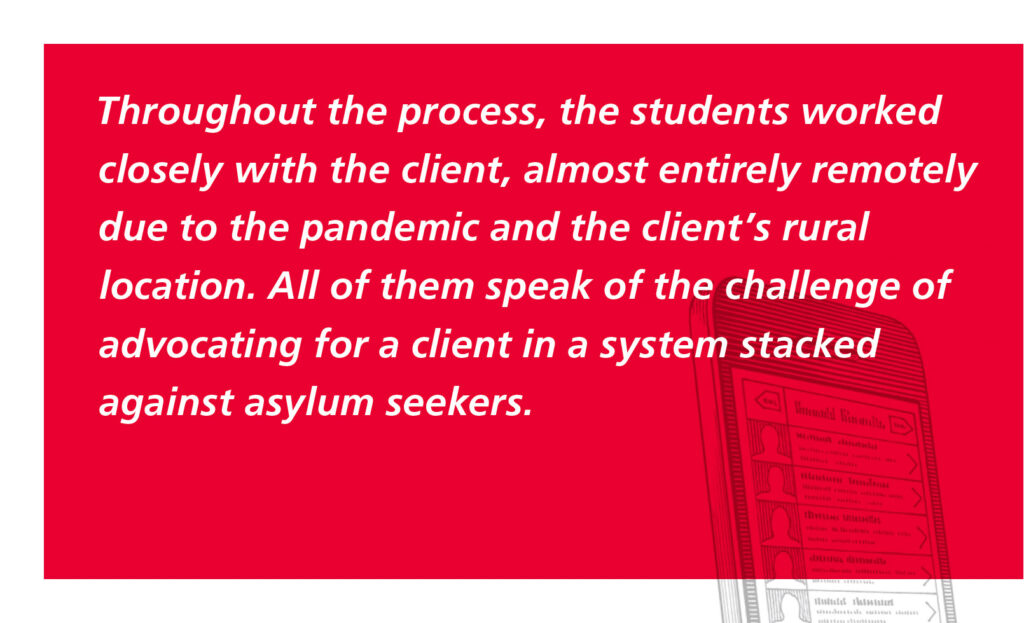 ---
Kelley-Widmer mentions that the students brought many different strengths to the project. Some took the lead on communicating with the client, which was often emotional and always in Spanish. "We had many, many difficult conversations with the client about what had happened to her in the past and what her situation was like in the present, along with explaining complex legal concepts."
Other students spearheaded the legal research and writing, crafting a persuasive written argument for the court. "As time went on, these tasks merged and shifted, as we also had to do things like work with psychiatrists and expert witnesses, prepare for oral advocacy in court, and help the client with some non-legal matters that were impacting her and the case. The students took on each new task with great energy and a positive attitude, keeping things as fun as possible even when there were really tough moments in between."
She adds that the clinic partially based its case on a novel argument related to the client having been forced into marriage as a minor, an approach for which they found no precedent in case law. "The law students came up with this creative solution and found a path forward to make the claim, including by seeking multiple expert witnesses and researching country conditions to contextualize the client's story."
---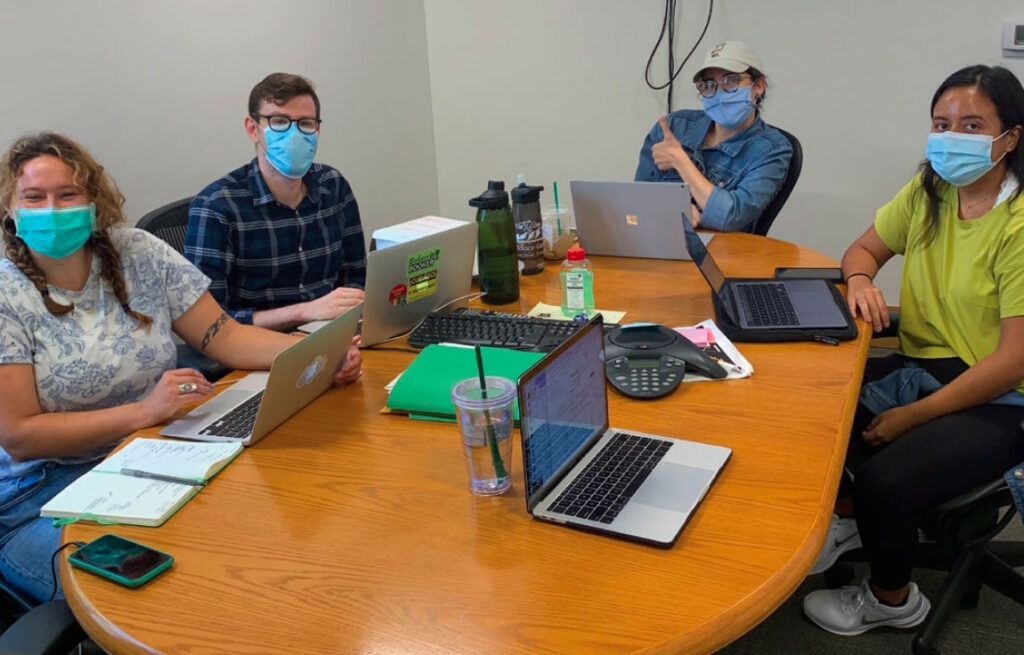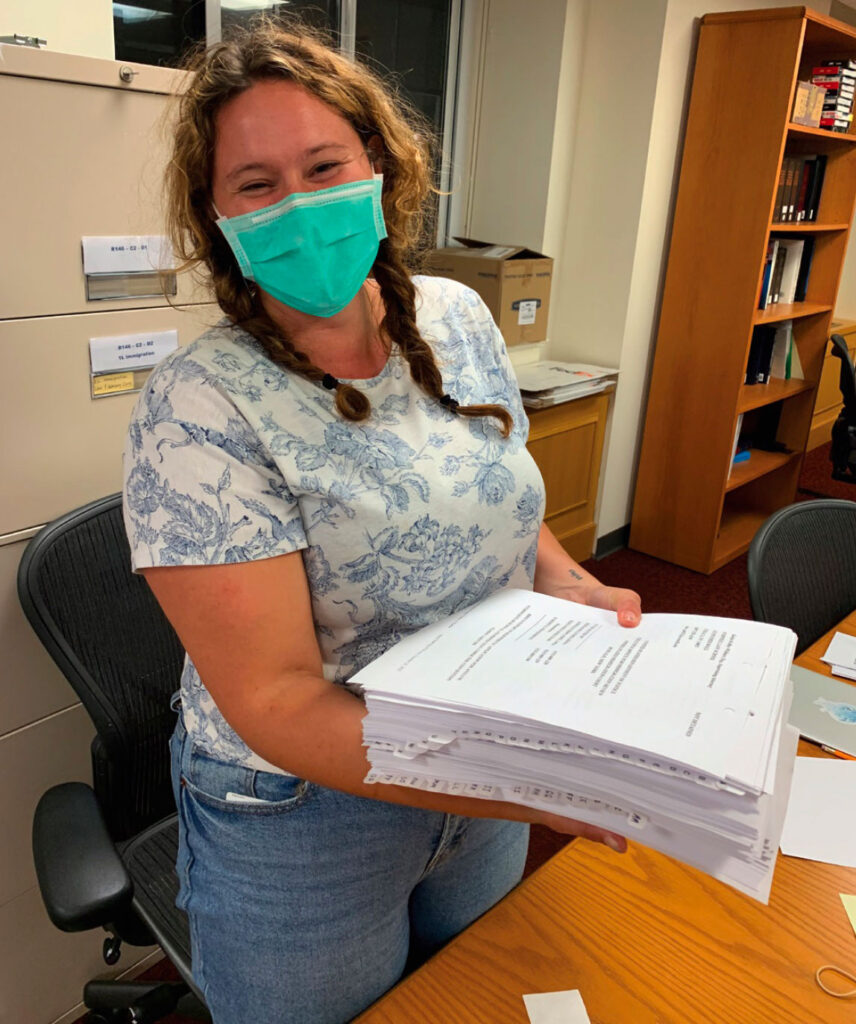 ---
Throughout the process, the students worked closely with the client, almost entirely remotely due to the pandemic and the client's rural location. All of them speak of the challenge of advocating for a client in a system stacked against asylum seekers. "You see the weight of the United States Department of Homeland Security coming down on a mother—forcibly married as a child to a man twice her age—and her children, and for what?" observes Skene.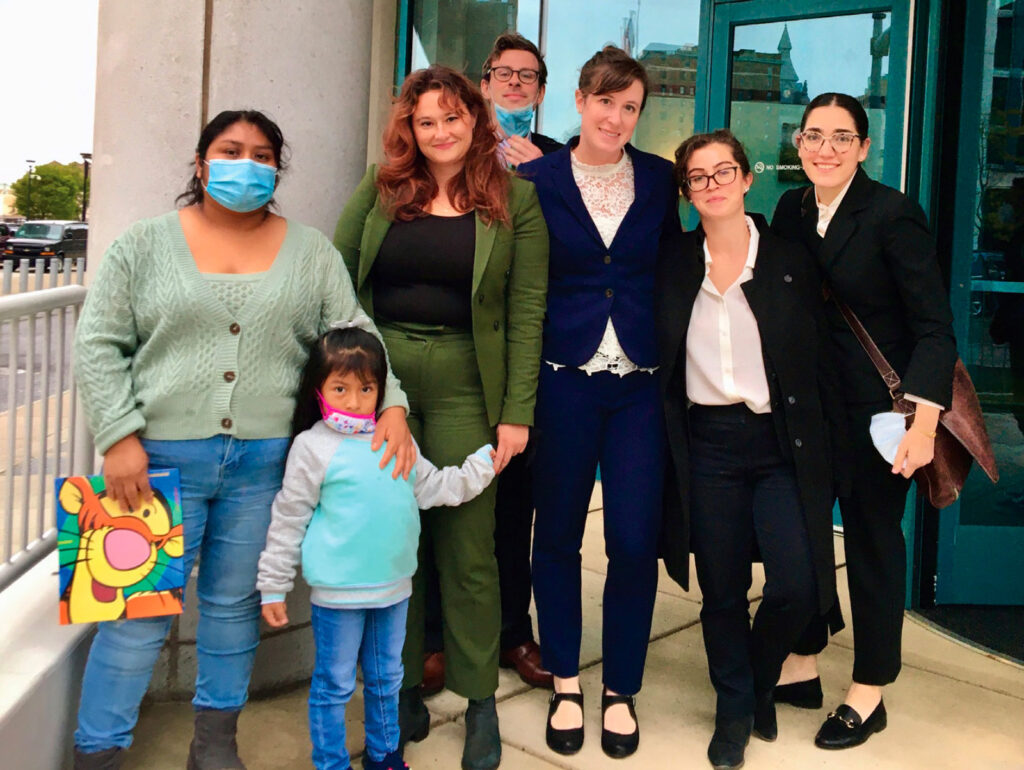 ---
Staley says, "Our client had such a low chance of winning, and she had more than most asylum seekers ever do. She is an amazing woman, and she had four students and one law professor working to compile more than 500 pages of evidence and argument. Though we were thrilled and overjoyed to win, we were surprised we won. It is so common for people to lose these cases, because the asylum laws and system of the United States are built to keep people out."
"The biggest challenge was maintaining hope in the face of long odds," recalls Flanery. "We attempted to relate our client's story as faithfully as possible, to overcome the language barrier and make narrative sense out of the turmoil of her trauma. After the first round of testimony, we were worried that the judge would not find our client a credible narrator of her own life experiences. Our legal team called upon community members to help salvage our case— doctors and psychologists, professors and journalists, translators and friends."
He adds, "Our client's determination to plead her case hit roadblocks, including her first lawyer dropping her case, and our team spent hundreds of hours on her case. Something is deeply wrong if this is what it takes to secure justice for someone like our client, but I am relieved and grateful for the outcome."
---
---
Staley describes the conflicting experiences of the project: "I'm going to sit with this case for a while. It was incredibly rewarding, but also incredibly difficult, emotionally and professionally. It was all worth it for our client, and I would do it again for her and her family, but it has made me think a lot about how these types of cases, and public interest law in general, is built to burn people out. That said, I've never worked with such a joyful, affirming, and skilled team."
Skene says she intends to continue work in immigration law. "Immigration law is one of the most complex bodies of law in the country (second only to tax, which says a lot about our priorities as a nation). Immigrants who have counsel fare dramatically better in obtaining relief—but only about a third of immigrants are actually represented by attorneys. This case was incredibly strenuous for our team—and we were a huge, well-funded team. It is exponentially harder to go through the system alone. There's such a need for competent and compassionate attorneys in the immigration courts—I don't think I could ever stop."
---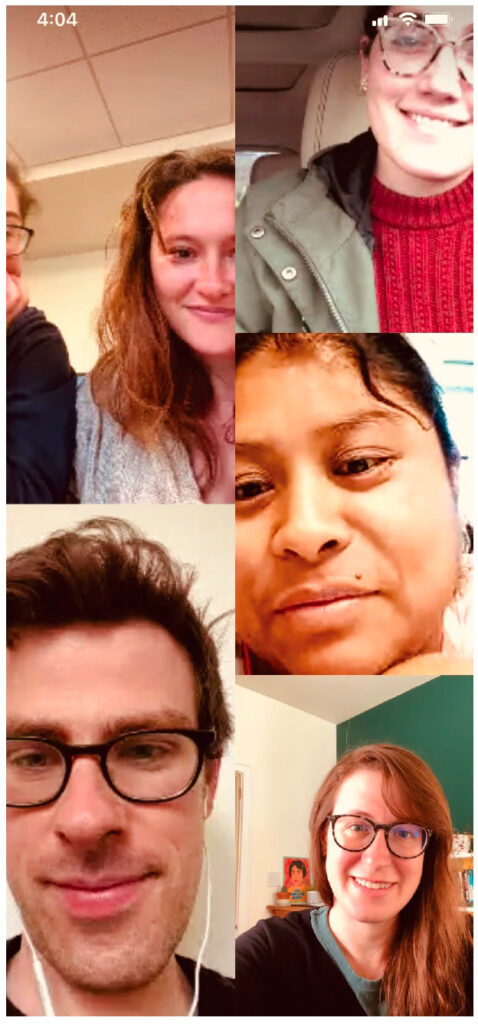 Throughout the case, the clinic team and client did most of their communication using WhatsApp video calls and texting; the team attended
the final hearing in March 2022 in a hybrid format, with Jared Carter (middle) and Rachel Skene (right) and the client in her home, and with
Tori Staley (left), Gaby Pico (right), and Jaclyn Kelly- Widmer (not pictured) at the Buffalo courthouse. 
---
Kelley-Widmer notes that, in addition to the dedication and creativity of the clinic students, the self-advocacy of the client was a crucial ingredient in their victory. "Each time we asked her for a document, she would send it to us within a day—no small feat when she had to have a family member in her home country track it down for her! She was always quick to be in communication with us and made time for dozens of hours of remote interviewing by video call, even though she is the primary caregiver of small children. Without her fighting for herself, we never could have won this case."
Her success was an all-too-rare validation and reprieve for a survivor of interpersonal abuse and governmental indifference. "The most rewarding part of this case was seeing our client's reaction when the immigration judge told her that he found her credible and that everything she had suffered was wrong and rose to the level of persecution," says Pico.
"For years our client suffered in a society where many looked the other way. Asylum hearing proceedings, because they involve intense cross-examination, can also induce a great deal of self-doubt for asylum seekers. It seemed very important to our client that somebody in a position of authority finally expressed that they believed her, and it was rewarding for me to watch her receive that affirmation."
"She is an extraordinary woman, and incredibly intelligent, and so much more than what immigration law reduces people to," says Skene. "Working by her side, and accompanying her on this journey, was hugely rewarding. I sat right next to her during the final hearing—we were in her home in upstate New York, appearing over WebEx. We were on video together, in the same square, with the whole team. Sitting there made it so clear how much our company mattered: she was so much calmer and more confident than when she appeared alone on the witness stand in court during a prior hearing. There were literally people right by her side, in a way that there could never be in a courtroom."
She continues, "Being right there made winning even more rewarding. I never thought I would cry in court, but once we realized that we had actually won and the judge began to speak directly to her, she started to cry, and then I started to cry, and then the entire room was crying. We cried with her, we laughed with her, we celebrated with her. It was unforgettable."
The client herself says, "This was a stressful time for me. I was nervous and didn't sleep while going through this process. But fortunately, I was happy in the end when we achieved my dreams together. I will never forget getting to know the students who helped me, and I always remember each of them with a smile." The clinic is still by her side, currently helping her to obtain a green card.