Cornell Law School mourns the death of Sherry F. Colb, the C.S. Wong Professor of Law, who died August 25, 2022, at her home in Ithaca at the age of 56. A pioneering scholar and prolific writer on constitutional criminal procedure, animal rights, and sexual equality, Colb is remembered as a beloved teacher, mentor, and colleague.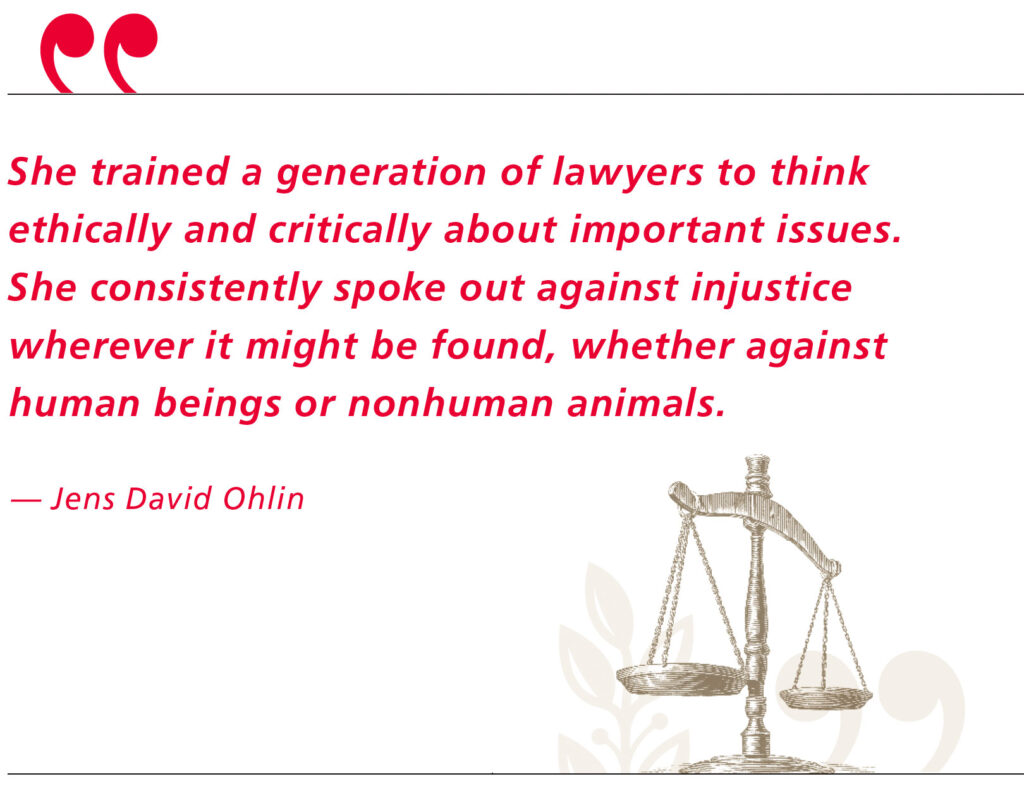 Since arriving at the Law School in 2008 with her husband Michael Dorf, Robert S. Stevens Professor of Law, Colb had an outsized influence on the institution and the community.
"She trained a generation of lawyers to think ethically and critically about important issues," says Jens Ohlin, the Allan R. Tessler Dean and Professor of Law. "She consistently spoke out against injustice wherever it might be found, whether against human beings or nonhuman animals. Her insights spanned not just academic articles and books but also prominent essays for online magazines that elevated the national discourse. Hers was a powerful voice that will not be silenced by her passing."
Colb was especially well known for her scholarship on animal rights and sexual equality. In 2016, she co-authored a pathbreaking book about the connection between animal rights and fetal rights, Beating Hearts: Abortion and Animal Rights. "The book is genius both in its conception and in its execution" and "represents rational discourse at its finest" said Mylan Engel Jr., professor of philosophy at Northern Illinois University, at a book celebration held at the Law School. In 2013, Colb published a book about animal rights, Mind If I Order the Cheeseburger? And Other Questions People Ask Vegans. And in 2007, she released When Sex Counts: Making Babies and Making Law, a book about the modern challenges of sex equality. She also wrote extensively about these topics in her biweekly column on Justia's Verdict as well as in regular posts on the blog, Dorf on Law.
A favorite among students, Colb was chosen by the graduating Class of 2015 to deliver the keynote speech at Convocation. In her talk, she addressed the sometimes-flawed conclusions that students make about themselves. Students who feel too nervous to raise their hands in class, she said, may interpret their own fear and reticence as evidence that they have nothing to contribute or are not good enough. "I'm here to tell you to disregard that nonsense," she said. Noting that graduates may continue to encounter such fears in the high-stress world of lawyering, she added, "We are all here to tell you . . . that you are qualified to be here, you are qualified to do your jobs . . . So we welcome you into a profession that you are eminently qualified to be confident that you have the skills to perform."
Sherry Colb came to the Law School from the Rutgers University School of Law. She was also a visiting professor at the University of Pennsylvania School of Law and Columbia Law School. Colb earned an A.B. from Columbia College (valedictorian) and a J.D. from Harvard Law School. She clerked for Judge Wilfred Feinberg of the U.S. Court of Appeals for the Second Circuit and for Harry A. Blackmun, associate justice of the U.S. Supreme Court.
Colb is survived by her husband Michael and children Meena and Amelia.