At 91, Lewis Ress, A.B. '52, J.D. '54, is over two decades into retirement from the private practice he ran for sixty years, but he is not resting on his laurels. In fact, he appears not to be resting much at all.
Ress still provides legal counsel, reads voraciously, plays tennis against a former champion, golfs every week, and was recently the oldest participant in the 2022 Life Time Miami Half Marathon. Since taking up running at age thirty, he has completed fifteen full and more than sixty half marathons.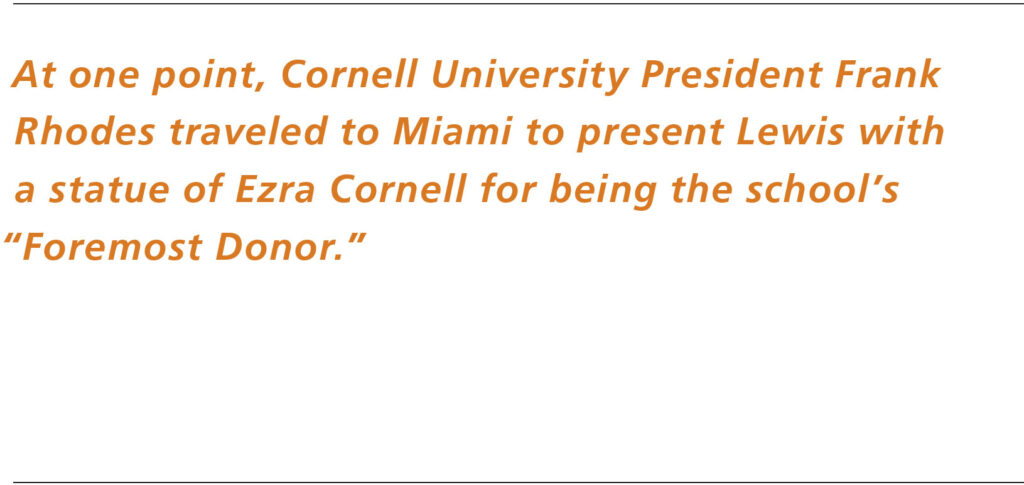 How was this most recent race? "Strenuous," he says. It took him almost five hours. He observes that with age comes a downward curve, in both one's bones and one's speed. Still, he continues to run every day and encourage others in his age group to stay active. "Running provides a great time for introspection, for meditation. That time is a gift."
Ress has published two books recounting the "weird, wild, and sometimes even wonderful tales of practicing law in Miami": Strange Cases and Wild Tales and Miami Memoirs. He also hosts a podcast with an international audience. Episodes touch on everything from stories of the Miami Mafia to the legal ramifications of winning the lottery. At the time of this interview, he was working on an episode about television ads for medication. ("We're back to snake oil," he remarks.)
Through his books and podcast brimming with colorful, real-life characters and unexpected developments, Ress hopes to convey that, "All you have to do is open your eyes, and the stories are all around you. It's so exciting and stimulating and educational. You just have to observe."
Planting Seeds
Though his career was eventful, to say the least, Ress describes his current life as "very simple." He lives in Vero Beach with his wife of over sixty years, Esta, a graduate of Wellesley ("she's very smart") and a former marathoner herself, who quit only after a couple knee surgeries. They have two sons, both of whom are Cornell University alumni and physicians and one of whom is also a firefighter. And the family presence continues at Cornell: They have a grandson studying ornithology there and another who has multiple graduate degrees from the school.
Ress has an endowed scholarship at the Law School, and over the years, he and Esta have established a handful of others. At one point, Cornell University President Frank Rhodes traveled to Miami to present Lewis with a statue of Ezra Cornell for being the school's "Foremost Donor."
Ress even accidentally became a trustee of the Law School. He had been campaigning for a friend and fellow alumnus to receive the position but was chosen instead. When the dean called him with the "good news, bad news," Ress told him, "I'm not interested. I don't need the accolades." "That's why we picked you," the dean replied.
Perhaps a bigger honor came to Ress when he was flipping through an issue of Cornell Law Forum and saw a profile of an alumnus who said that he owed his success to a scholarship from the Ress family. "That's why we do it," he says. "You plant the seeds, and you hope they'll bear fruit.
From the Bottom
Ress has spent decades helping others break into the legal field, but he wasn't always on the inside. As a student and young lawyer in the 1950s and 60s, he saw his fair share of discrimination, and experienced some too. He knew Ruth Bader Ginsburg, who was an undergrad at Cornell when he was in law school—"Everyone said they knew her," he remarks, "but I actually did. And my sister Barbara, who was also at Cornell, knew her even better"—and he recalls how she was unable to find work after law school.
Ress himself was the first non-Christian at Cornell University's chapter of the Phi Delta Phi fraternity and was later the first Jewish person on the tennis court of a particular country club. Even his law degree from Cornell marked him as an outsider when he first started practicing, as law firms in Miami looked askance at "Yankee schools."
Ress came to Miami from New York. He had grown up in Brooklyn and hoped to join his father's law firm after earning his J.D.—only to discover that, in the crowded Brooklyn legal landscape, his father had neither the means nor the physical space in his offices to take on an associate. "We had trouble putting food on the table," he recalls.
Instead, Ress served as a legal officer for the Army during the Korean War, working in Wall Street offices on a project that remains classified to this day. Afterward, he made the move to Miami, where he "started from the bottom." He struggled to find work and was offered low pay.
He did get a slight raise after he passed the Florida Bar in 1956, scoring second in the state after taking it "cold," with no preparation. He notes, "That tells you something about the sort of skills you learn at Cornell Law School."
Eventually, Ress built up his own firm with over a dozen lawyers, including, for a time, his father. He also teamed up with Lee Weintraub '70 and the Hon. William Turnoff '73 to act as mentors and advocates for new Cornell Law grads arriving in the area. They helped young lawyers secure jobs there for some fifty years.
The many friendships and connections Ress cultivated over the decades were behind, among other adventures, a long-shot run for U.S. Congress on an anti-Vietnam War platform. It was the early 1970s, and friends essentially dared him to do it—and raised the money to get him started. An underdog with opposition from the local Democratic establishment, he campaigned to "put the RESS in CongRESS." Though he lost, he says he learned that unsuccessful candidates can raise public awareness of important issues and even move other candidates' positions. He observes, "Congressional losers are unsung heroes."
Law Is Everywhere
Ress remains politically alert and, though he's no longer heading a law firm, is still attuned to the legal environment in his home state and beyond. He's critical of judicial constraints such as mandatory minimum sentences, citing long prison terms for non-violent drug offenses as particularly objectionable. He points to Florida Governor Ron DeSantis, an originalist and federalist who has worked to align the state's judiciary with its conservative legislature, as an example of a nationwide trend toward dismantling judicial discretion.
"Law practice is being eroded by anti-intellectuals," he asserts. "We used to be ethicists, philosophers, moral actors. Now we're expected to be robots."
Law, for Ress, is a living and encompassing discipline. "Law is the ethics and morals and rules of society. Every part of your life is influenced by the law," he says. He asks his interviewer to pick a subject. Literature? That involves copyright law, contracts, libel, the First Amendment . . .
"Whatever you're interested in is a specialized area of the law."
~Owen Lubozynski
---