On September 17, 2019, Neal Katyal and George Conway opened the Peter '69 and Marilyn '69 Coors Conversation Series with a discussion on executive power. Sarah Kreps, associate member of the law faculty and professor of government, moderated the event.
On a seasonably warm April evening, students and faculty streamed into the Law School's Landis Auditorium, taking their seats for the sixth and last event in the Peter '69 and Marilyn '69 Coors Conversation Series. Sitting at stage right was Megan McArdle, an opinion columnist for the Washington Post who calls herself a right-leaning libertarian. To her left was progressive Jamal Greene, a constitutional scholar who teaches at Columbia Law School and once served as an aide to Kamala Harris.
The topic was "Deplatforming: Does Big Tech Protect or Prevent Public Discourse," and the possibilities for disagreement were endless. McArdle, who was famously trolled early in her career as a blogger, came primed with provocations like "hate factory," "social media mob," and "performative psychopathy." At one point, she described social media as "the worst possible space between oral and written culture." At another, she said it "combines the worst form of aggression with the worst form of passive-aggression."
And the other side of the conversation? Greene, co-chair of Facebook's Oversight Board.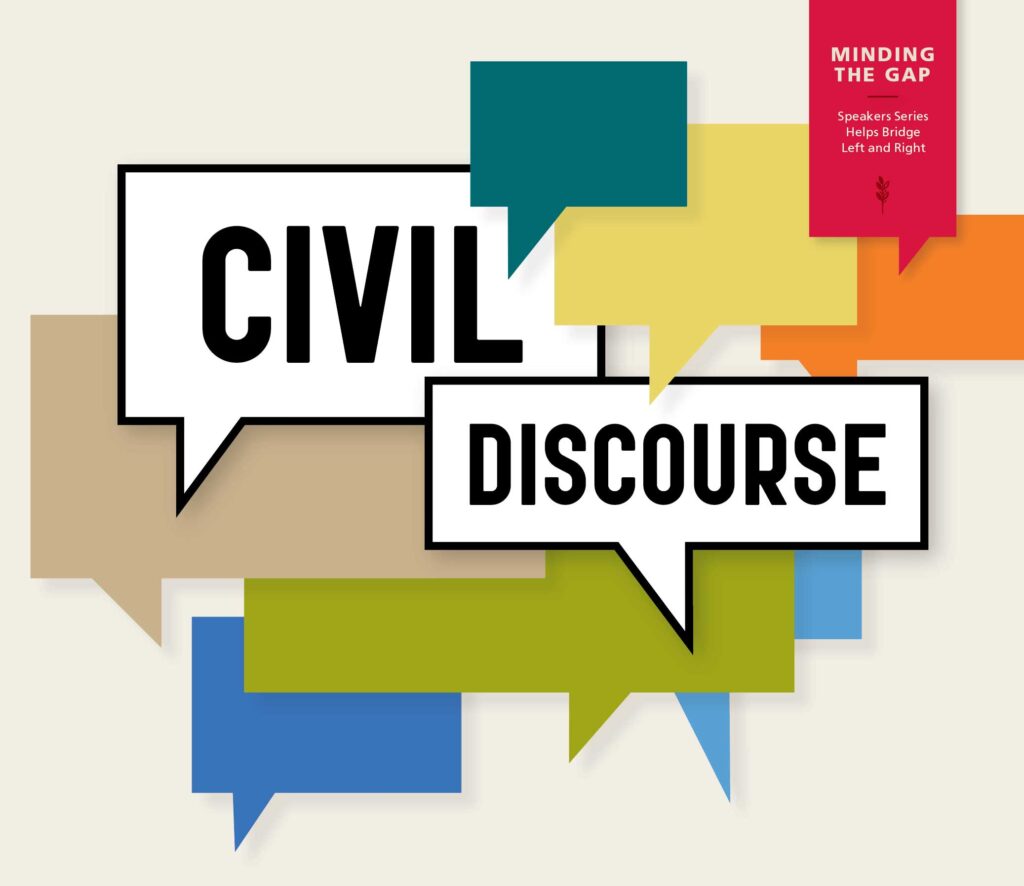 The night could have gotten ugly, but it never did, which was the whole point of the Coors Conversation Series: to engage speakers on difficult issues, watch them disagree, and hope to reach some greater understanding by the end of the program. Over the course of six evenings—plus two more in the Free Speech Presidential Speaker Series that preceded it—that's exactly what happened, and it all started with an idea by University President Martha Pollock.
For people in Pollock's generation, the movement for free speech was primarily driven by the left and opposed by the right, beginning with a series of student protests at the University of California at Berkeley in 1964. (In his first campaign for elected office, actor Ronald Reagan won the governorship by promising to "clean up the mess at Berkeley.") A lot has changed since then, and over the past ten years, the momentum has shifted. Conservatives are increasingly bringing speakers to campus, and progressives are increasingly protesting their arguments as hate speech. The temperature keeps rising, with each side complaining about being canceled by the other, and as McArdle said, "If you're a member of one political group, what feels fair to people in the other group feels unfair to you."
That's what Pollock wanted to address.
"I saw that a new generation of students was coming to college without the history or legal understanding of free speech on campus— and perhaps as a result, they were generally more comfortable than prior generations with the idea of placing restrictions on speech they perceived as hostile," says Pollock. "This impulse, in my view, comes from an understandable and defensible concern with the experiences of all people, and in particular with under-represented groups that are more frequently the target of hateful speech."
In 2017, to begin the dialogue, she invited Erwin Chermerinsky, the dean of Berkeley Law, to inaugurate the Presidential Speakers Series and enlisted Eduardo Peñalver, at the time dean of the Law School, to moderate the evening's question-and-answer session. "Right at the outset of her presidency, Martha Pollock identified this issue as an important way for universities to contribute to American democracy," says Peñalver, now the president of Seattle University, which has seen its share of protests over freedom of speech. "The challenges around civil discourse aren't unique to universities—they're broader social phenomena. But universities are incredibly diverse communities, and if we're going to learn how to engage with one another constructively, those solutions are going to come from university campuses. President Pollock saw that and understood it."
That fall, two months after a series of racially charged and anti-Semitic incidents roiled campus, Chermerinsky spoke at Statler Auditorium, threading the needle between right and left: Yes, universities are responsible for creating a supportive academic environment, and yes, universities are responsible for protecting free speech on campus, even speech that's offensive. No, universities can't expel students for hate speech, which is clearly protected by the First Amendment. No, even though universities are obligated to create a "safe space" to work and study, they can't create a "safe space" that will protect people from objectionable viewpoints—and in fact, being exposed to disagreement is one of the most important things a university can teach its students.
By springtime, when the Presidential Speaker Series held its second event, university organizers had shifted to a conversational format and added a verbal warning before it began that interfering with the program could be referred to the judicial administrator as a violation of the Campus Code of Conduct. "That's sobering," said Peñalver, as he stepped to the microphone to introduce Nadine Strossen, a professor at New York Law School, and Jeremy Waldron, a professor at NYU School of Law. In the thoughtful, measured point and counterpoint that followed, both agreed hate speech was protected, and both agreed the term was too vague to be clearly understood. But where Strossen argued the remedy to free speech was more free speech, Waldron countered that hate speech, like hate crimes, could be defined by the motivation of the speaker and could be prohibited if it causes harm.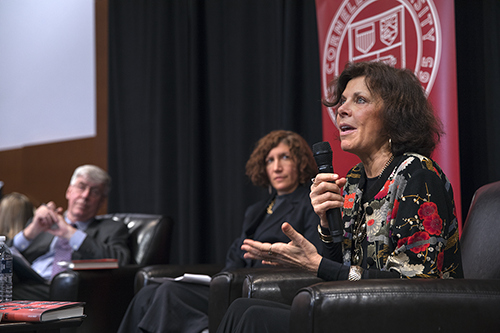 That format—"It was a nice, productive disagreement," remembers Peñalver—led directly to the Law School's Civil Discourse: Peter and Marilyn Coors Conversation Series, which held six events between September 2019 and April 2022. Like the series that came before it, Civil Discourse focused on hot-button disagreement, but with a difference: Reshaped by the Law School, the new series broadened its scope to challenge left, right, and anyone in between on questions about cancel culture, Big Tech, sexual assault, the death of American
democracy, the power of the executive branch, and the future of Division I college athletics.
"We wanted issues that had political salience, not just classic culture war issues, and I thought we hit the sweet spot," says Peñalver. "The concept was to model civil discourse by bringing together speakers from different backgrounds on a range of issues that would be interesting to the campus community. The speakers would engage one another in a collegial way and demonstrate how a conversation between people who disagree can enrich the rest of us.
"That's especially true for lawyers," he continues. "Law schools should have a natural level of comfort with disagreement and civil discourse, because we're a discursive profession. We're a profession that's grounded in civil debate, in the adversarial process, where people can disagree and still remain collegial. It's an important set of values that law schools need to teach their students, and it's a gift for universities to model civility, which is in such short supply in our wider society."
Launched at the start of fall 2019, the new series billed itself as "a forum for intellectual discourse on difficult yet timely issues facing the nation," and raised the profile of its speakers to reach a wider audience. Attorneys George Conway and Neal Katyal, both better known as television commentators than as advocates before the Supreme Court, opened with a conversation on "Executive Power" at Statler Auditorium.
Talking to a full house, in the middle of an era when every conversation in the world seemed to hinge on President Donald J. Trump, Katyal argued the White House's abuses were so dramatic, so egregious, that executive power would necessarily wane in the next four to twelve years. No, disagreed Conway, the executive branch will always seek more power—and besides, the previous administration was no stranger to overreach.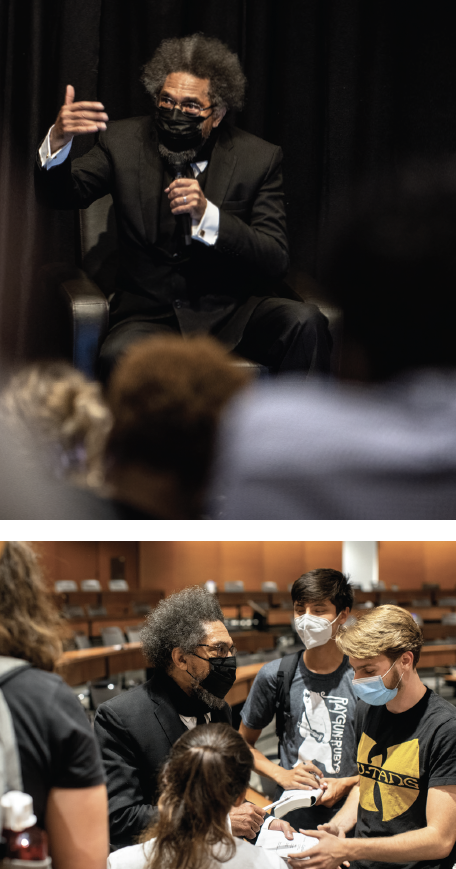 It was a high-wattage disagreement, and it was riveting to watch, with Conway and Katyal enjoying each thrust and parry. They're pundits, after all, public intellectuals who like to disagree, and as the series continued, the arguments kept coming. In October 2019's "Is Illiberalism Corroding Our Democracy," it was the right's time to see the end of democracy ("This is it," said Andrew Sullivan, "we're done") and the left's to see the silver lining ("Not a good moment," said Ezra Klein, "but as of yet, I think most institutions are doing reasonably well"). In its one pandemic offering, the series pitted renegade linguist/academician John McWhorter against renegade author/activist Masha Gessen in a conversation about the dilemma of cancel culture. McWhorter said, "The problem becomes, 'If you don't agree with me, you are a moral reprobate.'" Gessen said, "Social media can amplify a voice that would otherwise be powerless. And that is a clearly double-edged sword."
With Peñalver's departure to Seattle at the end of 2020, it became Jens David Ohlin's turn to reframe the conversation. "I firmly believe that the need for civility increases proportionally as our disagreement becomes sharper," said Ohlin, Allan R. Tessler Dean and Professor of Law, opening the September 9, 2021, program on freedom of thought and expression. "Indeed, civility becomes easiest when we largely agree. It is when we disagree that we must strain to engage with each other in ways that are both productive and broad minded."
At the start of his deanship, Ohlin made free speech and civil discourse two of the Law School's highest priorities, sharing his vision of big-tent inclusivity with alumni at the New York Annual Luncheon. (see article on page 46) He's been fine-tuning it ever since, and if he was looking for role models for civil discourse, he couldn't have made a better choice than the evening's two public intellectuals, Robert P. George of Princeton and Cornel West of Union Theological Seminary. George, who is as far to the right as West is to the left, have been teaching together for so long they complete each other's thoughts, and despite their disagreements, they consistently emphasize all they have in common.
"I'm very, very blessed, because we don't have just a friendship, we've got a brotherhood," said West. "The twenty years or so that we have spent together, even given our political and ideological differences, has been one in which we've tried to cultivate our commitment to the quest for truth and goodness. And I would add beauty, because the arts are going to be at the center of dealing with the denialism, the hopelessness, the helplessness that we are up against right now. The important point is that you have to make connections with people who are honest and concerned about being real. This is not the moment for simulacra and semblances and mask wearing."
"We need to be willing to have our most cherished, deepest held beliefs—religious, moral, political, social—challenged," said George. "When you come to campus, that's what you're buying into. That's the Socratic ideal, and Cornel and I are deeply committed to that. We should all be willing to entertain any discussion, any argument, any point of view advanced by anyone so long as business is conducted in the proper currency of intellectual discourse. Free speech doesn't mean hurling epithets at each other, calling each other names. No. The kind of free speech we're interested in is unrestricted, but it's when business is done with reasons, arguments, evidence."
It was a powerful moment, but in a time of increasing political polarization, it's unclear how one person's opinion can change another's. That may be especially true for this generation of native internet users, whose idea of social discourse is what McArdle called "mobbing behavior, something you do while staying anonymous." (In response, Greene talked about the dangers of moderating content and the difficulties in using algorithms that prioritize outrage.)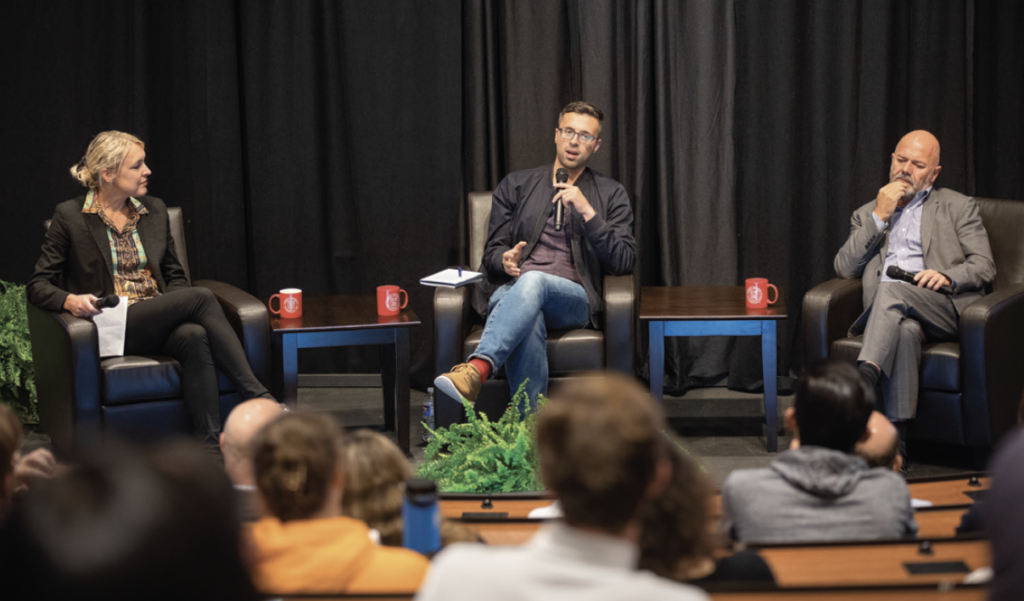 That was part of the original motivation for Peñalver. "Law students are coming to us out of that broader society, out of a culture that has grown accustomed to engaging across disagreement via social media," he says. "Because we're engaging at arm's length with people we disagree with, and because it's easy to caricature them through 240-character tweets, we're seeing all these behaviors that characterize the impoverished discourse of social media. We need to help our students build those muscles and help make them into effective advocates."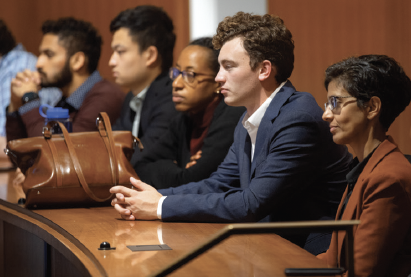 That's what Ohlin is trying to do too, evaluating how this series fits within the goal of creating lawyers in the best sense. "It's a very complicated question," he says, answering with a story from earlier this spring, when a group of conservative Law School students invited a speaker to campus and a group of progressive Law School students asked Ohlin to rescind the invitation.
It didn't help that the speaker works as senior counsel for an organization that's designated an anti-LGBT hate group by the Southern Poverty Law Center, and it didn't help the talk was scheduled on Trans Day for Visibility (although the student organizers were apparently unaware of the significance of the day when they scheduled the event). And it didn't help that a talk by the organization had erupted in chaos two weeks earlier, when Fox News ran the story with chyrons that read, "Protesters Interrupt Free Speech Panel at Yale Law," "Law Students Scream Profanities at Panelist," and "Woke Students Force School to Call Police at Yale."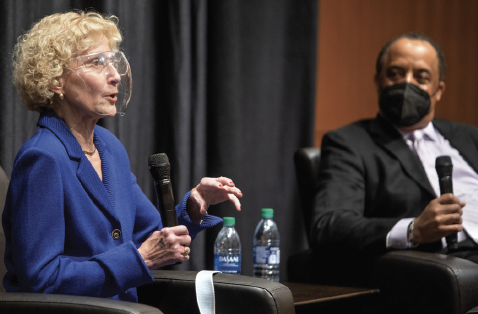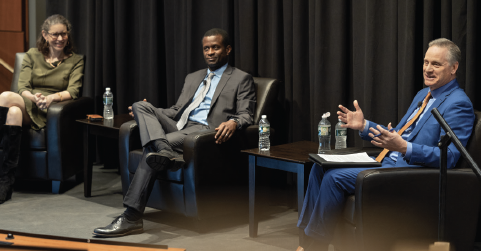 At Cornell, what helped was that the Law School and the university arranged to have the protesters gather in the courtyard outside the lecture hall to ensure the event proceeded in an orderly way. The speakers spoke, the protesters protested, and the debate inside the room went on without incident. It was a lesson learned for everyone.
"These conversations are about leading by example," says Ohlin, coming to the end of his story. "We're generating intense but civil discussion, and we're creating a model of how difficult topics can be explored in a civil exchange of ideas. We're setting expectations that protest is good, passion is good. But you can't interfere with the rights of other people who want to participate in an event and hear a particular speaker. And though it's hard to empirically assess, we're definitely having an effect."