It's early on a Saturday morning, just after Reunion breakfast, and Jens David Ohlin is delivering the State of the Law School Address in Landis Auditorium. He's impeccably dressed, of course, wearing a dark blue suit with a matching red tie and pocket square, and as the speech shifts from the benefits to the costs of a legal education, the mood in the room shifts, too.
"The dean is articulating a compelling vision of where we can be and how we can better serve our students," says Shawn Gavin, associate dean for Alumni Affairs and Development. "There's a lot happening here today that Cornell Law graduates can be proud of, and we want people to sign onto that vision of doing the greatest good. That's what Jens is putting forward for all our alumni to see."
One minute, he's talking about the Law School's record of placing 2020 grads in large law firms, where Cornell's 76.1 percent leads every other school in the country, and about its reputation for graduating students who are book-smart, practical, and professional. The next minute, he's talking about To Do the Greatest Good, Cornell University's—and the Law School's—capital campaign.
"The goal is an ambitious one," said Ohlin, halfway through his second year as Allan R. Tessler Dean and Professor of Law. "We're trying to raise $175 million dollars. That's a lot of money for a small school like Cornell, but it's an appropriate goal, and to keep moving forward, it's absolutely necessary.
"I'm pleased to say we've raised $77 million out of that overall goal," he continued. Then, with a pause and a laugh that traveled around the room: "We only have $98 million to go. That sounds like a lot, and it is, but we're going to get there."
It's a big ask, and it has a big vision behind it.
The campaign's name is borrowed from a speech Ezra Cornell gave to the New York State Legislature in 1865, when he asked for support in creating the University. In a handwritten draft, he started by establishing his credentials as a laborer, a son of a laborer, and a grandson of a laborer—"I cannot conceive it to be possible that any man can be more thoroughly identified with the industrial, laboring, and productive classes than I am"—beforegetting to his main point. "My ruling desire is to dispose of so much of my property . . . in a manner that shall do the greatest good to the greatest number of the industrial classes of my native state, and at the same time to do the greatest good to the state itself, by elevating the character and standard of knowledge of the industrial and productive classes."
More than 150 years later, the founder's vision still packs a punch, a one-two combination that promises to (a) educate any person in any study for (b) the greatest good of everyone. That's saying a lot, and here in the 21st century, it's still the driving force behind the University's plans for the future.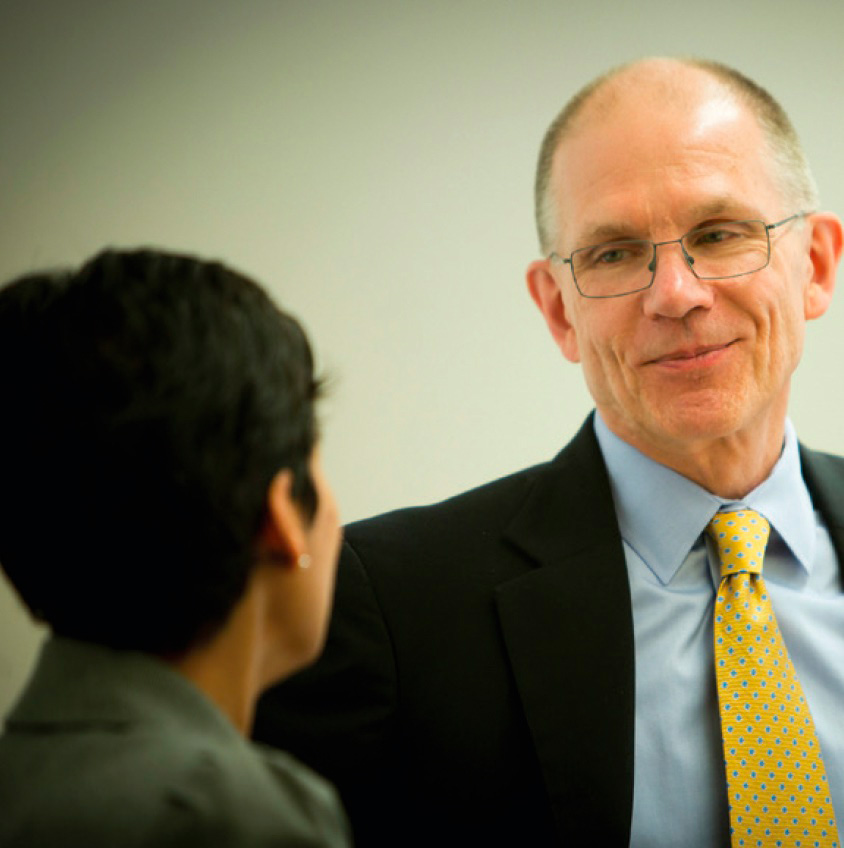 You can see the first half of Ezra's vision in Cornell Law's century-long approach to diversity, its focus on need-based scholarships, its support of first-generation students, and its commitment to making legal education available for all. You can see the second half everywhere, starting at the top line: in the J.D. program's growing enrollment (208 for the newly arrived Class of 2025), the number of law courses being offered (260), the student-to-faculty ratio (5:1), and the flourishing experiential learning program, with 15 clinics and 12 practicum courses.
You can see it reflected in the rising standards for admission (172 median LSAT score, 3.87 median GPA for the Class of 2025) and in the demographics of the 1Ls who meet those standards, 54 percent of them female, 34 percent of them people of color, and 23 percent of them international. You can feel the impact of that vision too, knowing that 97 percent of the Class of 2020 was employed within 10 months of graduation, and by listening to the stories of alumni making a difference in the Ithaca community, across New York State, all over the country, and around the world.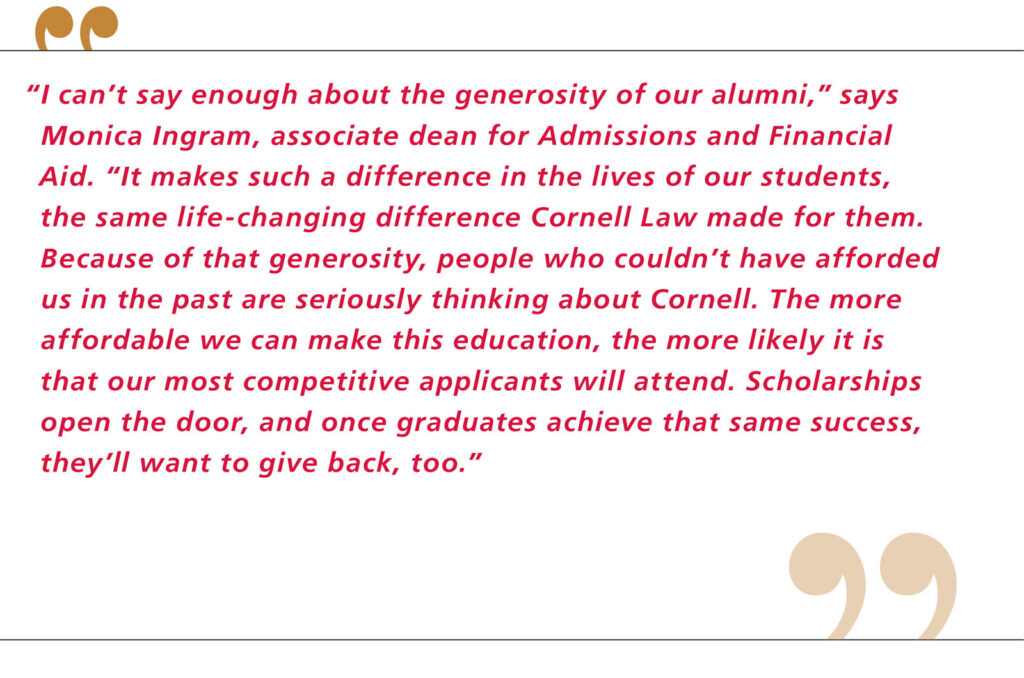 "Doing the greatest good is programmed into our DNA," said Ohlin, talking in his office a few weeks after Reunion, back working at his desk. "It's in our founding documents, set in place at the very beginning, and when an institution has been oriented in this direction for as long as ours, it makes the commitment that much deeper.
---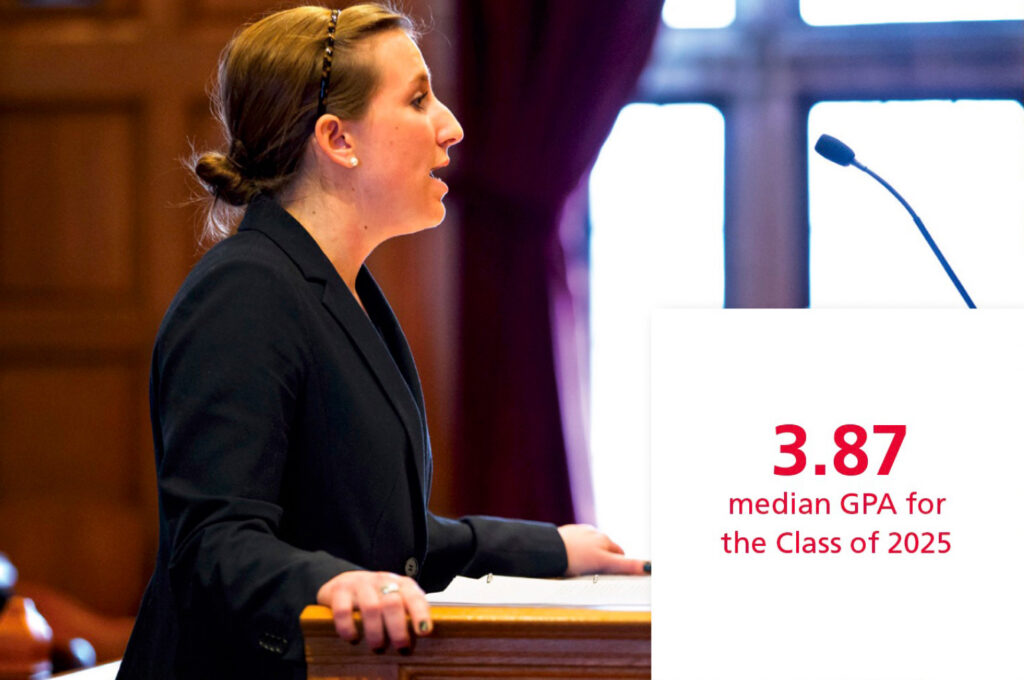 ---
"For most of us, when we talk about doing the greatest good, our public service programs come to mind right away," continued Ohlin. "But to me, 'the greatest good' describes the Law School's entire mission, no matter what kind of law you choose. You could be practicing environmental law for a government agency, or you could be working in a big law firm, financing a large corporate deal. All of it contributes to upholding the rule of law and the role of the legal system in society, which is what Cornell lawyers are trained do every single day."
Leaning forward in his chair, Ohlin returns to the two main points of his State of the Law School Address: to sum it up, we're doing very, very well, and we could be doing even better. With the success of the campaign, Ohlin would like to put resources toward opening courses and clinics in new areas, especially election law and Native American law. To help recruit faculty members, he'd like to raise funds for a new set of endowed chairs, and he'd like to hire clinical teaching fellows to broaden the Law School's experiential curriculum.
---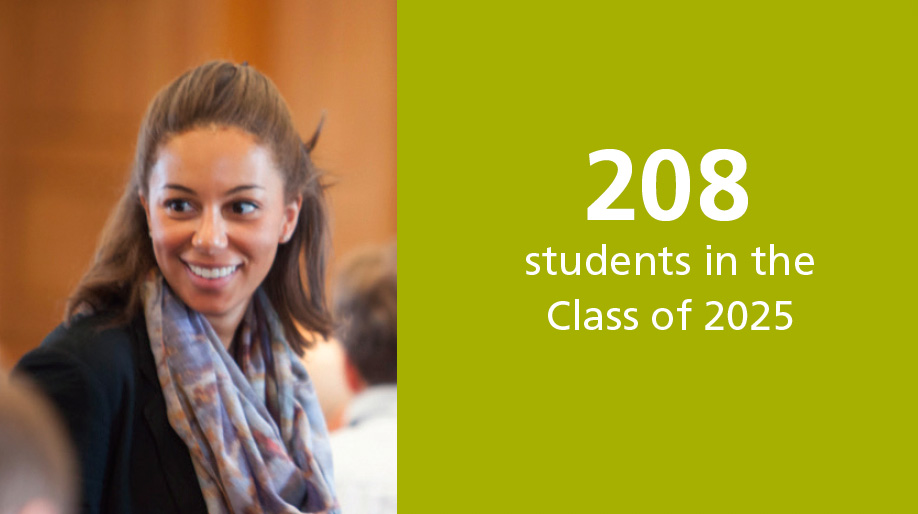 ---
Given the chance, he'd expand the Law School's outreach efforts in Ithaca and New York City, where the University would like to increase its footprint. He'd develop new cross-disciplinary programs with Cornell Tech and Weill Cornell Medicine, where current collaborations are already making great early progress. He'd grow the Law School curriculum to make Cornell widely recognized as a thought leader in environmental law, intellectual property, and tech law, just as it is in empirical legal studies.
Each of those initiatives follows in a straight line from Ezra's vow to do the greatest good for his students, for the people of New York State, and though he didn't say it, for the rest of the world. Through this campaign, which has just entered its public phase, Ohlin promises to dramatically increase financial aid and make a Cornell Law education possible for anyone who's been accepted. He vows to keep the Law School focused on diversity, to add support for first-generation students, and to augment loan forgiveness for alumni who choose to work in public interest law.
That's what Ezra would call "any person."
"It's all about our students," said Monica Ingram, associate dean for Admissions and Financial Aid, outlining her vision of the greatest good a few days later. "The strength of the preparation we offer. The diversity of our students. The inclusivity of our institution. How we're able to grant merit-based, need-based aid to make sure the program is not only competitive but affordable."
The good news? Cornell Law has dramatically increased its contributions to financial aid in the past year, which has enabled more than 40 percent of students to graduate without debt. It's increased spending for Public Interest Fellowships to its highest levels ever. And thanks in part to its rise in the national rankings, Cornell Law received 20 percent more applications than it did just two years ago.
---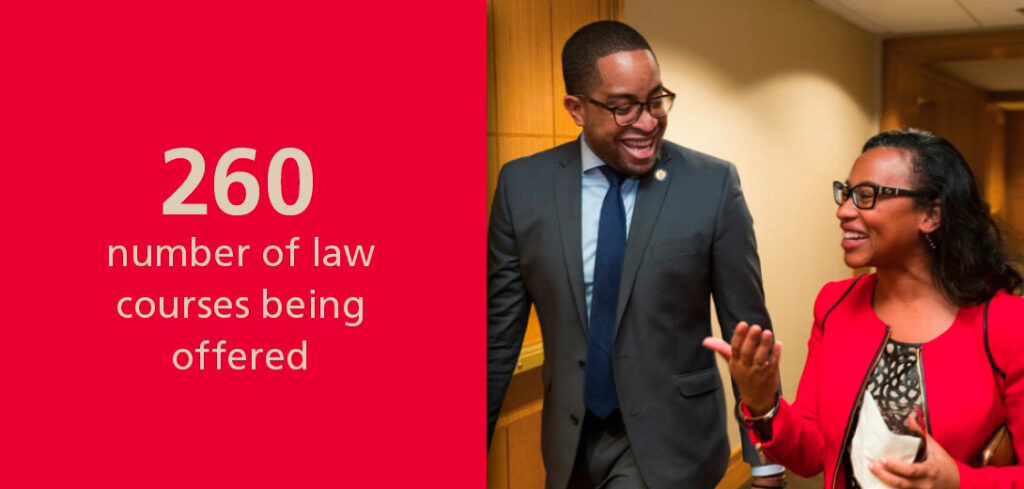 ---
"There's nothing we ever do for the sole aim of having a bump in the rankings," said Ingram. "But when we do get a bump, there's a positive ripple effect for the successive class. Since going from 13th to 12th, we've seen a more competitive applicant pool. Their credentials are higher than last year's pool, and because more people are accepting our invitations, we have an entering class of 208 students in the J.D. program, plus three more in our international dual degree program. That's higher by about ten students than what we'd typically have, and for a small school like ours, it's significant."
Without increasing the size of the next incoming class, Ingram would like to see application numbers keep rising, along with improvements in median GPA and LSAT scores. In theory, a second consecutive across-the-board increase in test scores could lead to higher admission standards, which could lead to greater competition to join the 1L class, which ideally would lead to higher numbers of students seeing Cornell as their first choice, which may lead to another bump in the national rankings—as predicted in Ohlin's State of the Law School address—which could start the cycle all over again.
---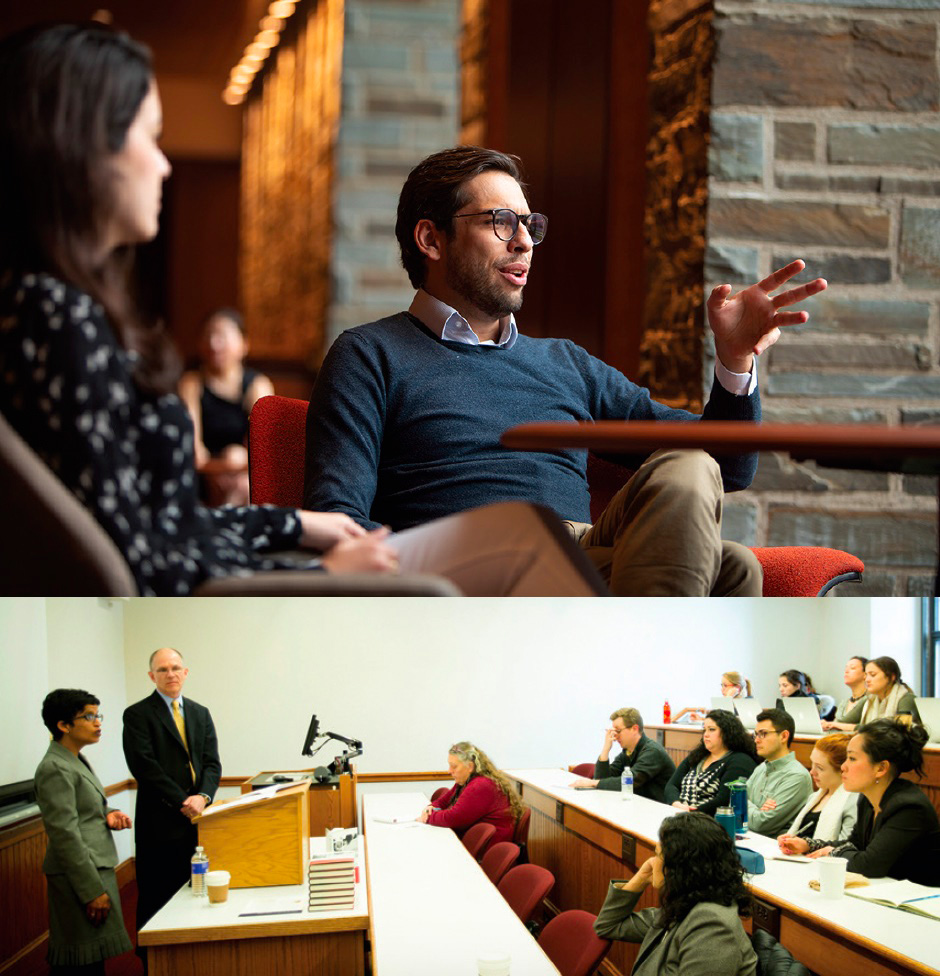 ---
Farther down the hallway, Beth Lyon is working to translate those successes in an ongoing expansion of the Law School's clinical offerings. More than three-quarters of Cornell Law's J.D. students participate in the Clinical Program, and in the past year, Lyon has worked with new and existing faculty to add five new offerings: the Afghanistan Assistance Clinic, which handles applications for asylum and humanitarian parole; the Appellate Criminal Defense Clinic, which argues felony appeals in New York City; the Movement Lawyering Clinic, which provides legal support for community organizers and organizations; the Transnational Disputes Clinic, which acts as counsel before international tribunals and national courts; and the Education Law Practicum, which represents students, families, teachers, and administrators.
"Right now, we have about two dozen practice areas that are doing amazing work locally, regionally, nationally, and around the world," said Lyon, associate dean for experiential education, Clinical Program director, and director of the Farmworker Legal Assistance Clinic. "It's typically one of the capstone experiences for our students, and it sometimes winds up being among their greatest professional moments. Whatever kind of law they practice, they leave here with the confidence of having counseled clients, handled hearings in court, negotiated contracts, and taken responsibility for other people in high-stakes cases. They graduate knowing they can put their degree to work, and that shapes the next steps they take."
---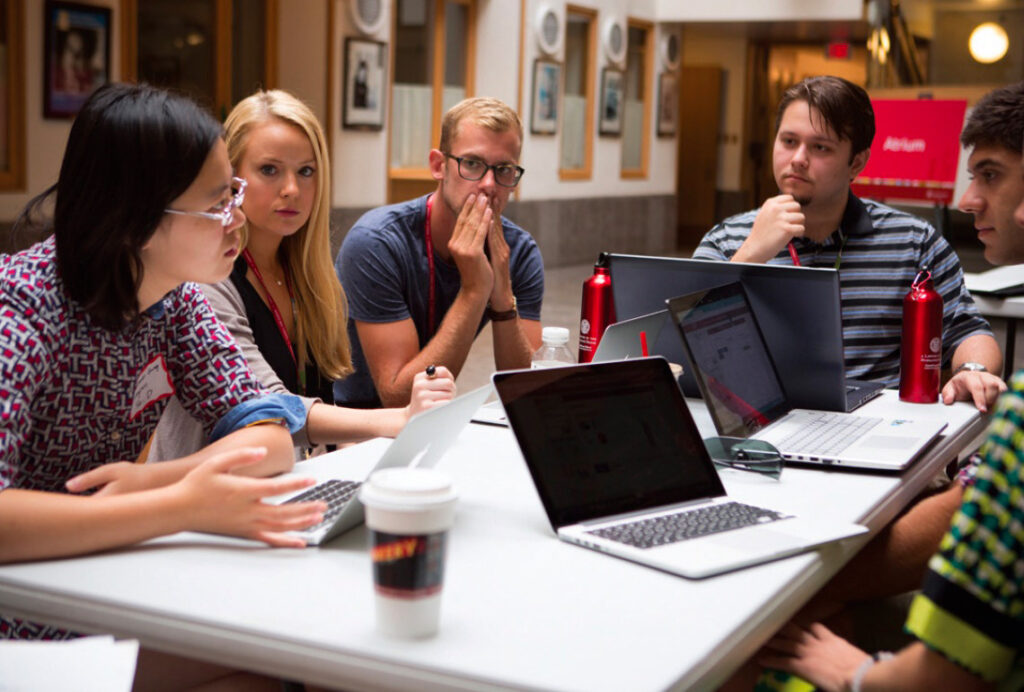 ---
Describing one recent victory, Lyon points to the First Amendment Clinic, where Cornell Law students successfully argued a case in the Appellate Division of the New York State Supreme Court. In another, students in the Capital Punishment Clinic obtained the release of two death row inmates, who are doing well outside prison walls, and in a third, over the course of fourteen months and thousands of pages of briefings, students who began as first-years in the 1L Immigration Law and Advocacy Clinic secured asylum for a single mother and her children (see story here).
What's next? First, Lyon and Ohlin would like to keep expanding the experiential program with a set of Ithaca-based clinics and practica, some supported by early-career teaching fellows, that focus on environmental justice, veterans' issues, and voting rights. Second, in a move to broaden the collaboration with Cornell Tech, they'd like to develop a 2+1 J.D. that spans both campuses, with local alumni helping to support the wide-ranging work of the clinics through tech law, intellectual property law, and tech entrepreneurship. Third, working with Weill Cornell Medicine, they're exploring the possibility of a community-based, multipronged, bricks-and-mortar outreach program in New York City, a project so ambitious, so far-ranging, that it's still years away from being realized.
"That's our vision and making it into reality is just a matter of resources," said Lyon. "The sheer scope of our experiential offerings is incredible, and these programs are addressing urgent needs that wouldn't otherwise be met, helping bridge the justice gap in a very real way. That's especially important for us here, as a great university sitting in rural America, where the lack of lawyers is just staggering. Every day, students in this clinical program are handling cases no one else will touch, and still, we have waiting lists of students who want to participate but can't."
---
---
In five years leading the Entrepreneurship Law Clinic, the Clinical Program's first and only transactional clinic, Celia Bigoness has kept a waitlist eight or nine times larger than her enrolled list. "When we started, it was an experiment: If we build it, will they come?" said Bigoness, a clinical professor of law who also teaches Introduction to Transactional Lawyering. "Sure enough, we've had tremendous demand, both among students and among prospective clients in the local community. Really, we've had so much demand that if we're able to grow and hire new faculty, we could have a group of more closely targeted programs—a community economic development clinic, a nonprofit clinic, a for-profit clinic, a tech-focused clinic—all under this same broad umbrella."
So far, the Entrepreneurship Law Clinic has been a win-win. Local start-ups and small businesses that can't yet afford in-house counsel have gotten the legal help they need, with one client launching a platform for nonprofits to procure medical masks and another opening an Ithaca Commons restaurant that provides its staff with job training, a living wage, benefits, staff meals, and quarterly bonuses (see story here). Meanwhile, the clinic's law students—like the majority of Cornell 3Ls, who graduate to careers as transactional lawyers, not litigators—benefit from the kind of education they can only get from real life.
"Clinics play a huge role in providing experience with live clients," says Bigoness. "It's a tremendous benefit for law students to begin developing the skills they'll need. There's no such thing as 'start-up law' per se, so on long-term projects like these, our students encounter all different types of transactions. They do contract work. Negotiations. Finance. Employment law. Immigration. Taxes. And even more important than those hard skills, clinical work forces law students to think from a business perspective. To work on client management, psychology, communication. Those are places where a lot of law schools aren't doing a good job, and it's one more thing that sets our graduates apart."
For Ohlin, it's another talking point to keep in mind as he travels around the country, meeting with alumni and spreading the news about the capital campaign. "There are so many things we do well, and all those things come together for the greatest good," said Ohlin, before moving on to his next meeting in Myron Taylor Hall. "Wherever I go, I always hear alumni talk about how Cornell Law changed their lives. It's true. Law school is a powerful engine. It gives people the chance to open doors that wouldn't have been opened before, and to graduate with a completely new set of opportunities. It transforms their lives and helps them transform the lives of all the people around them.
"The campaign is one way people can have a huge impact on the world, to make sure the current generation is trained to be ethical, broad-minded lawyers in the best sense," continued Ohlin. "There's no better way to support the rule of law."