by Charles K. Whitehead
My second visit to Kharkiv—Ukraine's second largest city and the country's academic center—occurred just ten days after the Lenin statue in Freedom Square at the center of town was pulled down by an angry mob. I had arrived only a few weeks after Ukraine's Maidan Revolution in February 2014, when deadly clashes between protesters and security forces in the Ukrainian capital of Kyiv culminated in the ousting of President Viktor Yanukovych, who fled to Russia, and the popular overthrow of the Ukrainian government.
That trip was my second visit, because as a twelve-year-old I first transited Kharkiv—then a part of the Soviet Union—en route to being the first American boy to attend the Artek Young Pioneer Camp in Crimea. Artek was the country's premier young Communist camp, a reward for students who excelled in academics or athletics, or more often than not, whose families had strong Party ties. My father was a U.S. diplomat at the U.S. Embassy in Moscow, and my enrollment at Artek was a small part of the then-thawing U.S.-Soviet relations.
In 2014, I was invited to Kharkiv to lecture at Yaroslav Mudryi National Law University, Ukraine's premier law faculty, founded in 1804, with roughly 17,000 law students in different colleges devoted to criminal, administrative, international, civil, and other areas of law. My goal on that trip, and in later visits since 2014, was to introduce Ukraine's future lawyers, regulators, and legislators to an American way of thinking about corporate, financial, and transactional legal matters. Like many countries that were formerly part of the Soviet Union, Ukraine does not have a significant capital market, but it has been planning to create one, so understanding the issues that can arise and how the law can address them has been critical for the country. For me, it was also an opportunity to begin to design a capital market for the twenty-first century, among other things, by leveraging Ukraine's strength in blockchain and other new technologies. Likewise, developing strong transactional skills was important for lawyers who over their careers would be negotiating complex deals with the growing number of global companies interested in doing business in Ukraine. A few years later, I was selected to join the Fulbright program in Ukraine, and the University elected me as the fifth honorary doctor in its history and the first American to receive the honor.
Over the course of those visits, I met with regulators and other government officials, academics, bankers, lawyers, and students. What has been fascinating about working in Ukraine has been the opportunity to pull together what we have learned in the United States and apply it, with some adaptation, to building a strong capital market. Much has been written, in the law, business, and finance literature, about the elements needed to create an efficient capital market. Ukraine is a "blank slate" against which to introduce and test those lessons—both what works and what could work better—within a relatively untouched environment.
The capital market is sometimes referred to as the "circulatory system" for an economy—moving capital where needed so that businesses can flourish. Ukraine's efforts to strengthen its economy, and after 2014, to detach itself from Russia, require a capital market that is attractive and efficient.
A strong capital market, in turn, ideally is supported by domestic issuers and investors. Many of Ukraine's larger companies are outdated, built on the foundations of former Soviet entities and, prior to 2014, largely dependent on countries within the Commonwealth of Independent States (CIS) for much of their business. However, side by side with those older businesses is a growing number of new, creative businesses, many whose products are based on cutting-edge technologies. Some of the most well known are Grammarly, Gitlab, People.ai, and Reface—all of which are recent "unicorns" with valuations greater than $1 billion—but also waiting in the wings is an army of new companies with the potential to be equally successful. Not surprisingly, Ukraine's technology industry recently rose to be the third largest contributor to the country's gross domestic product, with IT exports growing by 20.4 percent in 2020 in the midst of a global pandemic. The IT industry accounted for 8.3 percent of total exports behind agriculture and metallurgy (and, following Russia's invasion of Ukraine, it is now likely at the top of the list).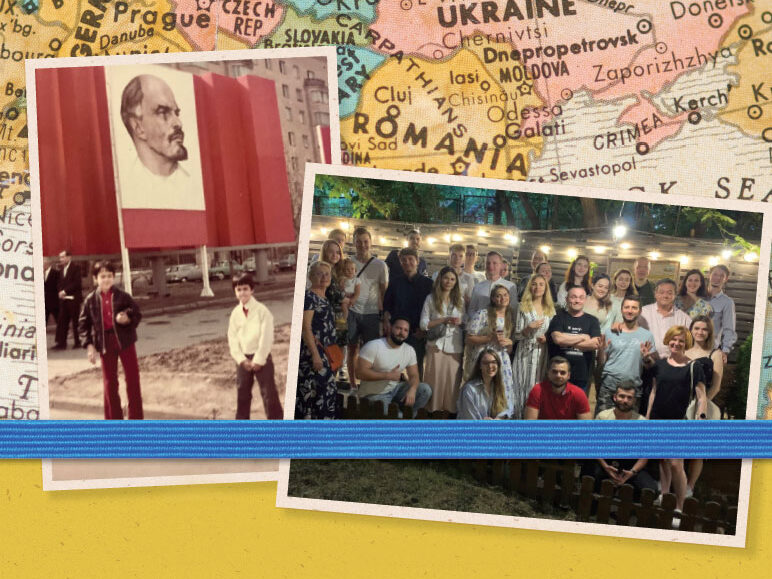 ---
What many of Ukraine's new technology businesses lacked was an understanding of the Western approach to business and, consequently, while growth has been strong, they were not as effective as they could be in selling in the United States and Europe or attracting global investors. Many businesses had to leave the country since Ukraine was not set up to support the rapid growth that tech startups require. Likewise, potential investors in Ukraine did not have globally competitive companies to invest in and, therefore, lacked the experience to judge the risks and returns of investing in Ukrainian startups. The result was a stalemate—potentially strong businesses that did not have the skills or capital in Ukraine to grow globally, and local investors with capital but little understanding of how to invest in those businesses.
To help break that stalemate, four years ago, I was approached by a group of Ukrainian officials, businesspeople, and academics to help create a platform to launch and grow new tech businesses in Ukraine. The result was eo Business Incubators, an American-style tech incubator based in Kyiv and Kharkiv. In addition to working with Ukrainian partners, I have been fortunate to work with colleagues from faculties across Cornell University and Cornell Tech to develop the program, which received technical assistance and a grant through the U.S. Agency for International Development's Competitive Economy Program. The outcome was better than expected. In the two and one-half years since the incubator's launch, graduates from the program have received over $9 million in investments and grants, with a total implied valuation of close to $100 million. Alumni include the winner of the Dubai 2020 global startup competition (a $100,000 award), one of the top four teams at Web Summit in Portugal (the world's largest tech conference), and an "editor's choice" at the Consumer Electronics Show in Las Vegas (the world's largest consumer tech conference). Ring (acquired by Amazon for over $1 billion) and a growing number of other Silicon Valley companies have come to recognize the country's technological strength and have also successfully built innovative products in Ukraine.
Two years ago, I was selected by Ukraine's Minister of Finance to be the sole American on the supervisory board of the country's newly created Ukrainian Startup Fund. The Fund provides small grants to early-stage tech startups, largely as a way to facilitate rapid growth. Ukraine had never had a national grant program, partly due to concerns over inefficiency and corruption. In response, the Fund adopted an "American" approach to governance and organization, with full transparency around its operations, an active and engaged supervisory board, and regular outside audits. The Fund, in turn, became a model for other programs that Ukraine adopted or considered.
Personally, helping launch Ukraine's tech platform also provided direct insight into how new businesses are launched and can grow. Legal and business academics have written extensively about the elements needed to create an infrastructure to support new business. Working in Ukraine's growing startup community provided a better understanding of how entrepreneurial systems develop and the relationship between those systems and new regulation.
Contemporaneous with my work in Ukraine, I helped launch the Law, Technology, and Entre-preneurship program at Cornell Tech. In parallel with its growing tech economy, Ukraine, like the United States, needs lawyers who can work effectively at the intersection of law, technology, and business. For that reason, about a year before I helped create the Cornell Tech program, I co-founded a similar program for lawyers and law students in Ukraine. In many ways, the early blueprint for the Cornell Tech program was developed and improved in Ukraine before it was brought to Roosevelt Island.
One might expect all of these activities to have come to a halt on February 24 when Russia invaded Ukraine. If anything, however, the Russian invasion underscores the need for the kind of work I have been privileged to do. Ukraine today is more "western" than it was in 2014, when I first arrived. That should not come as a surprise. Many of the country's leaders grew up after the fall of the Soviet Union in 1991. Their world, and its possibilities, stretches well beyond anything their parents or grandparents could imagine. One can see this in the country's growing tech community. The belief that a young entrepreneur can shape her
own future—build a business, compete globally with others—is now part of how Ukrainians see their place in the world. As others have written, this may be a part of what Russia perceived as a threat when it invaded Ukraine. New Ukrainian businesses have looked to develop products for sale in the West, while American and European investors and partners have seen new opportunities in the teams that are creating them.
I expect that Ukraine and its economy will continue to mature, as it has for the last eight years, after the war with Russia comes to a close. The need for a "new economy" and a strong capital market is even greater today than before. Based on its success, eo Business Incubators has been approached to help launch a large venture capital fund devoted to Ukraine (and other CIS countries) when the hostilities cease. No doubt, there will be further hurdles as Ukraine reconstructs—but, now with global attention, I expect the same energy and foresight that has made working in Ukraine so rewarding to this point to continue into the future.