---
New York Annual Luncheon Hosts Dean Ohlin
For the first time since the arrival of the pandemic, Cornell Law resumed its long-standing tradition of hosting an in-person New York Annual Luncheon. "I can't tell you how excited I am to be here, and more importantly, how excited I am that all of you are here as well," said Jens David Ohlin, Allan R. Tessler Dean and Professor of Law, opening the March 30 event in midtown Manhattan. "After two long years of absence, it feels like we're finally back."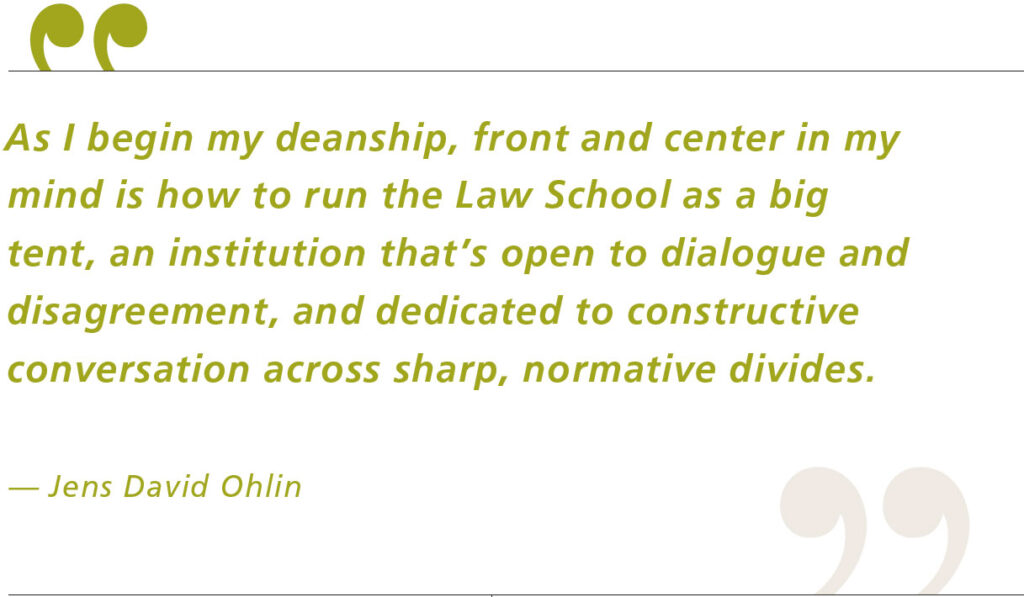 Following an announcement about Cornell Law's rise in the U.S. News rankings, Ohlin shared two goals for the Law School: That every student should have a job waiting after graduation, and that every student should have the economic freedom to pursue the kind of legal practice that most interests them. Then, turning to the theme of the luncheon, "Lawyers in a Time of Radical Disagreement," he talked about his broader vision for leading the Law School in the middle of an increasingly polarized national culture.

"As I begin my deanship, front and center in my mind is how to run the Law School as a big tent, an institution that's open to dialogue and disagreement, and dedicated to constructive conversation across sharp, normative divides," said Ohlin, who formally became Cornell Law School's 17th dean on July 1, 2021. "It isn't always easy, but from my perspective, it's essential that we train students to voice difficult ideas, just as we train them to listen carefully before responding. Shouting down an opponent is uncivil behavior—and in addition, it's just not good advocacy. A more successful approach is to express confidence in one's position in the hope it will survive debate in the marketplace of ideas. Sometimes lowering rather than raising the temperature can more effectively advance one's position."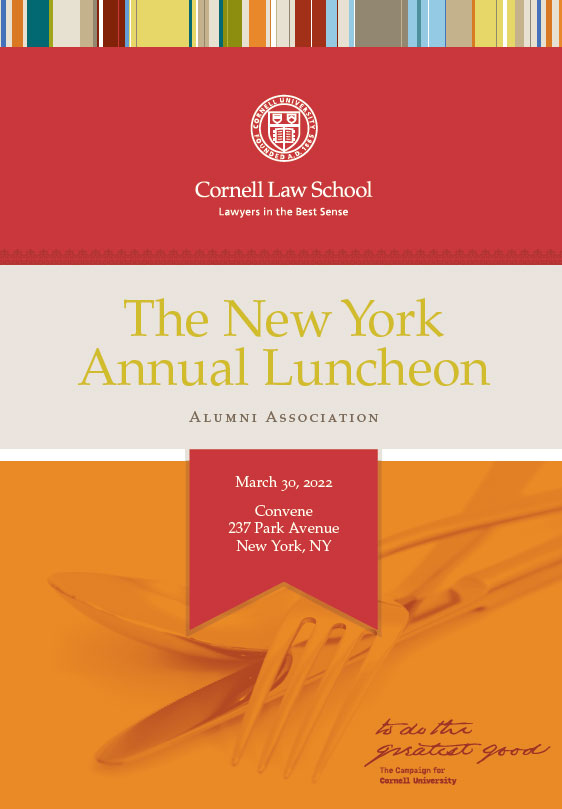 Talking about emails asking him to cancel an upcoming speaker, he explained the importance of allowing student groups to invite speakers they choose and for administrators to give students that freedom. He described universities and law schools as "leaders in civil discourse across difference," and explained why that felt particularly urgent in the present moment, with fostering dialogue one of his highest priorities as dean.
Being a leader in civil discourse didn't mean the Law School would—or should—remain neutral on every issue; as examples, Ohlin mentioned statements he'd issued as dean on the events of January 6 and on the war in Ukraine. Then, searching for a timelessly nonpartisan metaphor to describe the high-visibility role of the university, he reached back to John Winthrop, who urged his fellow Puritans to build their community "as a city upon a hill," an image later borrowed by Republicans like Ronald Reagan and Democrats like John F. Kennedy, whose photo is on the wall of Ohlin's office in Myron Taylor Hall.
"We ought to be an example for universities everywhere of how to run an institution that is dedicated simultaneously to the discovery of truth and to the freedom of speech, thought, and opinion," said Ohlin, reminding attendees their university is literally situated on a hill. "Over the next decade, that's my task as dean: to find a workable way of life for members of my community who come from diverse walks of life, diverse faiths, diverse countries across the globe, different political parties, and different generations. I need to be the dean for everyone, whether you're a member of the Federalist Society or the American Constitution Society. Or both. Or neither."
Questions followed. The first was about a recent event at Yale Law School, where left-leaning protesters shouted down a right-leaning speaker. (Ohlin supported the students' right to protest but not to prevent other peoples' right to speak.) The second was about eliminating disinformation on campus. (Ohlin distinguished between invited speakers, who should be allowed to offer their opinions, no matter how badly formed, and Cornell faculty, who should be hired for their ability to discriminate between truth and falsity.)
The third was about how the Law School is teaching new students to embrace a big-tent approach. (Ohlin talked about Orientation, which includes an Intergroup Dialogue Project, and about the need to model tolerance across the Law School.) The final question, asked by an incoming student, was about how to balance the need for free speech with the need to create a safe environment for students. (Ohlin's multipart response acknowledged the importance of both, along with the multiplicity of ways the Law School could help people safely disagree within a civil, thoughtful community.)

Then, with the formal presentation finished, it was time for alumni one-on-one.

"I thought it was uplifting," said Leslie Wheelock, M.B.A. '84, J.D. '84, who introduced Ohlin at the start of the luncheon, talking about the event weeks later. "Because Jens is just starting out as dean, there are a lot of people who want to know who he is, to know something about him. This was the first time that people were together in who knows how long, and seeing him in person, in a room full of alumni, you could feel the energy."

The New York Annual Luncheon was sponsored by Allen & Overy, Clifford Chance, Cravath Swaine & Moore, DLA Piper, Fried Frank, Morrison & Foerster, Sidley Austin, Urban American, and the Cornell Law School Admissions Office.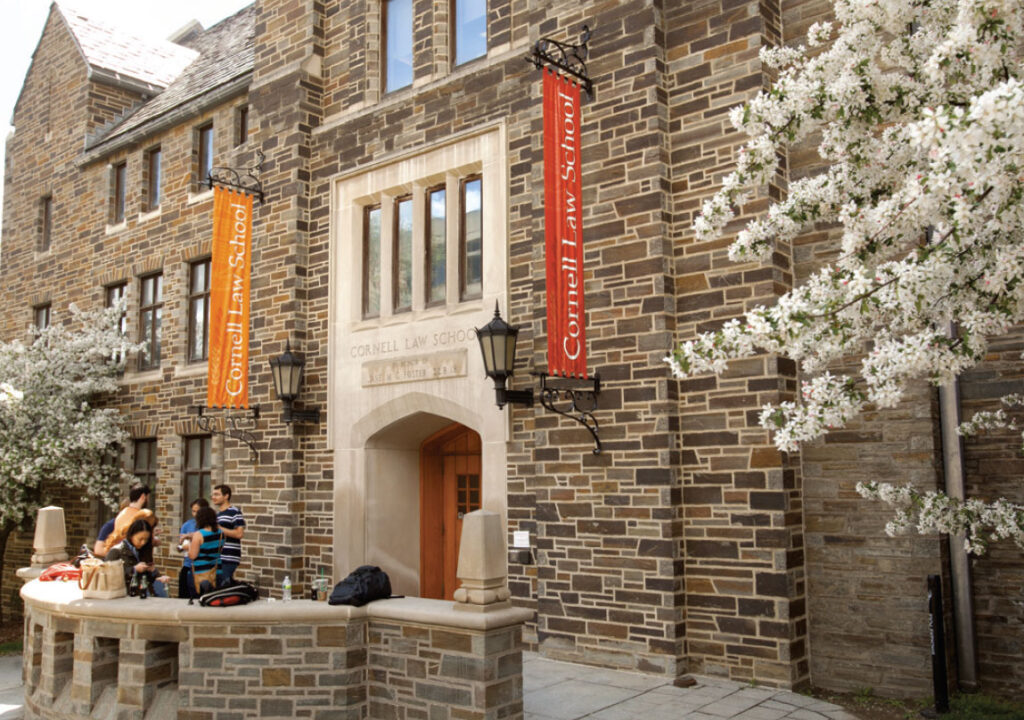 Cornell Law Celebrates Exemplary Public Service Alumni and Students
Zooming from his office in Myron Taylor Hall, Jens David Ohlin opened the Law School's 17th annual Exemplary Public Service Awards on March 22 by invoking Ezra Cornell's promise "to do the greatest good."
"I believe this to mean that we not only enrich ourselves, but that we enrich our local and global communities," said Ohlin, Allan R. Tessler Dean and Professor of Law, providing three reasons why public service is one of Cornell Law's guiding principles. "First, to feed a public sector system in urgent need of legal talent, we must have equal avenues and incentives into that field of practice. Second, to attract and serve students who dream of public interest careers, we must help them realize that goal. Third, to fulfill the Law School's academic and community service missions, we must remain uniformly, intellectually superb, as can only occur if we recruit and educate for excellence along the full range of legal expertise."
In that same spirit—Cornell's quote makes it clear he's primarily focused on "the industrial classes of my native state" —Associate Professor Jaclyn Kelley-Widmer described Cornell's public service alumni as role models of "lawyers in the best sense." Michaela Azemi, director of pro bono services and externships, shared some victories from the Cornell Defender program and the Tenants Advocacy Practicum.

Katherine Ward Feld, M.B.A. '82, J.D. '83, provided the evening's surprise: Law School alumni and students have joined together to expand support for public service students and recent grads. (See "Law School Creates an Affinity Group for Public Service" on page 48) Then, promising more news in the future, Feld handed the meeting to Akua Akyea, associate dean for career development, who began introducing the evening's honorees, who'd been nominated by Law School alumni, faculty, and administrators.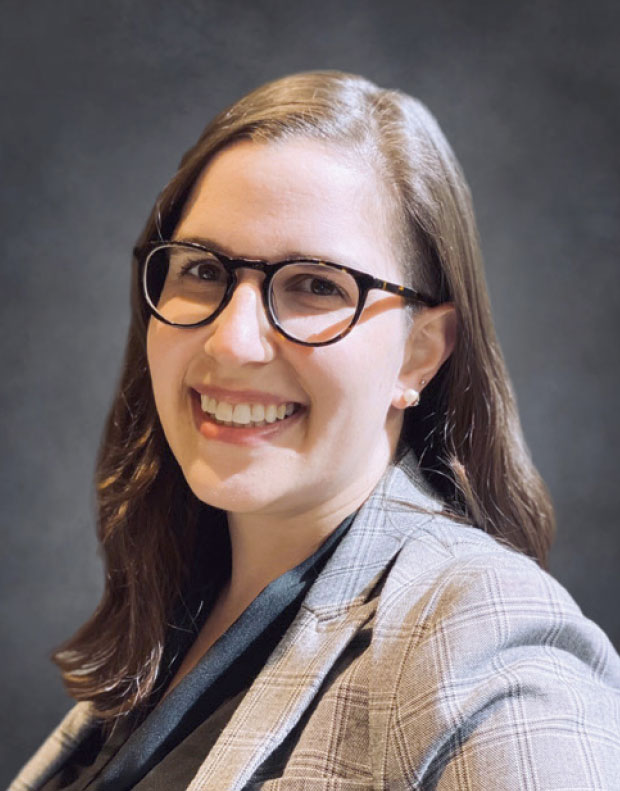 The first, Rising Star Award recipient Adena Wayne '17, was drawn to Cornell Law by the chance to participate in the clinical program. "I'd known since college that I wanted to do public interest rights law and specifically LGBTQ rights law," said Wayne, a staff attorney at the New York Legal Assistance Group's LGBTQ Law Project. "I knew it would be an uphill battle to get a staff attorney job in that field, but I wanted to try, and attending Cornell helped me make this dream a reality."
The second, David Cordero-Heredia, LL.M. '14, J.S.D. '18, is currently a co-petitioner in more than twenty open cases filed before the Inter-American Commission on Human Rights. "When my wife, son, and I first moved to Ithaca in 2013, we did it for a year," said Cordero-Heredia, who directs the Human Rights Center of Pontificia Universidad Catolica Del Ecuador. "We left the city six years later with a masters, a doctorate, a teaching postdoc at Cornell's Human Rights Clinic, and a daughter. But actually, we never really left, because Ithaca and Cornell are part of our lives, and they always will be."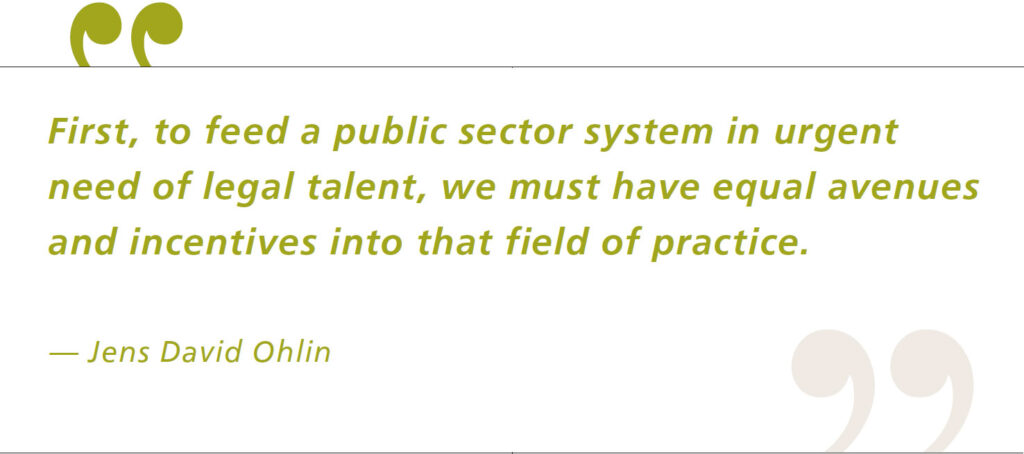 Since graduation, Katherine Higgins '09 has defended thousands of indigent clients. "One of the major reasons I chose Cornell Law School was the Public Service Loan Forgiveness Program," said Higgins, an assistant public defender in Monroe County, New York. "I knew I wanted to work in public interest law, and I didn't want to be confined to a higher-paying career path just to pay off student loans. Receiving a legal education and a degree from Cornell Law School was an incredible privilege, and receiving loan forgiveness made it possible to pursue the career that I really wanted."
Awardee Nancy Morisseau '04, who advises the New York State Department of Education as an attorney in the Office of the General Counsel, used her speech to talk about the significance of seeing Ketanji Brown Jackson confirmed to the Supreme Court. "Yes, it's important to have diversity on the highest court of the land," she said, "and I'm not discussing diversity in terms of identity such as race and gender, but in professional practice area. The fact that we never had a public defender on the Supreme Court and are now holding it as a great miracle and achievement, speaks to how we as Americans must do better in living the ideals of our Constitution."
Based in Washington, D.C., where she works as legal director for Demand Progress, Ginger Quintero-McCall '09 has dedicated herself to antitrust reform, corporate accountability, and government transparency. "We each have a finite amount of time to spend on the people and causes that we love," she said, sharing the lessons of losing her infant daughter. "Whatever cause you care about, start working toward it today with whatever capacity you have as a full-time attorney or a part-time volunteer. That's the gift a public service career can give an attorney: the opportunity to use your time in meaningful ways to create change and help to bring about the world you want to see."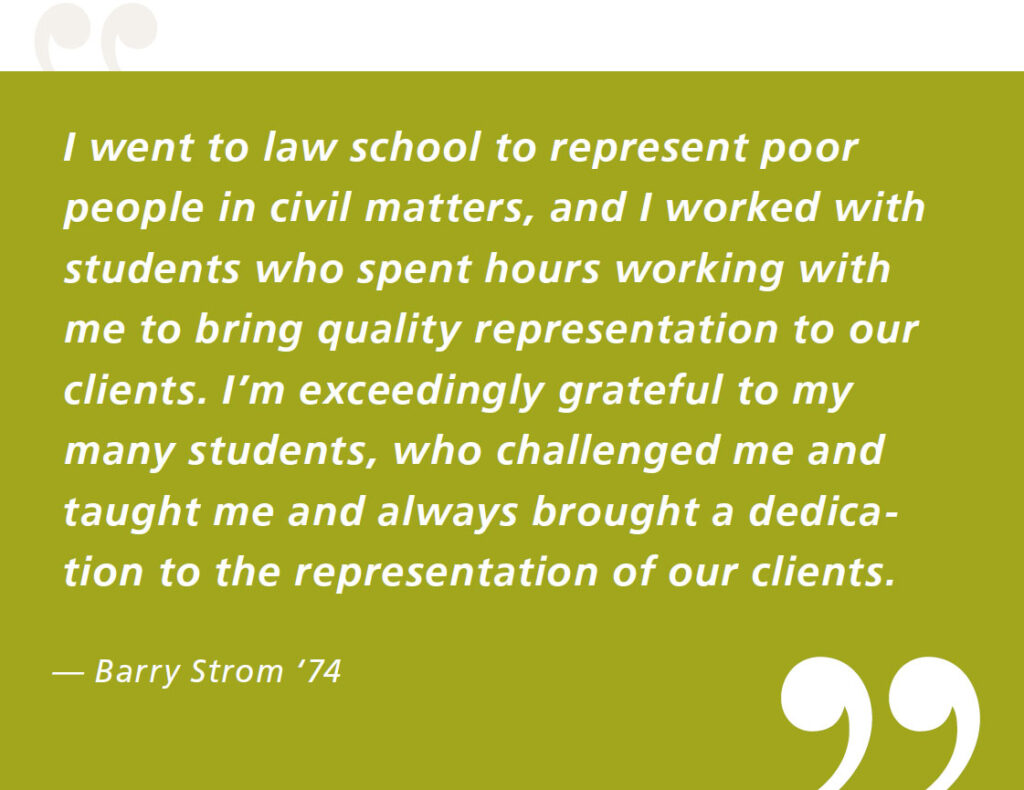 Tricia Russell '00, who had her first experience with capital defense at Cornell Law, has gone on to represent indigent clients facing the death penalty in trials, appeals, and post-conviction proceedings across the country. "When I started law school, I really had no opinion whether I was for or against the death penalty," said Russell, an attorney in the Arkansas Public Defender Commission. "All that changed when I enrolled in the capital punishment clinic, which shaped the arc of my life. I not only discovered my career path, but I also found a lifelong passion for achieving racial justice and abolishing the death penalty. Finding what I love to do has been the true reward that Cornell gave me."
Over the years, Betsy Wohl '90 has helped thousands of people avoid eviction as a foreclosure and bankruptcy lawyer. "Like many people, I didn't go into public service for the money," said Wohl, a supervising attorney at Legal Assistance of Western New York. "It was a calling, it truly was. I chose Cornell because I was impressed by what was at the time its only clinic: the Legal Aid clinic. The skills I learned there were vital to my becoming not just a lawyer, but a zealous, astute, and empathetic lawyer. And a fierce one. I had amazing, talented, and dedicated mentors, one of whom is here tonight getting a well-deserved award."
That was a nod to Barry Strom '74, clinical professor emeritus and former director of the Legal Aid Clinic. "For thirty-six years, I had the best job I could possibly have dreamed of," said Strom, who counts thirty-seven of his students among the Law School's Exemplary Public Service Award recipients. "I went to law school to represent poor people in civil matters, and I worked with students who spent hours working with me to bring quality representation to our clients. I'm exceedingly grateful to my many students, all my students, who challenged me and taught me and always brought a dedication to the representation of our clients."
Finally, there were nine student award winners from the Class of 2022, who each spoke briefly. Nola Booth, Sophie Miller, and Gaby Pico received the Freeman Award for Civil-Human Rights. Camilah Hamideh, Emma Sprotbery, and Emily Van Dyne were awarded the Stanley E. Gould Prize for Public Interest Law. The Seymour Herzog Memorial Prize was given to Daniel Brey, Isaac Gorenstein, and Marisa Pagan-Figueroa, the evening's last recipient.
"My clinical work has been the best part of law school," said Pagan-Figueroa, whose public service includes work on the Farmworker Legal Assistance Clinic, International Refugee Assistance Project, LatinoJustice PRLDEF, Movement Lawyering Clinic, Tenants Advocacy Practicum, and Women's Law Coalition. "I'm incredibly thankful for my education here, and I'm hopeful for the work I'll be able to do in the future."

Law School Creates an Affinity Group for Public Service
In the nine years since entering the public sector, Katherine Ward Feld, M.B.A. '82, J.D. '83, has found a different kind of job satisfaction and developed a deeper understanding of the struggles of young lawyers. Now, with help from alumni, students, and administrators, she's co-founded the Public Service Alumni Network (PSAN), the Law School's newest affinity group.
"There are so many Cornell Law graduates working in the public sector, and yet we haven't had an alumni affinity group to capture the passion we each feel for our work and our organizations."

Katherine Ward Feld, M.B.A. '82, J.D. '83
"There are so many Cornell Law graduates working in the public sector, and yet we haven't had an alumni affinity group to capture the passion we each feel for our work and our organizations," says Feld, who chairs the group's seventeen-person leadership committee. "We think this is an area that needs its own affinity group, and the beauty of it is that we can use this network to focus our efforts on helping students and recent graduates who go directly into public service."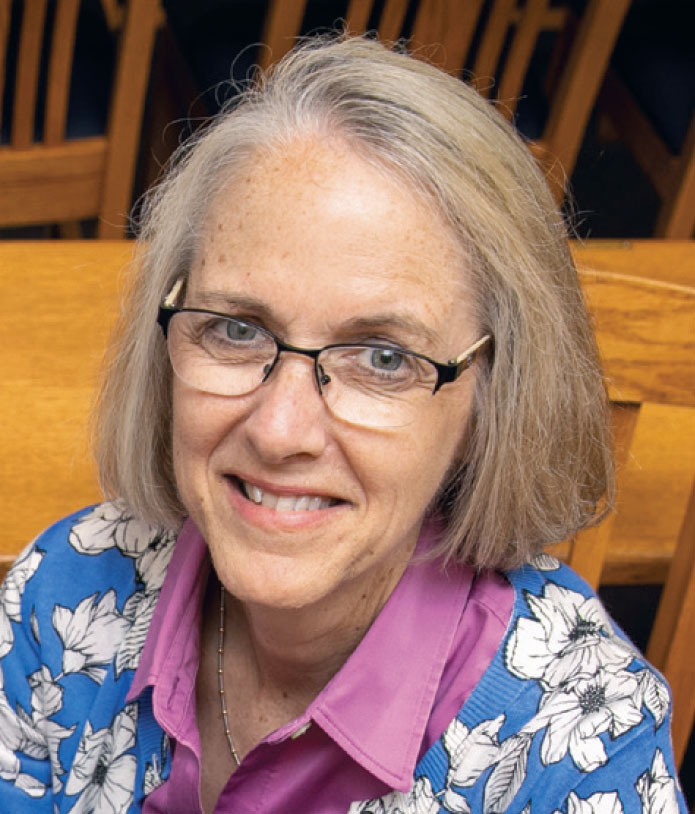 PSAN's leadership committee plans to meet four times a year, when they'll concentrate on goals for networking and fundraising. To increase job opportunities, PSAN will match current students with alumni mentors working in the public sector, focusing on participants in the Law School's clinical programs to start building new connections. To decrease the gap between private- and public-sector salaries, PSAN will concentrate on raising funds from alumni to expand summer grants, internships, and loan repayment programs for students and recent grads working in the public sector.
"If we could convince every Cornell Law alumnus who makes a donation to the Law School to earmark a part of that to public service, it would be a huge win," says Feld, who points to the successes the Law School has made in reducing debt for graduating students. "We should all feel vested in helping fellow alumni succeed in the public-service sector, to support those who are singularly positioned to engage in activities to help the community. They deserve our assistance, and PSAN can truly add value to the Cornell Law education."
In addition to Feld, the founding members of the PSAN Leadership Committee are Nav Dayanand, LL.M. '04; Sarah Estabrook, A.B. '14, J.D. '17; Julie Friedman, B.S. '88, J.D. '93; Amy Godshall '23 (student representative); Debra James, A.B. '75, J.D. '78; Douglas Lasdon '81; Danielle Lazore-Thompson '02; Mela Lew '86; Kica Matos '99; Annie O'Toole '16; Mario Roque '17; Roberta Tulman Samuels, A.B. '87, J.D. '90; Quinten Steenhuis '08; Cristina Velez '02; Leslie Wheelock, M.B.A. '84, J.D. '84; and Michael Wright '94.
"The group of individuals they've brought together is just exceptional, and it's exciting to see them sharing high-level ideas about working in the public interest," says Akua Akyea, associate dean for career development. "These are folks who can help alumni connect with current students and can help alumni think about their careers in ways they hadn't done before. There's a lot of practical experience in this group, and a lot of people who have the potential to create something phenomenal."
Government Service Scholarship Announced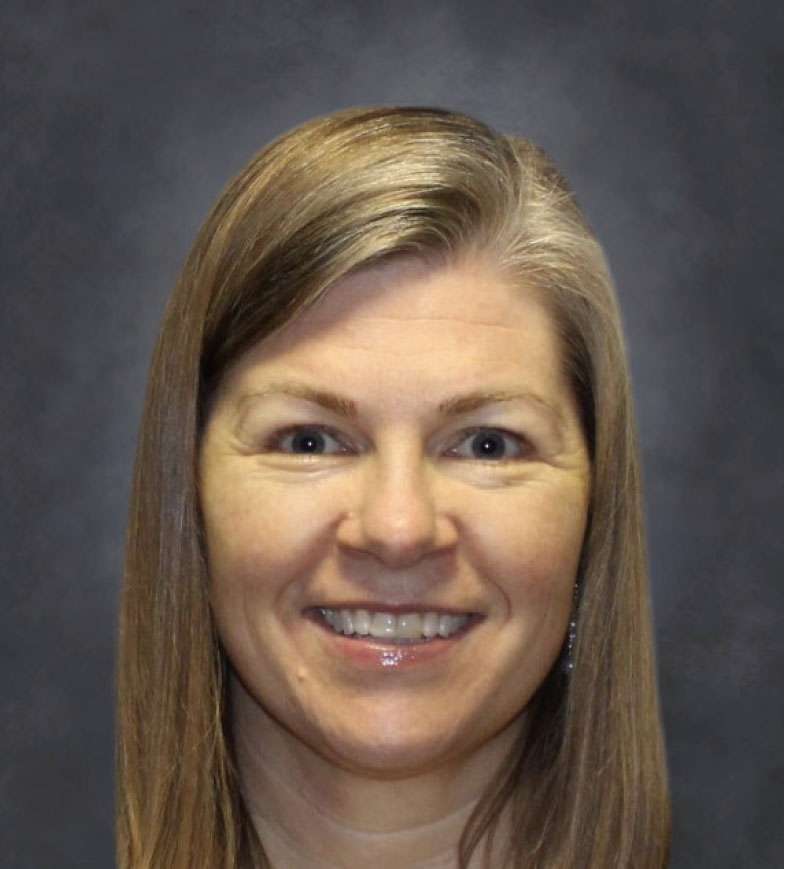 Established in 2021 by the Hon. Christy C. Wiegand '00 and her husband, John F. (Jay) Hammond '00, the Hon. Christy C. Wiegand Government Service Scholarship will be awarded annually to a 2L or 3L student who pursues government service legal work during law school, with aspirations to continue doing so post-graduation.
Judge Wiegand credits her meaningful experience at Cornell Law School as the springboard for her career. With this scholarship, Judge Wiegand and her husband, John F. (Jay) Hammond '00, hope to reduce the amount of student debt that scholarship recipients will be obliged to repay following graduation from Cornell Law School, making government service a more reasonable financial choice. In addition, Christy and Jay intend the Scholarship to encourage Cornell Law students to reflect on the variety of post-graduation paths open to them by highlighting Judge Wiegand's experience as an example of a meaningful and fulling career in government service.

During her time at the Law School, Wiegand served as an articles editor for the Cornell Law Review. Upon graduation, she became an associate at Arnold & Porter in Washington, D.C., where her practice focused on antitrust matters. She later served as a law clerk to Judge D. Brooks Smith of the U.S. Court of Appeals for the Third Circuit. Wiegand then became an assistant U.S. attorney for the Western District of Pennsylvania, where she spent eighteen years working for the U.S. Department of Justice. In September 2020, she was appointed to serve as a U.S. District Judge of the U.S. District Court for the Western District of Pennsylvania.
Hammond's legal career has been as a transactional attorney, largely focused on energy and corporate law. He is an adjunct professor at the University of Pittsburgh School of Law and the head coach of the Central Catholic High School rowing team.
Alfred J. Casazza Sr. Scholarship Announced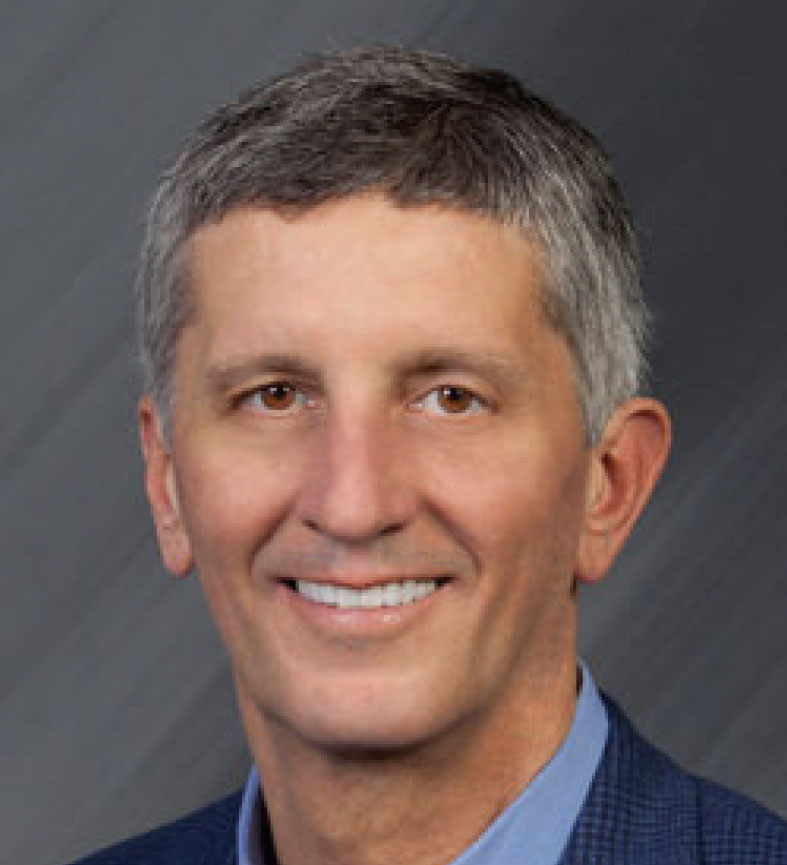 William J. Casazza '85 has established a scholarship in honor of his father, Alfred Casazza Sr., that will provide full annual tuition support to a Cornell Law student who has demonstrated academic excellence and financial need and whose parents did not achieve a bachelor's level or equivalent university degree. Secondary preference will be given to a student who is the first in their family to attend law school and then to a student from the Greater Boston area.
"This scholarship is designed to provide the recipients with the opportunity for educational and socio-economic advancement that my father and mother selflessly provided to me, my brother and my sister," says Casazza. "Attending Cornell Law School changed the trajectory of my life and I hope it does the same for its recipients for generations to come."
Casazza is a 1985 graduate of Cornell Law School, where he was a member of The Cornell Law Review. He began his career at Sullivan & Cromwell and finished it at Aetna Inc., a major healthcare company, where he was executive vice president and general counsel for ten years.
Alfred J. Casazza Sr. was born in Arlington, Massachusetts in 1928 of Italian immigrant parents. Unfortunately, both of his parents died when he was very young and their dreams of having Alfred attend college never materialized. After serving in the Marine Corps during World War II, Alfred returned home to Arlington, met and married his wife, Helen, and raised a family with three children, William, Alfred and Suzanne. Alfred Sr. and Helen were passionately driven to provide educational opportunities to their children, all of whom graduated from private colleges and went on to earn graduate degrees and/or professional designations in their fields, all paid for by their parents.
In Memoriam
Dan W. Boone '72
Herman A. Bursky '62
Stephen W. Cropper '72
Rodney H. Dow '73
Joseph Dunn '55
Edwin Roy Eisen '57
William H. Emerson, LL.B. '56
Lewis C. Evans II, LL.B. '65
Philip L. Evans, LL.B. '53
Herbert D. Feinberg '50
John P. Gualtieri Jr., LL.B. '60
Stuart Herzog '62
Stanley J. Kanter '68
John M. Keeler, LL.B. '61
Jeffry H. Kittross, LL.B. '59
Lynn I. Levine '77
J. Robert Lunney '54
Myron Marcus '60
George A. Matthewson, LL.B. '60
William D. Matthews, LL.B. '60
Susan D. McCluskey '77
Joseph T. Miller '72
Barbara L. Paltrow '53
Ira I. Roxland '67
John E. Rupert '51
Mary K. Sedor '83
Robert F. Sharpe '80
William W. Shatzer '73
Tamarra Lynn Strawn Grenfell Smith '01
Ronald James Turiello Jr. '96
John D. Tuttle, LL.B. '57
Thomas Wachtell '58