Dear Alumni and Friends:
In late March, we learned that Cornell Law School had moved up to number twelve from thirteen in the U.S. News and World Report rankings of law schools, its first movement in nearly fifteen years. Our new spot in the rankings shows that peer schools and the legal community have finally taken notice of our accomplishments, which include having the highest-credentialed incoming class ever, one of the best job placement rates among all law schools, and one of the highest earnings to debt ratios of any school.
As thrilled as I am to see the Law School rise in the rankings, I know that the raw numbers that go into calculating our rank can only ever measure a small portion of our success. Numbers alone can't capture the sense of community and collegiality that set us apart from other top schools. Nor can they reveal how the diverse and intimate learning environment we provide fosters students who are collegial team-players who can work together across disagreements and who stand out in the job market upon graduation. These are the qualities at the heart of a Cornell Law School education, and they are what will always define us.
Another defining characteristic of this institution is its commitment to freedom of speech, thought, and opinion. One of my highest priorities as dean is to continue cultivating an environment in which constructive conversations on difficult topics are possible even in a time of extreme political polarization. The recently concluded Civil Discourse: The Peter '69 and Marilyn '69 Coors Conversation Series is a prime example of how the Law School and university are demonstrating leadership on the subject. The highly successful, multiyear collaboration with Cornell University President Martha Pollack began when Eduardo Peñalver was dean and resulted in a series of forums "for intellectual discourse on difficult yet timely issues facing the nation."
The cover story of this issue of Forum magazine provides a retrospective on the Civil Discourse series. As the article explains, the six events in the series, held between September 2019 and April 2022, focused on such controversial topics as cancel culture, Big Tech, the power of the executive branch, and threats to the democratic process. Each event featured leading voices from across the political spectrum, including George Conway, Megan McArdle, Cornel West, Martha Nussbaum, George Will, and Ezra Klein, who engaged with one another in a collegial way and demonstrated to the students and others in attendance how listening to a conversation between people who disagree can be enlightening and enriching. As President Pollack notes, being exposed to disagreement is one of the most important things a university can teach its students.
The second feature article in this issue highlights our reinvigorated 3+3 program, which was reestablished by faculty vote in 2014 following a multidecade hiatus. The program allows highly qualified undergraduate students to take an accelerated path to their law degree by transitioning to law school after three years of undergraduate study and forgoing the LSAT. Thanks to the efforts of Monica Ingram, associate dean of admissions and financial aid, and her team, the program has grown quickly from one participant in 2016 to nine in the entering Class of 2024. Aside from the obvious benefits to participating students, the program gives the Law School an inside track to highly qualified and motivated students that other elite programs would undoubtedly compete for.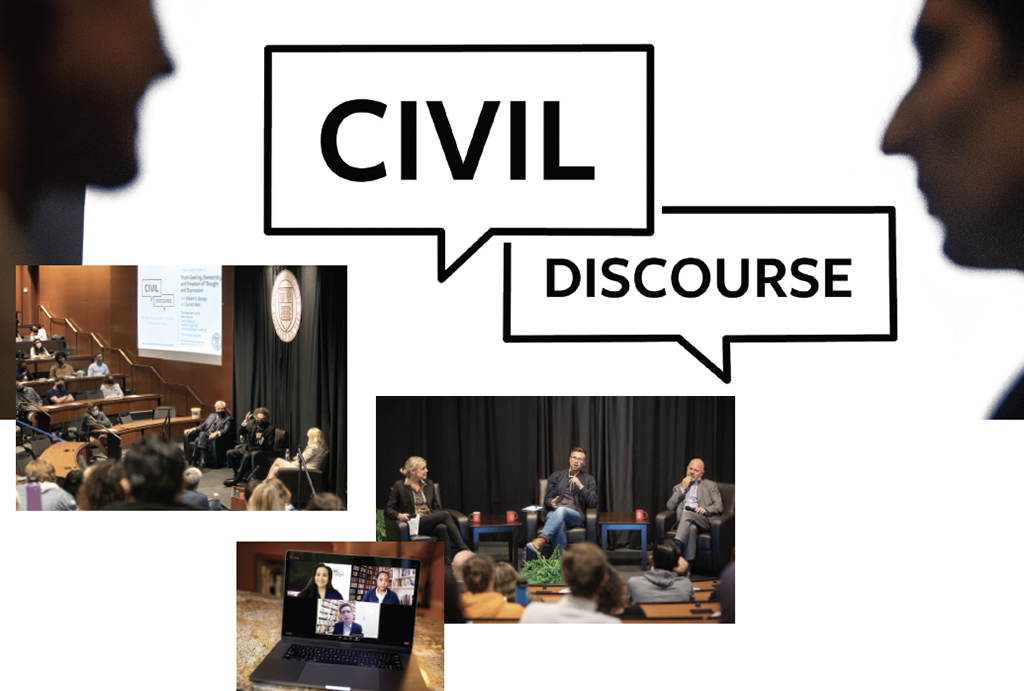 The final feature article provides a fond farewell to John DeRosa, former dean of Career Services, who is retiring after an amazing twenty-year run in which he led our job placement efforts to great heights. Under John's leadership, our job placement rates have become the envy of the top fourteen law schools in the country and we have been regularly ranked among the top five or ten law schools for getting a job at a big law firm. There are generations of lawyers across the country who were launched into careers thanks to his efforts.
I'm pleased to announce that Akua Akyea, the former assistant dean for public service, was named the Law School's new associate dean for career development in October 2021 (read more here). I'm excited to have Akua step into this role, where she plans to expand and diversify the services offered by the department to reflect the evolving interests of J.D. and LL.M. students and alumni.
These articles and many more in this issue showcase the verve and vitality of a Law School that continues to make a difference in ways big and small. None of these achievements would have been possible without the support of committed alumni who have hired our graduates, served as volunteers and advocates, and generously supported our strategic initiatives, especially financial aid.
Respectfully,
Jens David Ohlin
Allan R. Tessler Dean and Professor of Law
law.dean@cornell.edu