Dear alumni and friends:
Although the past two years have been especially challenging for the entire Cornell Law School community, nothing could make me happier than becoming the 17th dean of this amazing and resilient institution. We begin the new year at an optimistic moment, with the Law School on very solid footing and poised for new opportunities. Our community remains strong, our students are thriving, and our faculty continue their groundbreaking research and exceptional teaching.
I'm deeply honored to be the Allan R. Tessler Dean and Professor of Law of Cornell Law School at such a pivotal juncture in our history. In the cover story of this issue, you'll learn how my thirteen years of teaching, scholarship, collaboration, and service at Myron Taylor Hall helped prepare me for this moment. The article discusses how my training in philosophy and the law informs my research and my approach to decision-making and problem-solving. It also mentions my plans and priorities for making sure that the Law School keeps moving forward. Among my top goals are increasing diversity throughout the school, enhancing our financial resources for scholarships, and recruiting scholars in new areas such as environmental law while maintaining our excellence in core areas such as corporate law. One of my first moves as dean was to create a Diversity, Equity, and Inclusion Alumni Leadership Council to expand the Law School's efforts to build a welcoming environment for all its students, staff, faculty, and alumni. For a more in-depth look at this initiative, see this article in the Alumni section.
I'm pleased to report that our entering Class of 2024 has made history as the best-credentialed class to walk through the doors of Myron Taylor Hall. With outstanding grades and a median LSAT score of 171—a full three points higher than previous classes—these students are positioned to succeed here at the Law School and in their legal careers. And while applications to law schools were up by nearly 13 percent across the board in 2021, Cornell Law far outperformed national and regional averages with 41 percent more applications in 2021 than 2020. Read more about the "Unprecedented Class of 2024."
This newest class of 1Ls can look forward to a greater variety and number of experiential opportunities at the Law School than ever before. Under the leadership of Associate Dean for Experiential Learning Beth Lyon, we have launched innovative clinics that enable students to gain practical legal skills while working on meaningful cases. With eight new clinical courses developed in the past six years and three more clinics to be added by next year, the total number of clinic and practicum courses will soon stand at twenty-eight. This feature article highlights the newest additions to our clinical offerings, including the Movement Lawyering Clinic, which provides legal assistance to activists and organizations fighting for social justice. Professor Carlton Williams, a noted civil rights leader from Boston who leads this groundbreaking clinic, is featured in this Profile article. 
Our last two feature articles in this issue are tributes to Ambassador William vanden Heuvel '52 and Judge Peter Hall '77, towering public figures who made a lasting impact on the nation and the Law School. With their long and admirable records of public service and reputations for uncompromising integrity, they exemplify the Law School's ethos of producing "lawyers in the best sense."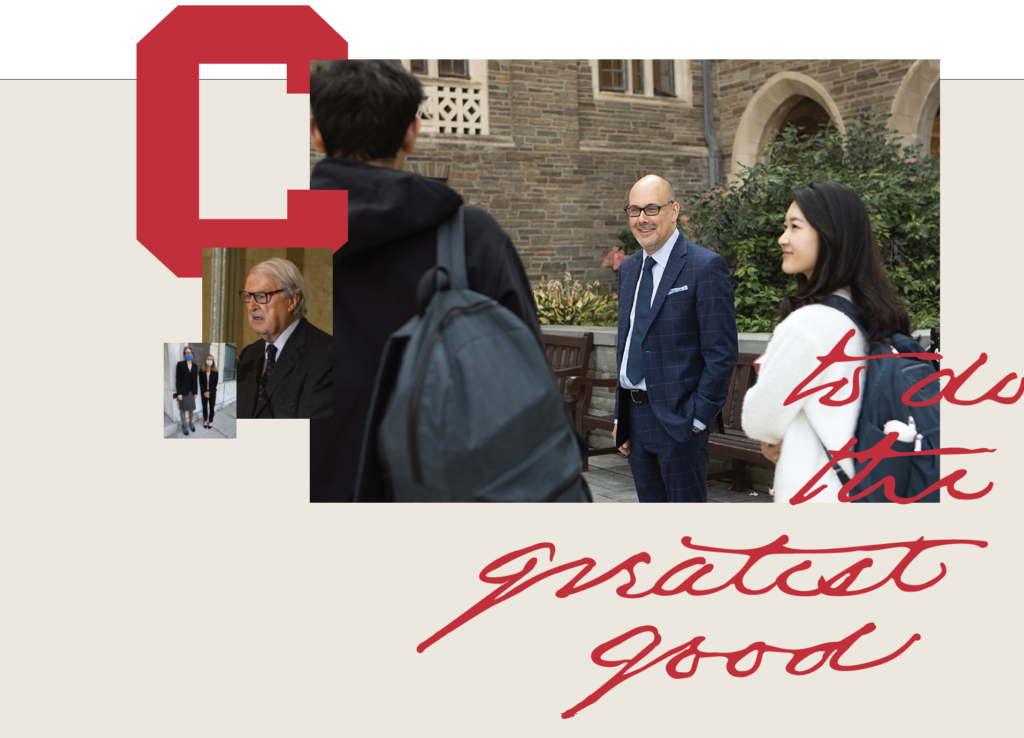 As we enter this new year, the Law School and the university as a whole are embarking on a comprehensive fundraising campaign. If you'd like to learn more about Cornell's campaign To Do the Greatest Good, visit the campaign website at greatestgood.cornell.edu. As the year progresses, you'll hear from some extraordinary Cornellians united with a shared purpose to make a lasting difference in the world.
I am thankful and thrilled to be the dean of this remarkable community of scholars, students, and alumni. Please accept my gratitude for all you do for Cornell Law School and my best wishes for the months ahead.
Respectfully,
Jens David Ohlin
Allan R. Tessler Dean and Professor of Law
law.dean@cornell.edu