A few years ago, Nola Booth '22, found herself at a crossroads. Behind her was a year at New York University's Tisch School, where she studied theater and design; a stint on Best Buy's Geek Squad; work experience in microbiology and tech; and an associate degree from Tompkins Cortland Community College. She'd been accepted into the Biology and Society program of Cornell's College of Agriculture and Life Sciences and was considering medical school. But then her path diverged.
Back to the Beginning
"I fell in love with the critical reading and writing elements of my major and started thinking about how I could incorporate those skills into a career," she recalls. "I really wanted to be helping people, but I didn't know the best way to do it. I also knew I needed work that was hands-on, creative, and involved human interaction—you don't stop being a performer overnight, even if you try to shake it off and go to school for STEM."
She adds, "Law school didn't cross my mind until I started paying attention to some of the most brilliant women in my life." Her childhood best friend's mom, Cornell Law alumna Lucy Gold '90, was working as a solo legal practitioner doing assigned counsel work in Tompkins County Family Court. Booth started coming to court with her and also talking with other local attorneys, including ones at the Law School. "I was hooked," she says. "I realized that law could piece together my critical reading and writing skills, my desire for human interaction, and my drive to help my community."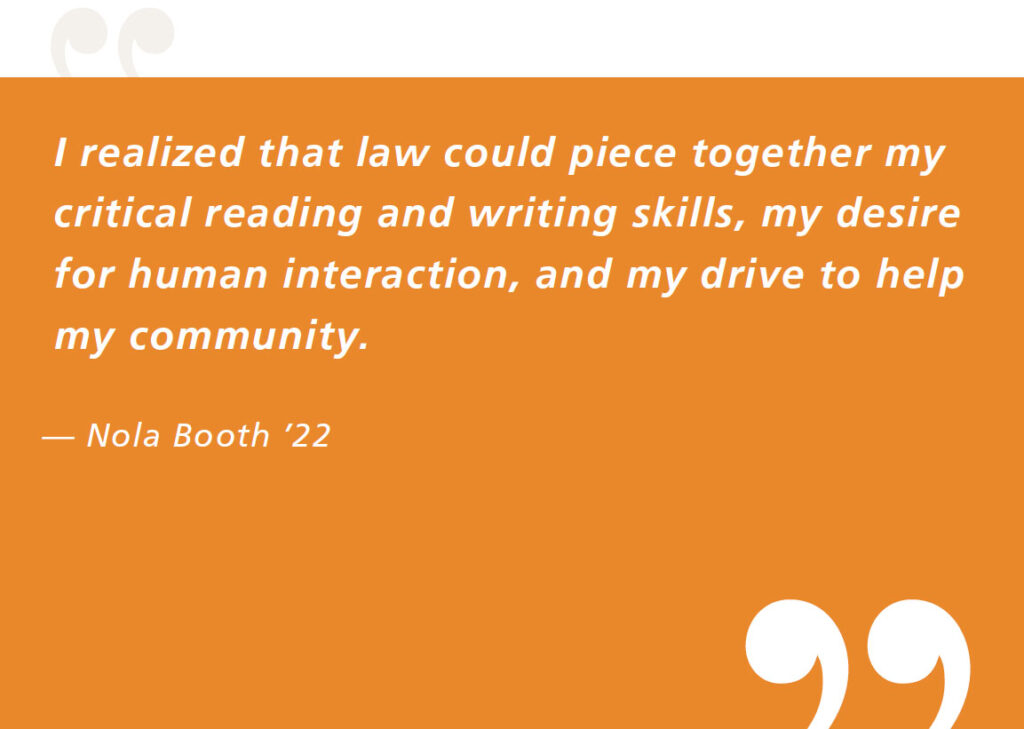 Cornell Law was a natural choice. Booth grew up in Ithaca. She and her partner were married on the Cornell Campus, and she delivered her son at Cayuga Medical Center, the same hospital where she was born. Her father, the late Daniel Booth, directed Cornell's Educational Television Center. "I'm incredibly lucky to have benefited from Cornell's tuition assistance program for the children of university employees," she says. The program, and a scholarship from the Law School, enabled her to attend. "I cannot overstate what a privilege that has been."
Every Step
Like others in her class, Booth faced the challenges of attending law school during the pandemic—with the added complication of parenting young children, one born in 2018, the other in 2021. She says many of the faculty and staff at the Law School were there for her every step of the way. "There are far too many people to list, but I would be remiss if I didn't point to Dean Akua Akyea, because she's the reason I've landed a dream job doing work that matters to me. Dean Akyea, if you ever read this, I hope you know how much my life has changed because you cared!"
She also connected with other parents attending the Law School. "They've kept me going, given me pep talks, and reminded me all along that I'm probably trying too hard. There's not many of us trying to do it with kids in tow, but we're there for each other. What's more, I'm very lucky to have a partner who can help juggle babies, and I couldn't hope to do it without him; I am in literal, constant awe of my incredibly brilliant single parent friends at the Law School."
Creating Pathways
During her legal studies, Booth was drawn to public interest law because of her own financial and logistical struggles raising children in Ithaca. "When I was eight months pregnant with my first child, I didn't know how we would pay for his birth. Our health insurance was terrible; a stay at the hospital was going to cost more than our life savings. I remember reading up on my insurance benefits to find out whether I could afford an epidural. A coincidental call with the local Human Services Coalition about the baby's insurance saved us, almost miraculously, when we discovered I qualified for Medicaid."
Finding affordable and reliable childcare while working and attending school has also been a challenge, even before the disruption of the pandemic. Booth's family has filled in the gaps. "Again, I want to emphasize how my privilege has enabled me to overcome these obstacles," she says. "I believe it is my responsibility to create pathways to success for other new parents who face these barriers without the support I have been afforded."
During her second year of law school, Booth worked with a family law attorney who took only assigned counsel cases. "I saw how meaningful legal intervention could change lives for families living in poverty," she recalls. The following summer, she interned with Legal Assistance of Western New York (LawNY), and the stories of domestic violence survivors further motivated her. "As a mom, I feel bound to serve them," she says.
Expanding
Booth's involvement in public interest law has also included participating in the Labor Law Clinic and serving in the Women's Law Coalition and the Public Interest Law Union. This March, she was one of three students honored with the Freeman Award for Civil-Human Rights at the 17th Annual Alumni Exemplary Public Service Awards.
She has also received a prestigious Skadden Fellowship, which will allow her to work with LawNY to expand an existing medical-legal partnership to Tompkins County to serve low-income families, especially single mothers and pregnant or postnatal parents, providing representation in family court and securing benefits. Booth hopes to interface with patients and healthcare professionals and conduct intakes on behalf of LawNY for patients in need of civil legal services, as well as to take referrals from private OB-GYN and pediatric offices.
If the project goes well, she hopes to expand it to other clinics and to Tioga County. "More than anything," she says, "I hope to retain a relationship with the Law School, so that I can continue to foster a fascination for public interest law in other students."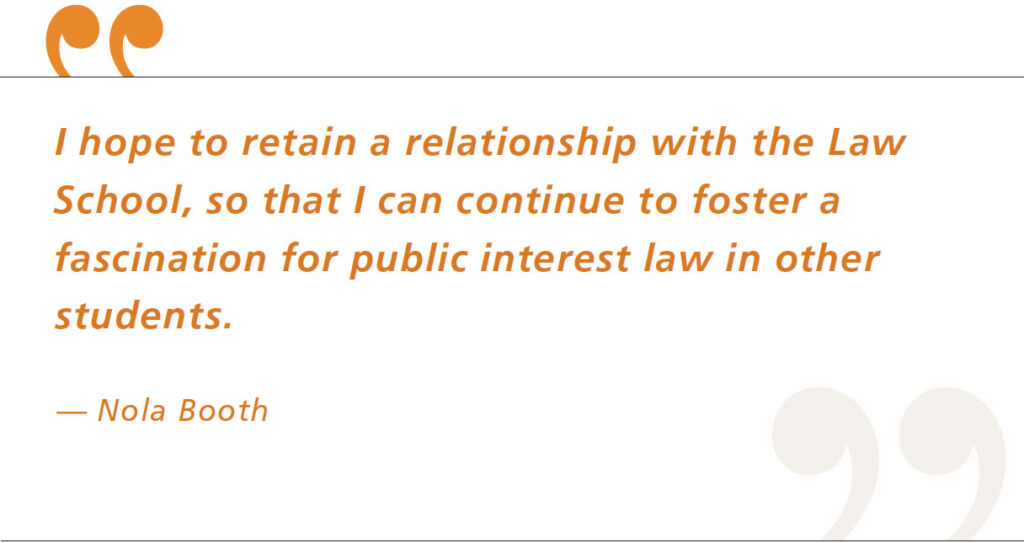 She says that receiving the Skadden Fellowship has been her proudest moment, as well as a chance to stay in Ithaca and start work on her dream job, with her dream co-workers.
"The people here in public interest are by-and-large genuine, kind, and brilliant individuals dedicated to doing better. The lawyers, paralegals, and support staff I work with are a fountain of resources, and they're constantly working to learn how to better serve our clients while preserving their autonomy."
She adds, "Being a lawyer is relational in any position, but especially so in legal aid; it's our job to provide free legal help that acknowledges and makes room for the trauma that clients might bring through the door on their backs. Because of this emphasis on humanity, there is also respect for the lawyer as a human with needs and boundaries that many jobs would not respect. It may not pay as much as big law, but it's bringing me happiness every day."
~Owen Lubozynski