Despite contending with a global pandemic as they prepared to apply for and enroll in law school, Cornell Law School's entering class of 2024 came in strong. In fact, it is the most credentialed matriculating class in the school's history.
The 2021 law school application cycle was surprisingly robust across the country, with the Law School Admissions Council reporting a 12.6 percent increase in applicants and increases in LSAT participation in nearly every ethnicity and gender over the previous year.
"I believe the pandemic created a thirst for in-person study because of a lack of sustained in-person interaction, be it in education or employment," says Associate Dean of Admissions and Financial Aid Monica Ingram. "Our first-year professors have also remarked on the heightened level of first-year student engagement."
Cornell Law outperformed both national and regional numbers, with 41.46 percent more applications in 2021 than 2020. This deeper pool of applicants allowed the school to enroll a larger entering class despite a more selective acceptance rate of 15.4 percent, down from 19 percent the year before. This incoming class has a median LSAT score of 171, in the top 3.8 percent of all test takers nationwide, and a median GPA of 3.86.
Ingram observes, "There were so many unexpected variables encountered during the previous year and a half that we were unsure what the class of 2024 would experience prior to enrollment. Prospective students who demonstrated an ability to 'roll with the changes' had desirable qualities, in addition to their anticipated law school performance. We needed students who were not only intelligent and capable but also flexible."
The 204 students of the Class of 2024 hail from diverse backgrounds. Thirty-one percent are considered nontraditional law school students, having completed their undergraduate programs more than two years prior to enrollment. The youngest incoming student is twenty; the oldest is forty-one. Three and a half percent hold master's degrees. Thirty-one percent are nonwhite and 54.5 percent are women.
One of those women was already a Cornell University standout. Grace Traore, from Brooklyn, is continuing her studies at the Law School after completing an undergraduate degree at the School of Industrial and Labor Relations—and participating in several of the university's student singing and dancing groups, including delivering a solo when the Dorothy Cotton Jubilee Singers performed at Carnegie Hall.
Others had a bit farther to travel. Two of the incoming students had met with Ingram when she traveled to St. Andrews, Scotland, just before the pandemic interrupted international travel. A year and half later, Lydia Mackey and Zoe-Pascale de Saxe Roux made their way to Ithaca.
"While studying at the University of St. Andrews, I was fortunate enough to attend a law school admissions event where Dean Ingram spoke about the importance of community at Cornell Law School," says Mackey. "This was an important factor in my decision to attend Cornell, and I have found a supportive community here beyond what I could have ever expected. Every interaction I have with faculty, staff, and my fellow students shows how much they care about my wellbeing and success, as I care about theirs."
Says Saxe Roux, "I was galvanized by Cornell Law School's goal to emphasize diversity and opportunity for students of a variety of backgrounds. The conversation I had with Dean Ingram centered those aspirations at the core of her discourse. As I am a member of the LGBTQ+ community, that aim was not just inspiring in terms of the law school I wished to attend but also reemphasized the reasons I wanted to become a practicing attorney."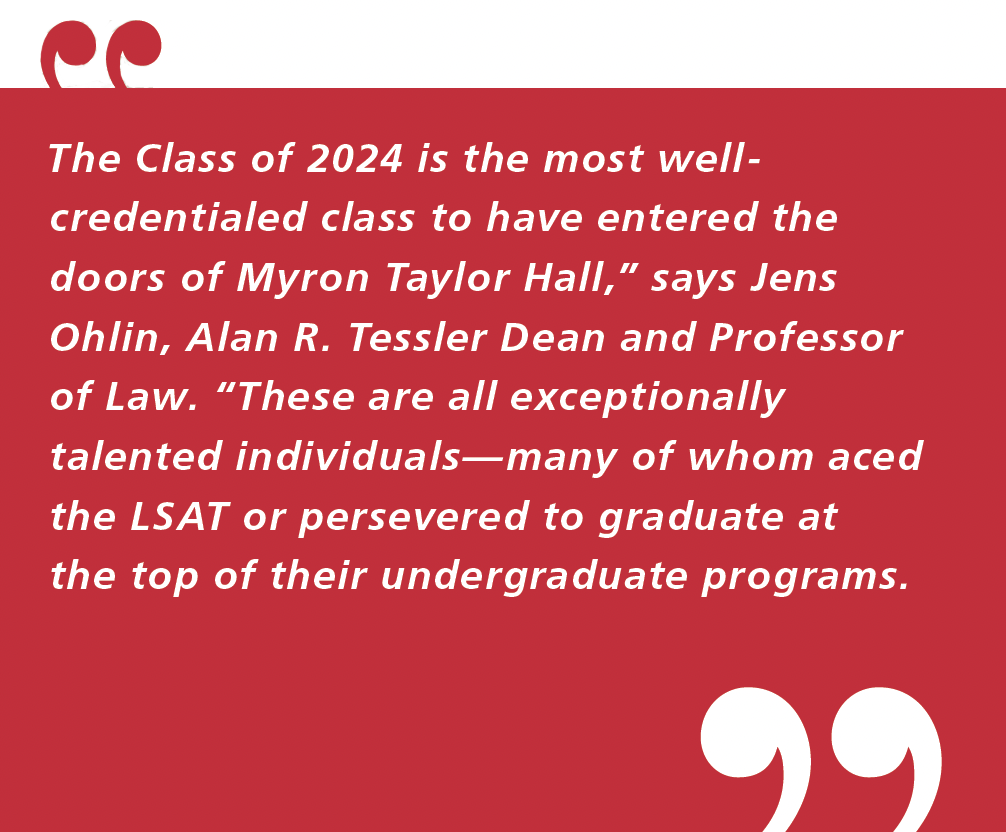 These three represent just a small slice of a class whose students have come to Cornell from thirty-three states and eleven countries and have graduated from 123 different colleges and universities with majors comprising more than fifty different subjects.
Nearly five percent of the entering class is part of the 3+3 program, which allows highly qualified undergraduate students to take an accelerated path to their law degree by transitioning to law school after three years of undergraduate study and forgoing the LSAT. The program was reestablished by faculty vote in 2014 and has grown from one participant in 2016 to ten this year. It is exclusive to Cornell University and Hobart and William Smith Colleges.
"The Class of 2024 is the most well-credentialed class to have entered the doors of Myron Taylor Hall," says Jens Ohlin, Alan R. Tessler Dean and Professor of Law. "These are all exceptionally talented individuals—many of whom aced the LSAT or persevered to graduate at the top of their undergraduate programs."