Robert Hendricks fell in love with the law as a Cornell University sophomore. Taking classes with Professor Joseph Margulies on constitutional law and civil liberties, Hendricks said, "I remember being struck by how he made the law come to life in a way that wasn't just regurgitating what a law was but was aspirational about what the law could be."
So, when Margulies told him about a way he could stay on the campus he loved and earn his bachelor's and his law degree in six years total, Hendricks listened.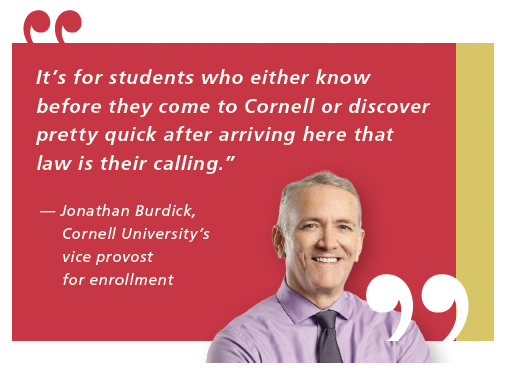 Hendricks, B.A. '17, J.D. '19, became the first student to matriculate at Cornell Law School under the revived 3+3 program, following the faculty's vote in 2014 to restart a long-defunct accelerated law degree program. In the years that followed, a small but mighty trickle of exceptional Cornell students have followed in his footsteps, skipping their senior years and going directly into their first years at the Law School.
"It's for students who either know before they come to Cornell or discover pretty quick after arriving here that law is their calling," said Jonathan Burdick, Cornell University's vice provost for enrollment.
Lauren Kazen, B.A. '21, J.D. '23, first heard about 3+3 at an information session in fall of her junior year. She hadn't been totally set on law school previously, but the program seemed like such a perfect fit with her policy analysis background that she was inspired to cancel her international study plans to fit in the last class she needed to apply. "I was like, okay, I'm changing my life," said Kazen.
The ability to cut a year off of college—in addition to skipping the LSAT—has obvious appeal for many students who already know they want to become lawyers. "Not having the extra year of tuition of my senior year really helped me to feel better about taking out all the loans for law school," said Kazen.
Franci Blassberg, A.B. '75, J.D. '77, who had entered the original accelerated law degree program at a time when the 1970s recession gave a pragmatic approach to education some additional appeal, confessed that a similar financial calculus was one of the things that motivated her decision. "You were able to forego paying a year of tuition, and would be able to start earning an income a year earlier. It was sort of a double whammy. For a scholarship student, that was a significant incentive," said Blassberg, who was a longtime partner at Debevoise & Plimpton, as well as a former chair of the Law School's Advisory Council and a Cornell University trustee emerita and presidential councilor.

Likewise, Kendall Minter, A.B. '74, J.D. '76, of counsel at Greenspoon Marder, said, "What it really did was catapult me one year earlier into the practice of law," where he went on to become an internationally renowned entertainment attorney with over forty years of experience.
Blassberg did caution undergraduates considering the program that giving up a normal senior year of pursuing other academic interests isn't to be taken lightly. She's been making up for lost time since she started teaching as an adjunct professor at the Law School, taking university classes herself on the side when in Ithaca.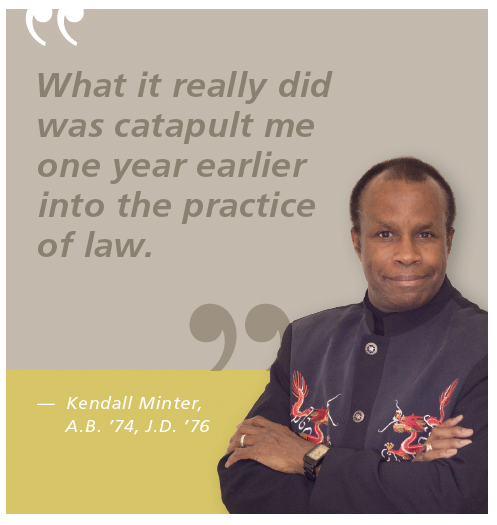 The benefits of the program for Cornell Law School are clear: a direct pipeline to a highly qualified population of students, and perhaps an opportunity to double down on graduates' loyalty to the Cornell name. "Cornell undergraduates are just really fantastic, strong students, and we often find ourselves vying for our own undergrads with our elite peers," said Monica Ingram, associate dean of admissions and financial aid. "One of the things that the 3+3 program allows us to do is to reach out to those truly excellent undergraduates who know they're going to go to law school already, who are very happy with their experience at Cornell and want to extend that to the Law School."
The unorthodox admissions process can pay off for the Law School in less obvious ways, too. The lack of an LSAT requirement means that a promising undergrad whose test-taking abilities don't quite match their potential might get a second look. "I think some of the students who are probably the best cut out to be lawyers are not necessarily those who perform great on the LSAT. It's nice to create an alternative pathway for them that might be a little easier for them to navigate," said Burdick. "There's a little bit of a tension there, but I think the fact that the program is selective and small helps resolve that."
Blassberg also pointed out that Law School admissions officers might be better equipped to know exactly what 3+3 students' grades mean in the context of Cornell University's rigorous academics, in a way that might not be as obvious for applicants hailing from elsewhere. "The Cornell Law School admissions people know what that GPA really means when they're admitting a Cornell undergraduate," said Blassberg.
The benefits of the program for Cornell Law School are clear: a direct pipeline to a highly qualified population of students, and perhaps an opportunity to double down on graduates' loyalty to the Cornell name.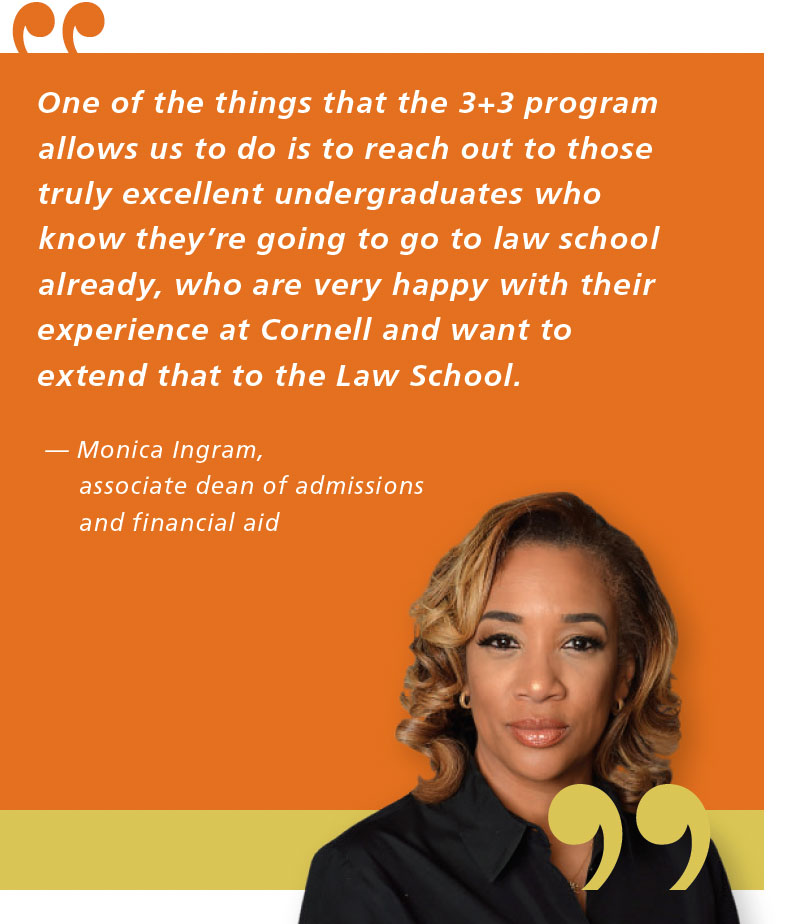 For the first few years after its reestablishment, the 3+3 program remained a low-profile presence at Cornell, with students enrolling in ones and twos. It had that in common with the old, accelerated program—Minter only knew to apply for the program because his undergraduate jobs in Day Hall and Willard Straight Hall gave him an inside channel on faculty chatter. Blassberg heard of it from a friend's boyfriend.
Three years ago, though, Ingram's office embarked on a campaign to raise awareness of the accelerated law degree program on campus, promoting the 3+3 option to Cornell University's Pre-Law Advisors and students considering law school in general.
And the effort paid off: nine Cornell juniors made the leap straight to first-year law students under the 3+3 program in fall 2021, hitting Ingram's goal of 3+3 students making up 5 percent of the total class. "Technically, I think it's explosive growth," Ingram laughed. While the exact number of students who will enroll this fall at the Law School under the 3+3 program is still shaking out, it's looking like it will be at similar levels.
The majority of 3+3 students hail from the ILR School, which has an informal reputation among pre-law–curious students as an ideal jumping-off point for future lawyers. However, any Cornell undergraduate is potentially eligible, as are those from Hobart William Smith Colleges.
Then there are the more intangible factors. On the whole, 3+3 students are going to be among the youngest students in their Law School class and will be starting as 1Ls without the benefit of post-undergraduate work experience or other graduate study that many of their colleagues will bring to the classroom. "We start to look more closely at their writing, and at any maturity challenges where possibly waiting an additional year would be helpful," Ingram said. "Every really strong student who can meet the threshold requirements isn't necessarily going to be an ideal candidate for the program, and we work really hard to be able to identify that."
When Kazen first enrolled in the Law School under the 3+3 program, she was a bit worried at first that not having a few years of working-world experience in between her undergraduate education and going to law school might hurt her job prospects. "Are people not going to want to hire me because I don't have work experience after undergrad? But, I have a job at a law firm this summer," at Paul Hastings, she said. "I'm not behind in that regard, just because I didn't work after school."

One of the more subtle benefits of the 3+3 program is that, at a particularly stressful stretch of their lives, participants can remain anchored in a familiar setting. "What I always tell people when they're going to law school is you have to have that one other thing outside of law school," said Hendricks, currently an associate at Jones Day.
Hendricks had the Cornell Sprint Football Team. At a time when most 1Ls were concentrating solely on school, he was doing law coursework while simultaneously practicing for hours a day, dieting to make weight, traveling on weekends, and working to make sure he didn't let his teammates down as he played out what, for most students, would have been his senior year. "It stretched me beyond what I thought was possible. I don't think I could have done that again," Hendricks said. "But at the same time, I wouldn't have traded it for the world."
"I still had so many close friends from undergrad, and we would do all the things that a Cornell undergrad would do. On weekends we'd sometimes go to hockey games because one of my friends was the cowbell guy. Then we'd go to Purity downtown to get ice cream." he added. "I still had these connections to an experience outside the Law School, and these experiences kept me grounded."
For Renqiu Chen, B.S. '22, J.D. '24, the COVID-19 pandemic and the attendant narrowing of campus life helped push him towards the 3+3 Program. The program had been on Chen's radar since his mentor, Professor Diane Burton, mentioned it during his Freshman Colloquium at the ILR School. But he had always figured that he would probably do his four undergraduate years soaking up life in Ithaca, and then move on to another city for law school. And then campus shut down."
What really helped drive this decision was when COVID hit, after we were stuck at home for a year-and-half just doing online classes, I thought, 'If I don't get to experience the full Cornell experience, I might as well just save a year of tuition and also be able to be at Cornell a couple of extra years,'" Chen said. "It sounded perfect."